Hej,
Idag är det Fettisdagen, har ni bakat eller ätit några semlor än?
Egentligen är det väl så att denna dagen är kulmen för semmelätandet? Men jag brukar göra tvärtom och hålla mig till denna dag. Årets första semla (för min del) står i kylskåpet och väntar.
Jag hade tänkt att baka semlor och ta med till jobbet, som jag gjorde förra året, när jag gjorde dessa godingar med vaniljkräm i. Minisemlor ihopsatta till en krans. Vaniljkrämsfyllning är perfekt att använda om det är någon som är allergisk mot mandel.
Men nu är jag ju sjuk så det får vara till nästa år.
Vill ni läsa mer om semlorna från förra året har ni länken här:
http://matikvadrat.se/2012/02/21/happy-fettisdag/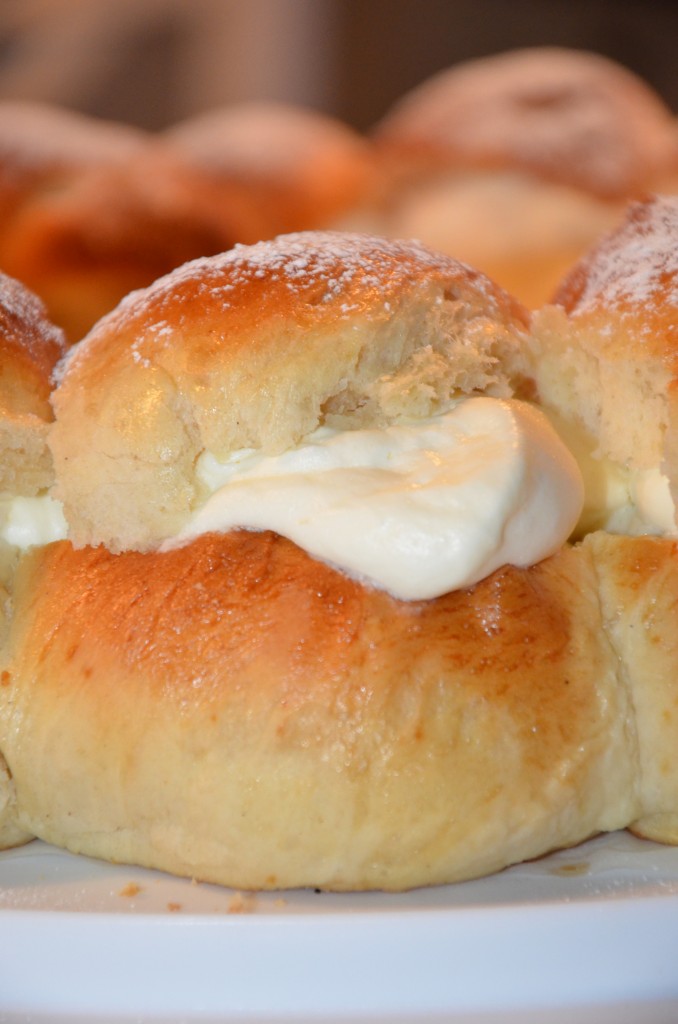 I år hade jag tänk pröva på dessa muffinssemlor, från Arla.  En snabbare variant av den vanliga semlan, om man inte orkar vänta på deg som ska jäsa, eller bara snabbt vill ha fika på bordet.
Bild från www.arla.se
I resten av världen firar man idag istället pannkakans dag. För att fira dubbelt upp blir det pannkakor ikväll. Men inte bara vanliga pannkakor, det blir en supergod pannkakstårta, som vi hade som tårta på Mini-mes 2-årskalas. Kan verkligen rekommendera den, den gick hem hos alla, stora som små.
Receptet hittade jag i en Elle Mat och Vin-tidning.
Bild från www.ellematovin.se
Foto: Lisa Björner
Pannkakstårta Extra Allt
6-12 bitar
Tid: 1 timme och 15 minuter
Pannkakssmet:
3 dl vetemjöl
5 dl mjölk
2 ägg
1 1/2 tsk salt
1 msk smör
Fyllning:
maränger
100 g bär, t.ex. blåbär och björnbär
100 g glass, t.ex. blåbärsglass
2 dl vispgrädde
1/2 tub kolasås
Vispa ut mjölet i hälften av mjölken till en slät smet. Vispa i resten av mjölken, ägg och salt. Smält smöret och häll ner i smeten. Grädda pannkakorna i valfri storlek, anpassa dem gärna efter fatet du tänkte lägga upp tårtan på. Vispa grädden.
Börja med en pannkaka och varva sedan grädde, bär, maränger, kolasås och pannkakor.
Toppa med glass och bär.
Mmmm, här ska njutas och moffas ikväll 🙂
In Sweden we celebrate the Shrovetide bun today, but since the rest of the world hasn't got the idea of this wonderful thing they celebrate pancakes instead. 
We will do a bit of both. Two Shrovetide buns witj vanilla custard are waiting in the fridge.
But first we will have the lovely pancake cake for dinner. I first made this for Mini-me's 2–year birthday party and everyone loved it. 
Tonight we are making it again, it's a bit over the top for a Tuesday night dinner, especially when you have Shrovetide buns for dessert but it's soo good.
Less is more is not always true. 
Pancake batter:
3 dl flour
5 dl milk
2 eggs
1,5 tsp salt
1 tbsp butter
Filling:
meringues
100 g berries,blueberries, raspberries or similar
100 g ice cream, preferably flavoured as the berries used
2 dl whipping cream
1/2 tube fudge sauce
Whisk the flour into half of the milk to make a smooth batter.  Whisk in the rest of the milk, the eggs and the salt. Melt the butter and add to the batter. Make the pancakes any size you want, but try to make the the size of your serving plate. 
Whip the cream.
Start with a pancake and then add whipped cream, berries, meringues and fudge sauce. Top with a pancake. 
Do again until all the pancakes are used.
Top the whole thing with ice cream and berries.

Fatal error: Uncaught Exception: 12: REST API is deprecated for versions v2.1 and higher (12) thrown in /storage/content/90/144790/matikvadrat.se/public_html/wp-content/plugins/seo-facebook-comments/facebook/base_facebook.php on line 1273