En äkta carbonara har många ägg och mycket parmesan, i den carbonaran de flesta gör tillsätter man även en ansenlig mängd grädde. Lägg till knaperstekt bacon till den här kolhydrat- och fettbomben, och den lägger sig som bomull runt hjärtat. Det är ju SÅ gott!
Jag gjorde en variant på carbonara igår, med gröna ärtor och mynta i. Den var lite menlös, om ni lagar efter det här receptet skulle jag råda till att salta och peppra ordentligt och inte snåla med parmesanen. Kanske lägga till ett ägg till också.
Enkelt är det i alla fall.
Till 4 portioner behöver du:
450 g farfalle (fjärilspasta, annan pasta går ju så klart lika bra)
1-2 ägg
1 dl vispgrädde
flingsalt och peppar
12 skivor bacon
3 nävar frysta gröna ärtor
2 kvistar färsk mynta
2 nävar färskriven parmesan
Gör så här:
Koka upp vattnet och koka pastan. Vispa äggen i en skål, med grädde, salt och peppar.
Skär baconet i bitar och knaperstek.
Lägg i ärtorna i pastavattnet när det är 2 minuter kvar på koktiden. Häll av men spara lite av pastavattnet.
Blanda pasta, ärtor och stekt bacon i kastrullen eller stekpannan. Blanda också i myntabladen, i tunna strimlor.
Tillsätt äggblandningen  och rör om. Späd med lite pastavatten om de tbehövs.
Smaka av med salt och peppar och strö över parmesanen.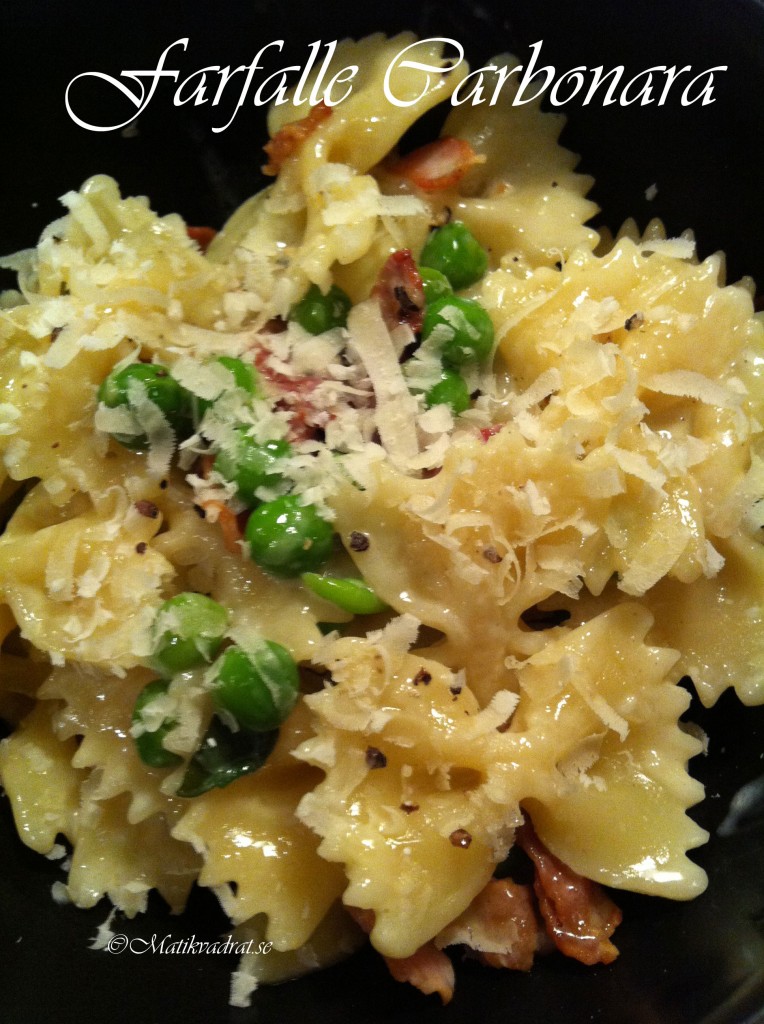 A real carbonara consists of a lot of eggs and parmesan cheese, and in most cases people also add a substantial amount of crea. Add crispy fried bacon to this bomb of carbs and fat and it wraps around your heart like fluffy cotton. But it is SOOO good!
Yesterday I cooked a slightly different version of carbonara, with green peas and mint leaves. A little bit bland too be honest, if you make this dish I would advice you to season well with salt and pepper and to not hold back on the parmesan. Perhaps add one more egg as well. 
It's simple anyway. 
Ingredients for 4 portions:
450 g farfalle (butterfly pasta)
1-2 eggs
1 dl full fat cream
sea salt and pepper
12 rashes of bacon
3 handfuls of frozen green peas
2 sprigs of mint leaves – shredded
2 handfuls of freshly grated parmesan cheese (quality will really make a difference here)
Instructions: 
Boil the water and cook the pasta. Whisk the eggs in a bowl, together with the cream and salt and pepper. 
Cut the bacon in pieces and fry.
Put the peas in with the pasta when about 2 minutes of the cooking time are left. Drain when done but save some of the cooking water. 
Mix the pasta, peas and fried bacon in the pot. Mix in the shredded mint leaves. Add the egg mixture and stir. 
Pour in some of the cooking liquid if wanted, to make the sauce thinner. 
Season well with salt, pepper and LOTS of parmesan cheese. 
Fatal error: Uncaught Exception: 12: REST API is deprecated for versions v2.1 and higher (12) thrown in /storage/content/90/144790/matikvadrat.se/public_html/wp-content/plugins/seo-facebook-comments/facebook/base_facebook.php on line 1273