Igår kväll bänkade vi oss framför första deltävlingen av Melodifestivalen. Vi brukar inte titta det men tänkte ge det hela en chans i år. Kan väl säga att vi var måttligt roade och när alla låtar var framförda bytte vi kanal.
Är du för eller emot melodifestivalen?
God mat åt vi i alla fall. Sambon lagade maten medan jag satt och tittade på, drack ett glas vin och lekte med min nya dator. Tänk att materiella ting kan göra en så glad 🙂
Till middag blev det kycklingpaj med chorizo och frasigt lock av smördeg. Mmm, så himla gott! En tomat- och rödlökssallad till det och ytterligare ett glas vitt vin och kvällen var räddad. När sen Pluras kök i Spanien dök upp i rutan var sambon väldigt nöjd.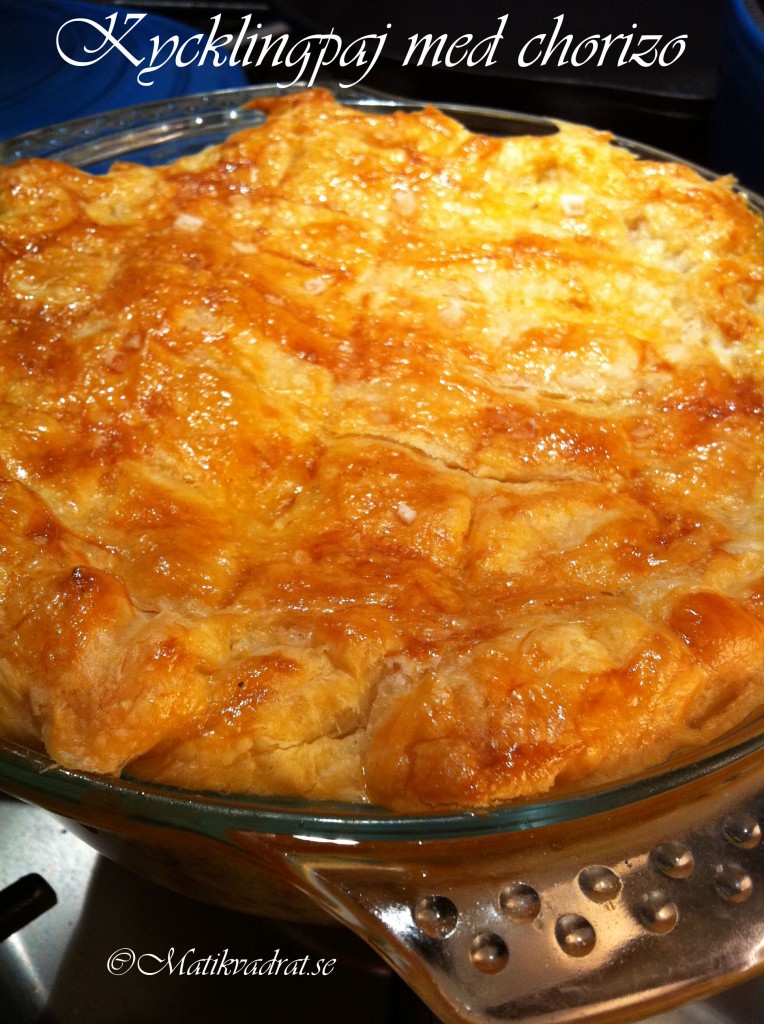 Till 4 portioner behöver du:

smör
olivolja
1 påse kycklinginnerfiléer, skurna i bitar
2 purjolökar, skurna i 1 cm-stora bitar
2 morötter, skalade och grovhackade
2-3 stjälkar selleri
1 näve färsk hackad timjan
2 msk mjöl
1 vinglas vitt vin + 1 vinglas vatten
3 dl mjölk
salt och peppar
250 g chorizo
1 dl riven ost (gärna cheddar) (eget påhitt och inte med i urpsrungsreceptet, är bara extra gott)
en rulle färdigkavlad smördeg
1 ägg

Gör så här:
Sätt ugnen på 225 grader C. Stek kycklingen i smör och olivolja i en stekgryta, tillsammans med purjolöken, morötterna, sellerin och den färska timjan. Låt sjuda i 15 minuter på låg värme. Öka värmen och rör i mjölet. Tillsätt vin, vatten och mjölken.
Smaka av med salt och peppar. Lägg på ett lock och låt grytan sjuda sakta i ca 30-40 minuter. Rör om då och då så att det inte fastnar i botten av grytan.
Såsen ska vara tjock så om den inte är det, låt grytan fortsätta sjuda en stund fast utan lock.
Här kan man antingen låta grytan svalna och sen ställa in den i kylen för att användas som pajfyllning senare eller så äter man grytan som den är.
Vill man göra paj på stuvningen så häller du den i en djup form. Dra bort skinnet från korven och hacka det fint. Fräs innehållet i lite olivolja och blanda sen ner i stuvningen. Rör ner den rivna osten
Täck stuvningen med den kavlade smördegen och skär bort den överflödiga degen. Nyp ihop kanten till ett fint mönster (om du vill) och pensla sedan med ett uppvispat ägg.
Skåra smördegen försiktigt med en kniv i ett rutmönster.
Ställ in pajen ugnen och grädda i ca 30-40 minuter.
Jamie Oliver bjuder potatismos till den här rätten, men det tycker jag känns som för mycket så vi nöjde oss med en god sallad till.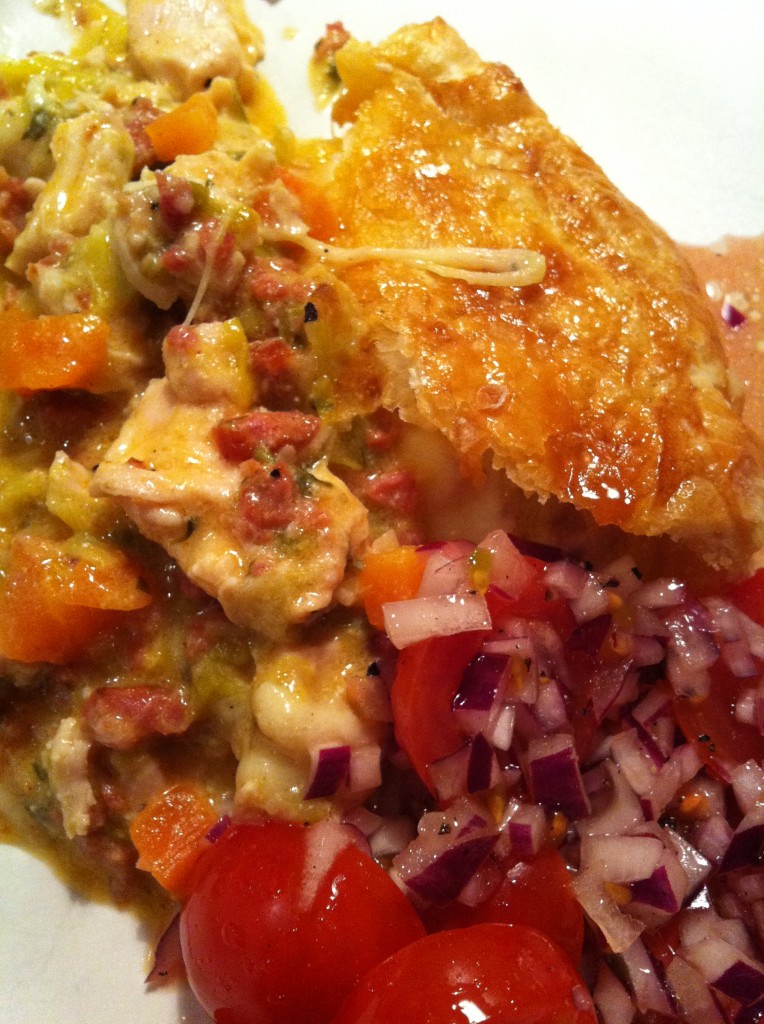 We made a delicious chicken pie for dinner yesterday. Well, the hubby cooked and I watched while sipping on a glas of wine and played with my new laptop. Crazy that one can be so excited about material things. 
for 4 portions you need
butter
olive oil
1 kg of chicken thighs without skin and bones, cut into pieces
2 leeks, cut into 1-cm pieces
2 carrots, peeled and chopped
2-3 stems of celery
1 handful of fresh chopped thyme
2 tbsp flour
1 wine glass of white wine + 1 wine glass of water
3 dl milk
salt and pepper
250 g chorizo
1 dl grated cheese ost (preferably cheddar) (my own addition to this recipe and not part of the original one)
1 packet of ready rolled puff pastry
1 egg

Instructions:
Turn the oven to 225 degrees C. Fry the chicken in butter and olive oil, in a big pot, together with the leeks, the carrots, the celery and the fresh tyme. Let it simmer for 15 minutes, on low heat. Turn up the heat a little and stir in the flour. Add wine, water and milk.
Season with salt and pepper. Put a lid on th epot and let the stew simmer slowly for approx. 30-40 minutes. Stir every now and then to make sure nothing sticks to the bottom.
The saue should be thick so if it isn't after this time, let the stew continue to simmer for a while, but take the lid off.
At this point you have some different options; the stew can be eaten as it is now. It can be chilled and put in the fridge to eat another day or you can make the pie, straight away. 
If you want to make the pie you pour the stew into a deep pie dish. Take the skin away from the sausage and chop the meat finely. Fry the the sausage meat in some olive oil in a frying pan and then add it to the stew.
Stir in the grated cheese. 
Cover the stew with the ready sheet of puff pastry, cut away the excess dough and pinch together the edges nicely. 
Brush with the egg (beat together first) and then make a criss cross pattern in the pastry (use the back of your knife, you don't want to cut through).
Bake in the oven for approx. 30-40 minutes.
Jamie Oliver serves this pie with mashed potato, but I think that's a bit too much and serve it with a salad instead. 
Fatal error: Uncaught Exception: 12: REST API is deprecated for versions v2.1 and higher (12) thrown in /storage/content/90/144790/matikvadrat.se/public_html/wp-content/plugins/seo-facebook-comments/facebook/base_facebook.php on line 1273