I lördags hade jag tänkt äta bakad potatis till middag. Men när vi kom hem från IKEA och fika hos pappa så var klockan mer än jag hade tänkt. Mini-me var supertrött och hungrig, och jag var rätt hungrig jag med.
Jag ville så gärna ha bakad potatis men det tar ju minst en timme i ugnen (kom ihåg att vi inte äger en micro). Det hade jag varken tid eller lust att vänta på. Så jag gjorde en chansning och skar bakpotatisen i mindre bitar, hällde lite olja och flingsalt på och skickade in i ugnen på 200 grader varmluft. Det blev som ett mellanting mellan bakad potatis och klyftpotatis.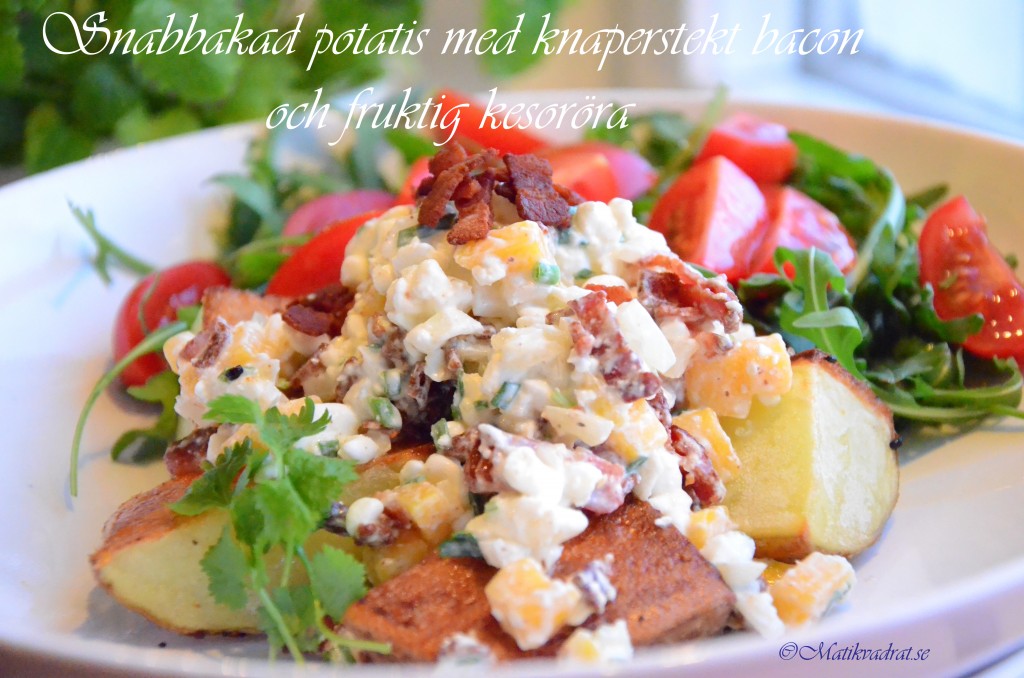 Helt klart snabbare att få maten på bordet och väldigt gott blev det. Hade inne potatisen i ca 30 minuter har jag för mig. Jag tog aldrig tid. Men på ett ungefär.
Det som är bra med att skära en bakpotatis i bitar är att det helt plötsligt blir väldigt mycket mat, och det räckte med hälften av potatis till middagen för mig. Bra om man vill ha kolhydrater men försöker att inte äta så mycket av det.
Till min potatis gjorde jag en kesoröra med lite va varje som jag hade hemma.
Naturell keso, knaperstekt bacon, färsk hackad gräslök, saftig och mogen mango skuren i tärningar, chiliflakes, lite hackad gul lök och färsk hackad koriander.
Det blev supergott och väldigt fräscht. En sallad till gjorde middagen komplett och mig väldigt mätt.
Resten av maten sparade jag till lunch på söndagen. Det gick lika bra att äta kallt.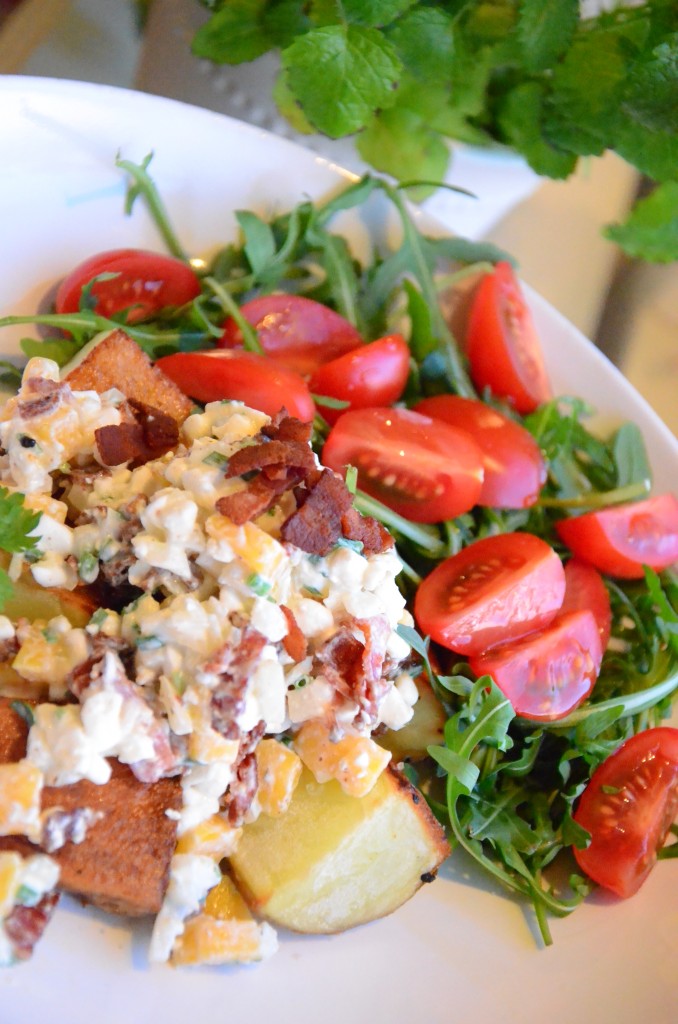 A quicker way of making jacket potato, than baking in the oven for about 1 hour, is to cut the potato in smaller pieces (quarters) drizzle with olive oil and sprinkle with sea salt. then roast in the oven (200 degrees C) for approx. 30 minutes. 
I made a cottage cheese filling to go with it. 
Mix the following: cottage cheese, crispy fried bacon, chopped onion, chopped chives, chopped coriander, chili flakes and diced mango. 
Oh so good! Of course all of the above can be switched for other ingredients. Just keep the cottage cheese base and add whatever you like.
Fatal error: Uncaught Exception: 12: REST API is deprecated for versions v2.1 and higher (12) thrown in /storage/content/90/144790/matikvadrat.se/public_html/wp-content/plugins/seo-facebook-comments/facebook/base_facebook.php on line 1273