Hej,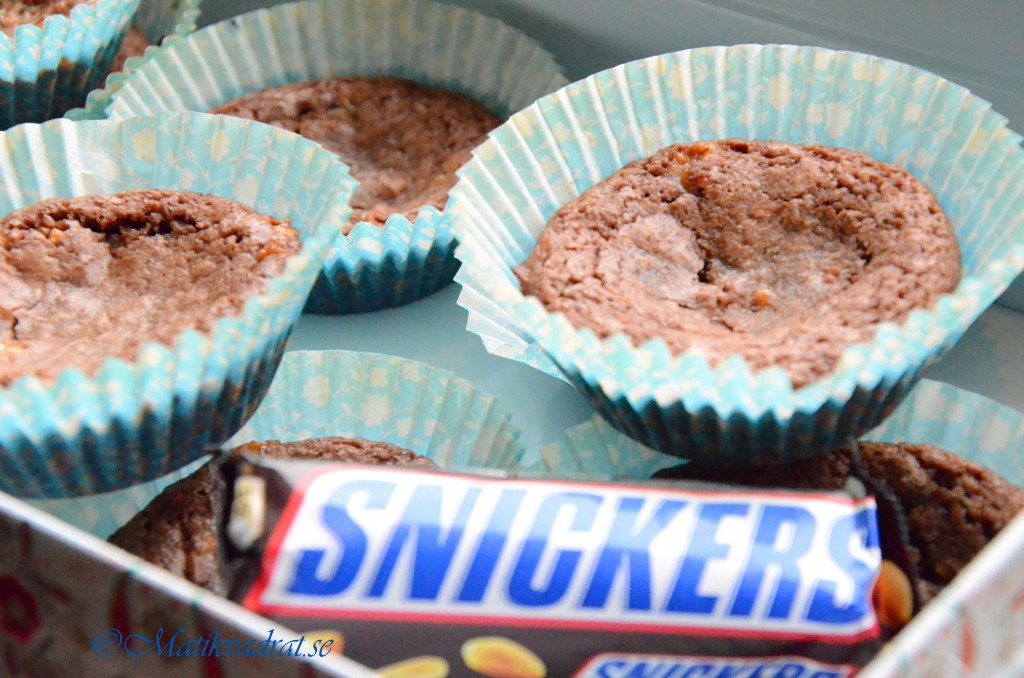 Till kosläppet bakade jag kladdkakemuffins, en svårslagen modern klassiker. Jag är så sugen på snickers och hade köpt hem några som jag skulle göra en cheesecake av, vilket inte blivit av än. Så jag tänkte att jag hackar ner snickers i muffinsen istället. Det gick ju väldigt bra. Kletiga och goda, med små nötbitar i. Till min förvåning sa sambon att de var de bästa muffinsen han hade ätit. Stora ord från någon som tycker om Dafgårds frysta prinsesstårta. Nej, jag kommer aldrig komma över att han hellre ville ha det än min hemmabakade version.
Receptet kommer här, och de blir väldigt goda även utan snickers i. Jag använde rätt stora formar och smeten blir ganska så kompakt, så det handlar mer om att klicka ut smeten, men en stor matsked till varje form räckte bra. Använd gärna två skedar för att få ut smeten i formarna.
Till cirka 10 stycken :
100 gram smält smör
2 ägg
2 1/2 dl socker
2 dl vetemjöl
1 tsk vaniljsocker
1 nypa salt
4 msk kakao
1/2 tsk bakpulver
3 stycken snickers à 57 gram tror jag
Gör så här:
Ställ ugnen på 200 grader.  Ställ ut formarna på en plåt. Knäck äggen i en skål och blanda de torra ingredienserna och rör ner med en slev. Blanda sist i smöret och rör tills smeten är ordentligt blandad. Rör ner hackad Snickers. Klicka ut smeten, ca en stor matsked i varje. Grädda sedan i mitten på ugnen i cirka 8-10 minuter.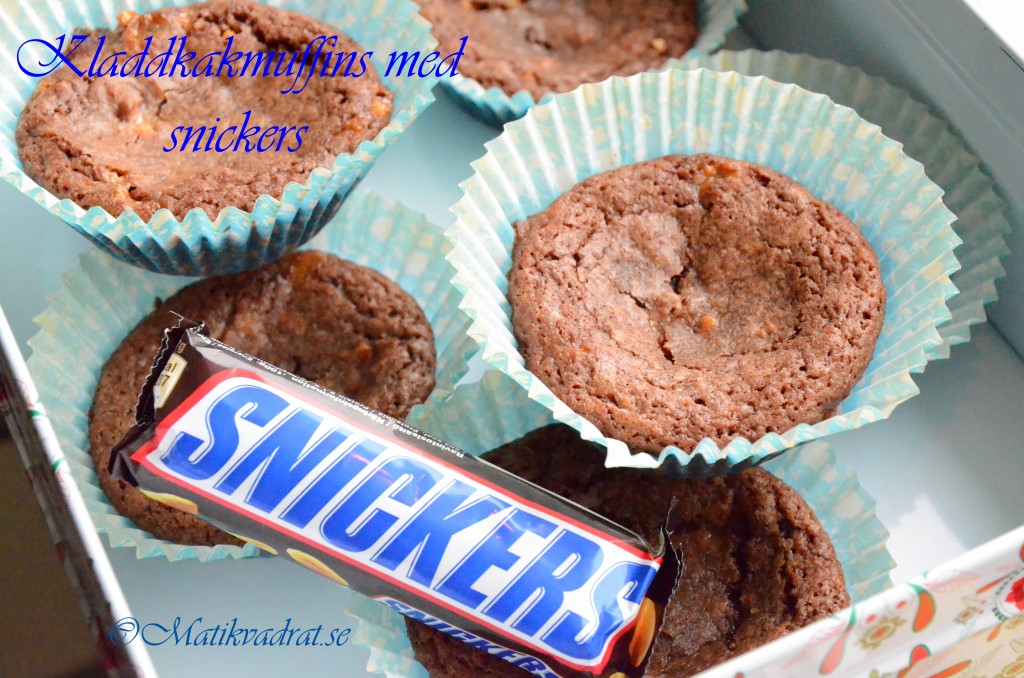 I made brownie muffins for the picnic we had while watching the cows. These are so good, and even better with chopped snickers in them. If you don't have any chocolate bars to add, never mind, they will be delicious anyway!
10 muffins:
100 gram butter
2 eggs
2,5 dl sugar
2 dl flour
1 tsp vanilla sugar or some vanilla extract
a pinch of salt
4 tbsp cocoa powder
0,5 tsp baking powder
3 snickers bars à 57 g ( I think, Use whatever size you like)
To make:
Turn the oven to 200 degrees C. Put baking cups on a baking tray.
Mix the eggs with the dry ingredients. Melt the butter and add to the mixture. Stir until a thick batter is formed. Chop the snickers bars and add to the batter.
Sppon the mixture into the baking cups (using two spoons will help).
Bake in the middle of the oven for approx. 8-10 minutes.
Fatal error: Uncaught Exception: 12: REST API is deprecated for versions v2.1 and higher (12) thrown in /storage/content/90/144790/matikvadrat.se/public_html/wp-content/plugins/seo-facebook-comments/facebook/base_facebook.php on line 1273