Sugen på något gott? Alltid, eller hur? Vad sägs om en söt paj med knaprigt smultäcke som lyser gul som solen och smakar ljuvligt?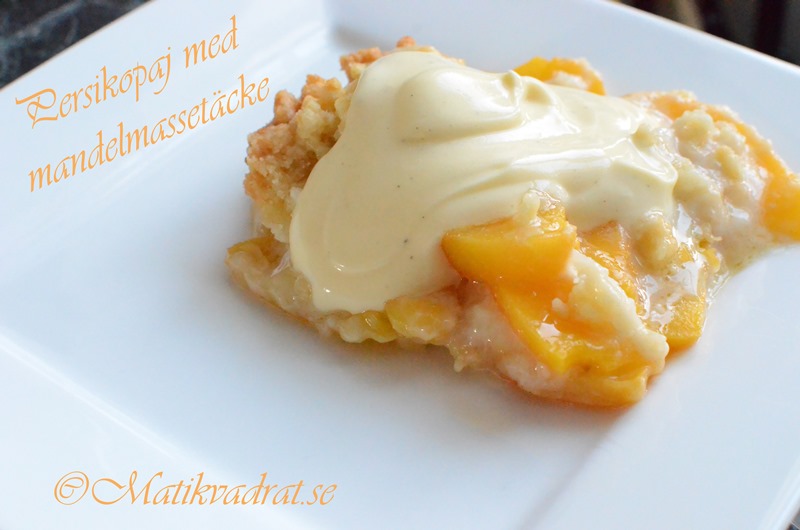 Den här pajen snor man snabbt ihop och den kräver inte många ingredienser. Använder man en matberedare går det ännu snabbare.
Jag serverade vaniljkesella till pajen.
Till en paj behöver du:
1 stor burk konserverade persikor (300-400 g), eller två mindre
150 g smör
4 dl vetemjöl
4 dl riven mandelmassa
Gör så här:
Skär persikorna i tunna skivor och lägg i botten av en pajform. Blanda smör, vetemjöl och mandelmassa till en grynig massa. Strö smuldegen över persikorna och grädda pajen i 175 grader i ca 25 minuter.
Servera med vaniljkesella, vispad grädde eller glass!
Wonderful peach pie which you whip up in a matter of a few minutes.
400 g canned peaches
150 g butter
4 dl flour
4 dl of grated almond icing (marzipan)
Slice the peach halves and lay in a pie dish.
Mix flour, butter and marzipan to a crumble. Sprinkle on top of the peaches. Bake for 25 minutes in 175 degrees C.
Fatal error: Uncaught Exception: 12: REST API is deprecated for versions v2.1 and higher (12) thrown in /storage/content/90/144790/matikvadrat.se/public_html/wp-content/plugins/seo-facebook-comments/facebook/base_facebook.php on line 1273