Fredagens texmex-middag avslutades med en väldigt god limepaj. Inte alls så sur som man kan tro när lime är inblandat.
Den här middagen kommer delas upp på flera inlägg, och jag börjar i bakvänd ordning med efterrätten först.
Väldigt enkel att göra men man måste baka den kvällen innan man ska äta den.
Jag serverade vaniljglass till.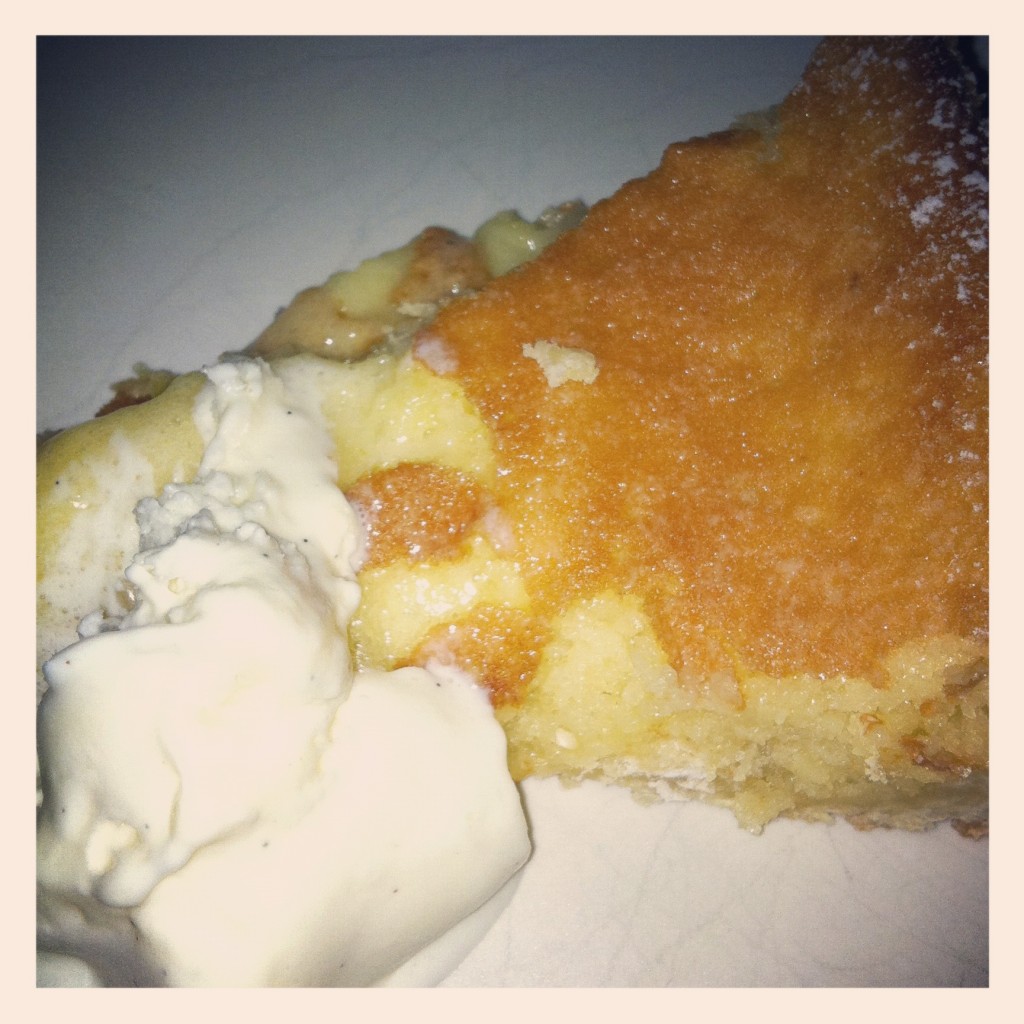 Till en pajform (springform med löstagbar ring) behöver du:
Pajskal:
0,5 dl strösocker
1 tsk vaniljsocker
2,5 dl vetemjöl
100 g smör
1 st äggula
Fyllning:
3 st ägg
2 dl strösocker
0,5 dl vetemjöl
1 tsk rivet limeskal
ca 3 msk pressad limesaft
florsocker (att pudra över kakan vid servering)

Gör så här:
Blanda socker, vaniljsocker och mjöl i en skål. Lägg i smör och äggula och arbeta snabbt ihop till en deg.
Tryck ut degen i en pajform med löstagbar kant, ca 24 cm i diameter. Låt vila ca 30 min.
Sätt ugnen på 200°. Nagga pajdegen med en gaffel. Förgrädda pajskalet mitt i ugnen ca 10 min.
Vispa ägg och socker pösigt. Blanda ner mjöl, limeskal och limesaft. Grädda i nedre delen av ugnen ca 15-20 min. Pajen ska vara lite lös i mitten, men stelnar när den kallnat. OBS! Kolla detta och förläng ev. gräddningstiden lite. Min paj blev lite för lös, så den stelnade aldrig riktigt i mitten.
Låt vila i kyl över natten.
Pudra på florsocker, garnera ev med rivet limeskal vid servering.
Stor som liten tyckte om den här pajen, så den är ett säkert kort till fredagens tacokväll 🙂

Today's blog post from 2012:
matikvadrat.se/2012/02/19/life-is-a-combination-of-magic-and-pasta-federico-fellini-2/
Lime pie for dessert after tacos. Quick and easy although has to be made the night before serving it.
Pie crust:
0,5 dl sugar
1 tsp vanilla sugar
2,5 dl flour
100 g butter
1 egg yolk
Filling::
3 eggs
2 dl sugar
0,5 dl flour
1 tsp lime zest
approx. 3 tbsp lime juice
Confectioner's sugar for dusting when serving

Instructions:
Mix all the ingredients for the pie crust. Make into a dough. Press the dough into a spring form. Let it sit for 30 minutes. Turn the oven to 200 degrees C. Prick the bottom of the pie crust with a fork. Precook the pie crust for about 10 minutes. 
Whisk eggs and sugar fluffy. Mix in the flour, the lime zest and the juice. Pour into the prebaked pie crust.
Bake in the lower part of the oven for 15-20 minutes.
The filling is supposed to a little bit wobbly in the middle, it will become solid when cold. 
Do make sure it's not too wobbly in the middle, 'cause if it is it won't set properly even after it has been in the fridge the whole night. Talking from experience here.
Cover and put the pie in the fridge over night. 
Dust with icing sugar when serving. 
Big scoops of ice cream is nice with this pie. 
Fatal error: Uncaught Exception: 12: REST API is deprecated for versions v2.1 and higher (12) thrown in /storage/content/90/144790/matikvadrat.se/public_html/wp-content/plugins/seo-facebook-comments/facebook/base_facebook.php on line 1273