Jag lovade er receptet på blåbärsrutorna idag, och det ska ni få. De här var så enkla att göra och så himla smarriga att jag bara måste dela med mig av dem. Jag kan inte ta åt mig äran för receptet, jag har hittat det på en amerikansk blogg, men jag gjorde några små ändringar, så egentligen är det ju mitt egna recept 🙂
I promised you the blueberry pie bar-recipe and here it is. So simple to make and soo good to eat. Of course I have to share it, it would be awful of me not to. I can't take the credit for this recipe though, I found it on Pinterest and an American blog, but since I couldn't help myself but make some changes to the recipe I guess it is my own after all 🙂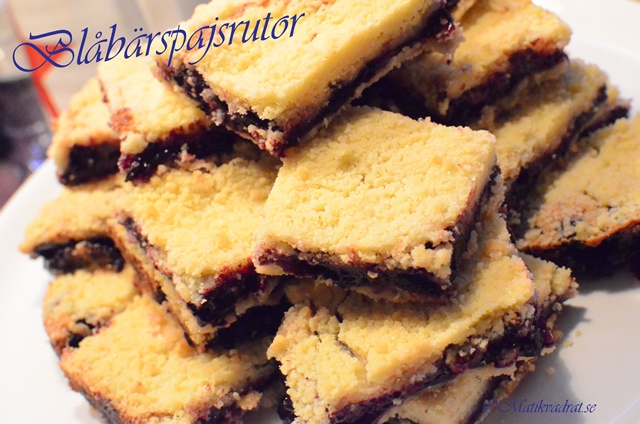 Det här behöver du:
Smuldeg: 
6 dl mjöl
2,5 dl socker
en nypa salt
270 g kallt smör
Fyllning:
2 ägg
2,5 dl socker
1,25 dl vaniljyoghurt (vaniljkesella skulle också funka bra)
6 msk mjöl
ett par droppar vaniljextrakt eller en nypa vaniljpulver (svart pulver inte vaniljsocker)
450 g blåbär (jag använde frysta blåbär som vi plockade förra sommaren)
Ingredients: 
Crumble
6 dl flour
2,5 dl sugar
a pinch of salt
270 g cold butter
Filling
2 eggs
2,5 dl sugar
1,25 dl vanilla yoghurt
6 tbsp flour
a few drops of vanilla extract
450 g bluebrries (I used frozen ones, picked last summer)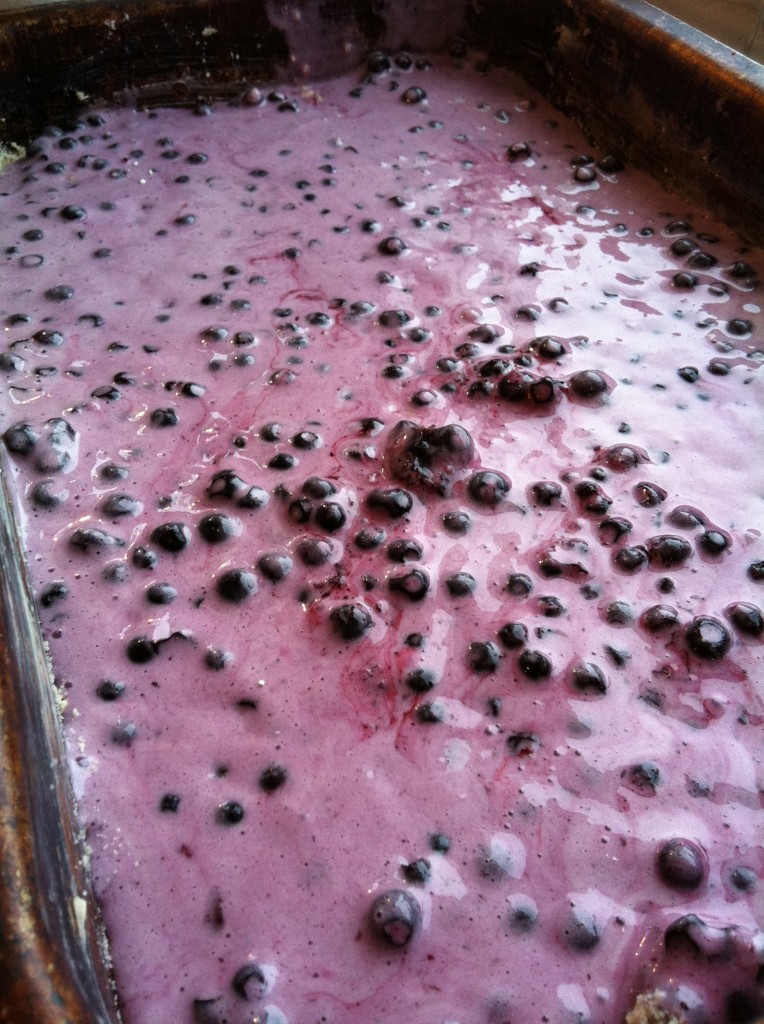 Gör så här:
Sätt ugnen på 175 grader. Smörj en ugnsfast form, gärna en med löstagbar botten, ca 20 x 20 cm (större eller mindre funkar lika bra, rutorna blir bara olika tjocka)
Mixa alla ingredienserna till smuldegen i en matberedare.
Lägg så pass mycket smuldeg i botten på ugnsformen att du kan pressa den till ett degskal. Den ska inte gå upp på kanterna.
Spara resten av smuldegen.
Vispa äggen med socker, vaniljyoghurt, mjöl och vaniljextrakt.
Blanda försiktigt i blåbären (är de frysta behöver de inte ha tinat först).
Häll fyllningen över botten och strö sen resten av smuldegen över. Grädda i ca 45  minuter i mitten av ugnen.
Instructions: 
Set the oven to 175 degrees C. Butter an oven-proof dish or pan of some sort (20×20 cm) Smaller or bigger pan can be used, it's just the size and height of the bars that will change. 
Mix all of the ingredients for the crumble in a food processor. 
Use as much crumble as needed to press into the bottom of the pan to form a crust. Bottom only is needed, sides  do not need to be covered.
Whisk the eggs with the sugar, vanilla yoghurt, flour and the vanilla extract. Carefully fold in the blueberries (they do not need to be thawed first.
Pour the filling over the crust and then put half of the remaining crumble over the filling. Bake for approx 45 minutes and after half of that time, take the pan out and sprinkle the rest of the crumble on top.
Leave to cool for 1 hour before cutting.  
(Jag hade på ca hälften av resterande smuldeg först och sen efter ca halva tiden strödde jag på resten, men det berodde på att ursprungsreceptet hade mindre mängd smuldeg och det blev inget frasigt smullager av det (antagligen beroende på de frysta bären) så i ren panik gjorde jag mer smuldeg och strödde på. Jag har besparat er den paniken och lagt till den extra mängden från början.
Låt formen stå i en timme innan du skär pajen i rutor. 
The reason I add some crumbe topping after half of the baking time is because the recipe initially called for less crumble, and my frozen berries caused the topping to become soggy instead of crunchy. I panicked and made more crumble and sprinkled on top and all was well. So I thought I'd take the panicky moment out for you and so I have already added this extra crumble in my recipe. 

Dessa kakor skulle göra sig väldigt bra med hallon också. Ska prövas snarast möjligt. Om någon hinner före mig får ni gärna berätta hur det blev.
Går att äta som de är men en klick vaniljyoghurt eller vispad grädde, eller en skopa glass gör något gott ännu godare.
MUMS!
I bet these would be delicious if using raspberries instead. Must try this as soon as possible. If any of you beat me to it, do let me know how the bars turned out. 
Of course these bars are delicious on their own, but what's to say a dollop of vanilla yoghurt or whipped cream wouldn't do the trick? A scoop of ice cream would make good even better. 
Yummy!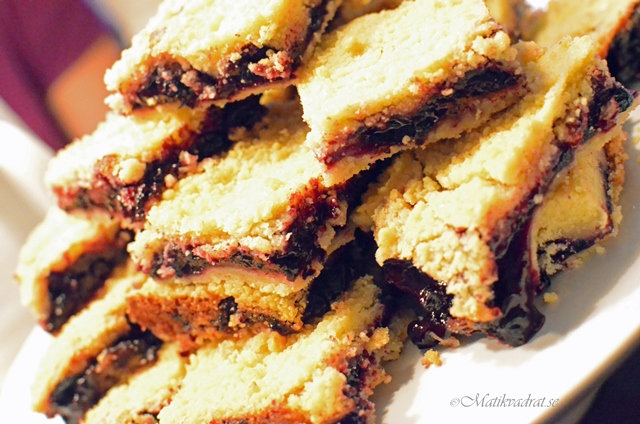 Fatal error: Uncaught Exception: 12: REST API is deprecated for versions v2.1 and higher (12) thrown in /storage/content/90/144790/matikvadrat.se/public_html/wp-content/plugins/seo-facebook-comments/facebook/base_facebook.php on line 1273