* Scroll down for English
Hej,
Vilken dag det har varit!
Snökaos, sambon åkte till Stockholm tidigt i morse. Jag och Mini-me skulle till vårdcentralen, där vi även var igår eftermiddag, eftersom vi trodde att hon kanske hade urinvägsinfektion. Nu visade sig allt vara bra, skönt det, men vi hade en jäkla morgon.
Ni vet, man tror att det ska bli mysigt och bra med sovmorgon men det blir det inte, sen rinner tiden ifrån en medan det lilla rara barnet tar till alla sin tricks för att slippa klä på sig. Jag kan vara både tålmodig och pedagogisk med barn, men INTE när jag har bråttom och de jäklas. Då svartnar det för ögonen och i mitt huvud tänker jag fula ord. När jag höjde rösten och sa till på skarpen så kom de fina orden: men då får inte du vara min mamma. När jag sa att jag inte ville höra henne säga så mer vände hon på det istället: Men då vill inte jag vara ditt barn. Aaaahhhh!
Vi kom iväg till slut men sena så klart, vi hade missat tiden med läkaren (som Mini-me inte tyckte var så ful, vilka roliga saker de säger ibland 🙂 )så vi fick vänta en stund medan han kollade testresultaten.
Gråt på dagis vid lämning, hem och ut med Ruffe, skotta och sen äntligen iväg till jobbet. Det tog hela förmiddagen, men ibland är det så. Inte mycket att göra åt.
Men sen idag när jag skulle hämta Mini-me på dagis så FASTNADE jag med bilen i snön! Fick försöka gräva fram däcken, men det gick så där. Som tur var kom en pappa, som också har barn på samma dagis, och hjälpte mig. Faktiskt samma pappa som också var med sin dotter på vårdcentralen igår.
Han lyckades i alla fall putta iväg bilen så jag kom ur den värsta snöhögen. Tur att det dyker upp starka snygga män ibland när man behöver hjälp 🙂 Han var dessutom snäll att vänta på mig när vi åkte från dagiset, för att se att jag inte fastnade igen. Tack snälla!
Till allt detta ska tilläggas att jag inte kan öppna dörren på förarsidan inifrån! Om rutan inte har frusit fast kan jag veva ner rutan och öppna utifrån. Är rutan fastfrusen får jag klättra över till passagerarsidan istället. Himla smidigt!
Här hemma var uppfarten helt igensnöad, så det var bara att låta Mini-me gå och kolla på film, medan jag skottade för andra gången idag.
Efter en skål varm soppa och en kopp äppelglögg är jag nu redo att börja baka tårtbottnar. Ska bli skönt att sätta igång ugnen, då kommer det bli varmt här hemma.
Hur har det gått för er idag?
Kram Christine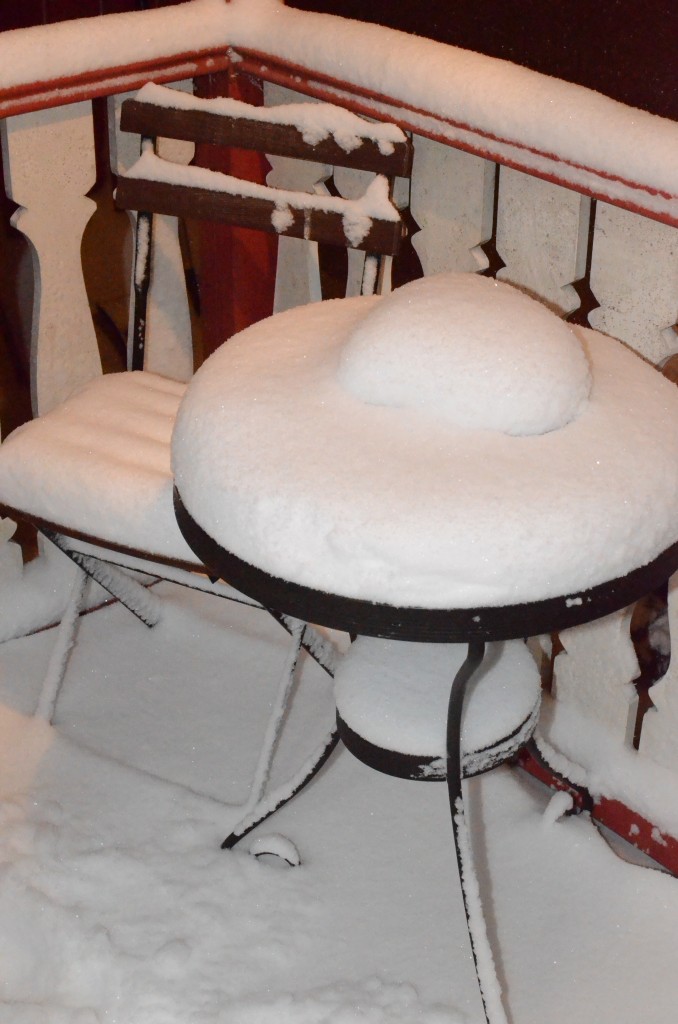 Farstukvisten, en aning snö hat kommit. Men visst ser det fint ut?
English
Hi,
I have had one of those days, you know.
Snow chaos today, the hubby left for Stockholm early this morning. Mini-me and I were going to the health centre, where we also spent the afternoon yesterday because we feared Mini-me had got urinary tract infection. Everything turned out to be OK, though, but still. The morning from hell…
You know how it is. You think it'll be nice to have lie-in but it turns out to be everything but nice and cosy. Time ends up running away from you as the sweet little child pulls out all of the tricks from the hat in order to avoid getting dressed and getting out of the door. Now, I can be both patient and good with children, but NOT when I am in a hurry and the little one is messing about. That's when the bad words pop up in my head, the ones I never say to the little one.
When I raised my voice and told her off she said: You're not allowed to be my mummy!
When I said she shouldn't say that she replied: Well, then I don't want to be your child!
These are the times I thought of, when I said I didn't want to have children. Thak God not all days are like these.
We finally managed to go to the health centre, where we of course were too late to see the doctor (who by the way, MIni-me thought was rather good-looking, the funny things the little ones come up with 🙂 ) so we had to wait for the test results.
After that there was crying at day care when I dropped Mini-me off (her not me) rush home to take the dog for a walk and then shovel snow off the drive-way, before I could go to work. It took all morning but what can you do? Some days are just that way, nothing to do about it.
Later today, when I went to pick Mini-me up from daycare the car got stuck in the snow! Trying to dig it out didn't work too well. Luckily, a dad, with children at the same daycare, came to the rescue, and could help me push the car out of the snow. How nice it is to have a nice and good-looking man come to the rescue for once, when one is stuck. That doesn't happen too often 🙂
He also waited after the children were picked-up, to make sure I managed to drive off without a problem. Really nice!
I should add, that to all of this trouble, the door of my car, on the driver's side can't be opened from the inside. If I am lucky the window is not frozen and I can roll it down and open the door from the outside. If I am unlucky and it's cold then the window will be frozen shut and I have to climb over to the passenger side to be able to get out of the car.
Once home again, in the evening, I had to shovel the drive-way again.
After a bowl of warm soup and a cup of mulled apple cider I am now ready to start baking the cakes.
Will be nice to start the oven ,and warm up the house.
How has your day been?
Love Christine
Fatal error: Uncaught Exception: 12: REST API is deprecated for versions v2.1 and higher (12) thrown in /storage/content/90/144790/matikvadrat.se/public_html/wp-content/plugins/seo-facebook-comments/facebook/base_facebook.php on line 1273