Hej,
Idag är det VAB här hemma. Det händer med andra ord inte så mycket. Men visst är det konstigt att sjuka barn inte alls beter sig som sjuka vuxna, som helst vill krypa under täcket och inte vakna förrän febern är borta.
Barn däremot ska mycket till för att de ska knockas på det viset. Det leks och busas medan feberrosorna blommar på kinderna. Leken varvas visserligen med stilla aktiviteter som att titta på film och lägga pussel.
Veckans meny kommer härmed äntligen upp på bloggen. Den här veckan har jag surfat runt på ICAs hemsida och hittat en massa gott. Jag ser nu att menyn har en touch av södra USA. Det är texmex, chili och kreolskt. Gott gott! Har aldrig varit i USA, men säga vad man vill, ett digert utbud av mat och olika smaker finns det i alla fall.
På lördag slipper vi laga mat själva, för då ska vi på bröllop! Vänner till oss ska gifta sig och det kommer nog att vankas mycket gott!
Mer om det på söndag.
Vad ska ni äta den här veckan?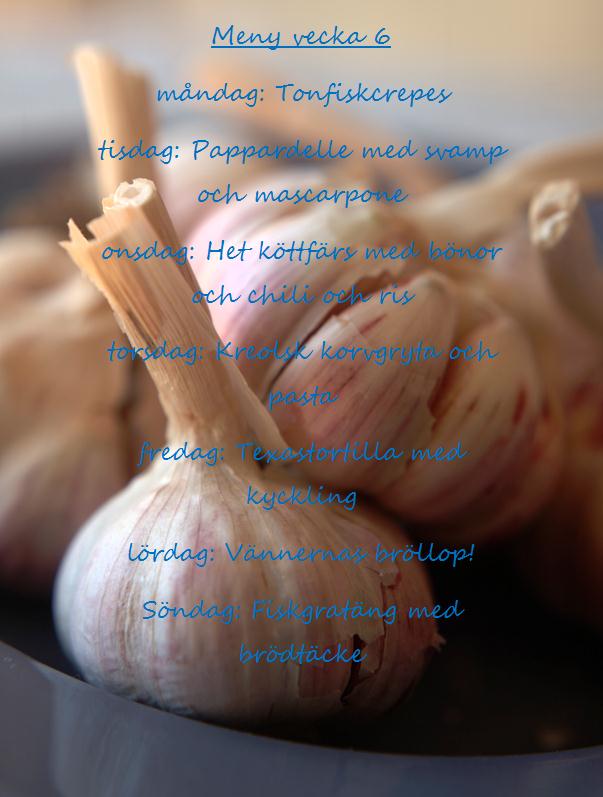 I am home today with a toddler who has a fever. But the only thing that gives it away is the red cheeks. She's playing and being full of mischief mixed with taking it easy and watching a film or trying her hand at puzzles. 
If I have a fever I lie in bed feeling sorry for myself 🙂
This week's menu is therefore posted a bit later, but tada, here it is:
Monday: tuna crepes
Tuesday: pappardelle with mushrooms and mascarpone
Wednesday: Spicy minced meat with beans and chili, served with rice
Thursday: Creol sausage casserole with pasta
Friday:  Texas tortilla with chicken
Saturday: Going to a wedding!
Sunday: fish gratin covered with bread
Fatal error: Uncaught Exception: 12: REST API is deprecated for versions v2.1 and higher (12) thrown in /storage/content/90/144790/matikvadrat.se/public_html/wp-content/plugins/seo-facebook-comments/facebook/base_facebook.php on line 1273