Pink = English
Hej,
Oj vilken dag det har varit. Massor av snö har kommit och mer verkar det bli 🙂
Jag började dagen med ett jättetrevligt besök på Tant Grön och Tant Gräddelin i Vintrosa. Sen blev det en tur till IKEA och Toys R'Us, men de sakerna jag ville ha fanns inte så jag fick åka tomhänt därifrån. Ja nästan i alla fall. Helt tomhänt är ju omöjligt att åka från IKEA 🙂
Nu på kvällen har jag handlat och lagat mat till morgondagens adventsmingel. Kl. 14.00 kommer vännerna över. Då ska vi ta det lugnt, låta ungarna rusa omkring och leka, äta massor av god mat (jag har bullat upp med massor av goda saker, vad får ni se imorgon) och hinna umgås lite mitt i all julstress som lätt blir.
What a day it has been. Lots of snow has fallen and more seems to be on its way 🙂
It has been a full schedule today. Starting with a really nice visit to a garden centre nearby, with a lot of nice flowers, small decorations for the house and good food. After that I went to IKEA and Toys R' Us with my shopping list. Bad news for me though was that they didn't have the things on my list. Don't think I have ever been that disappointed after a visit to IKEA. But I did manage to find one thing I wanted, at least. 
This evening I have been shopping and cooking food for tomorrow's advent party with friends. They are invited over at 2 o'clock in the afternoon. We're just going to relax, talk and spend some time together in between all of the things to be done before Christmas, while we enjoy good food and the children run around like crazy. I have a nice menu planned, I'll show you tomorrow.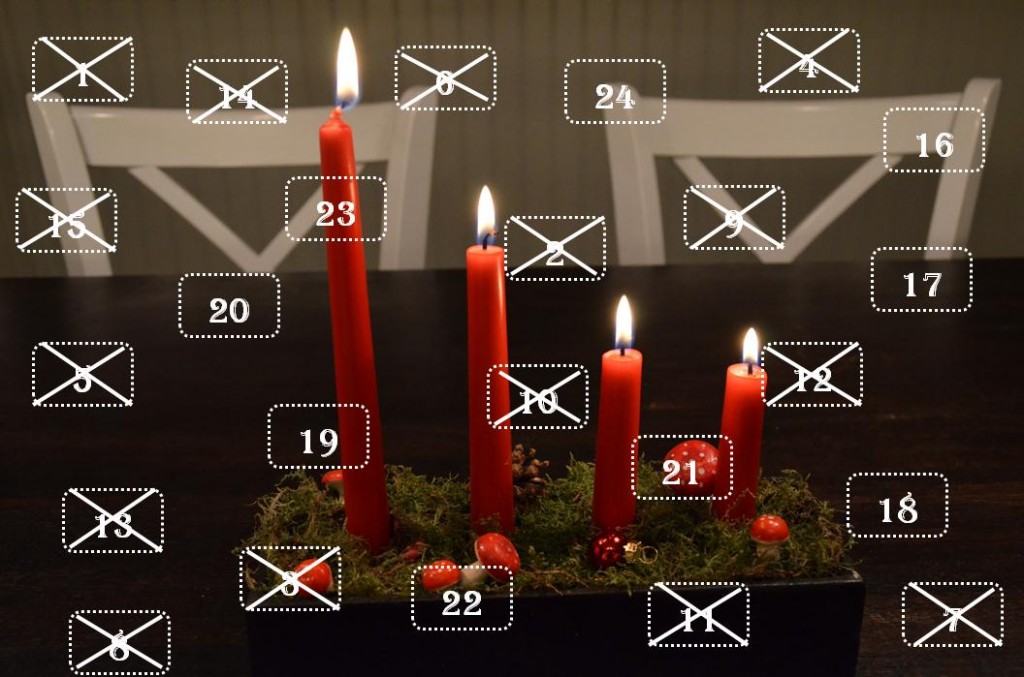 Bakom dagens lucka gömmer sig något som allt funkar att ge bort istället för en blomma. Nämligen ljus och ljuslykta, något man inte kan ha för mycket av, och dessutom inte när det är mörkt och kallt ute.
Behind today's flap in the calendar is something which is always appreciated as a gift. Namely, a candle and a candle holder. Things one can't have too much of, especially at this dark and cold time of year.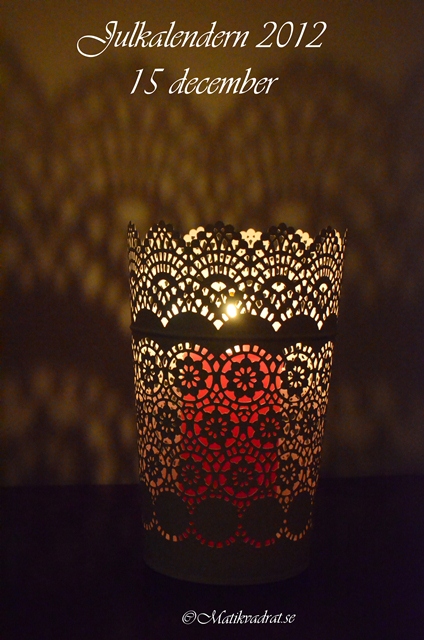 Denna vackra ljuslykta för blockljus har som ni ser ett jättefint hålmönster som ljusskenet kan lysa genom.
Kostar 79 kr på IKEA och heter SKURAR.
This beautiful candle holder for pillar candles has a pretty punched out pattern allowing the candle light to shine through.
It costs 79 SEK, approx. 8 EUR, at IKEA and is called SKURAR.
Vad har du gjort idag? Tog du dig ut i snöyran eller stannade du hemma och kurade? Är du klar med julklappsinköpen?
Tack för att du läser!
Kram Christine
Fatal error: Uncaught Exception: 12: REST API is deprecated for versions v2.1 and higher (12) thrown in /storage/content/90/144790/matikvadrat.se/public_html/wp-content/plugins/seo-facebook-comments/facebook/base_facebook.php on line 1273