God morgon!
Veckans meny kommer direkt på morgonen den här veckan. Jag har plockat ihop en meny med rätter från de kokböcker jag har nämnt hittills, samt dotterns alldeles egna kokbok och även två recept från en av mina favoritsidor för recept; nämligen Arla.se
Vad tycker ni, är det bra att jag postar veckans meny på måndagar? Har ni önskemål om speciella rätter eller att jag postar menyn en annan dag? Får ni någon inspiration? Hör av er och säg vad ni tycker.
Den här veckan kommer innebära mycket jobb, dagarna på kontoret går ju alltid snabbt. Jag har en tanke om hur varje dag ska vara men jag har ett jobb där det sällan blir som jag har tänkt mig. Det kommer annat mellan och det är ju faktiskt en del av charmen med jobbet.
Den här veckan kickar jag igång arbetet med vännernas bröllopsprogram på allvar. Allt papper är nu beställt och hämtat, vi har bestämt all layout och mitt arbetsprov är godkänt av den blivande frun och hennes blivande man. Nu är det bara att sätta igång och jobba, jobba. Om två veckor ska allt vara klart.
Vi fortsätter nedräkningen till vår resa och längtar! Jag ska försöka komma igång med träningen ordentligt, det där träningspasset jag testade förra veckan, visade sig oerhört effektivt. Det kändes i magmusklerna hela veckan, och tanken är att man ska köra övningarna morgon OCH kväll, VARJE dag. Jag ska försöka, det kommer göra ont. Men den som vill vara fin får lida pin säger man ju. Jag ska dela med mig av övningarna, så kan ni testa själva och se. Ni kommer förstå då…
Ha en bra dag så länge, vi hörs senare idag!
Kram Christine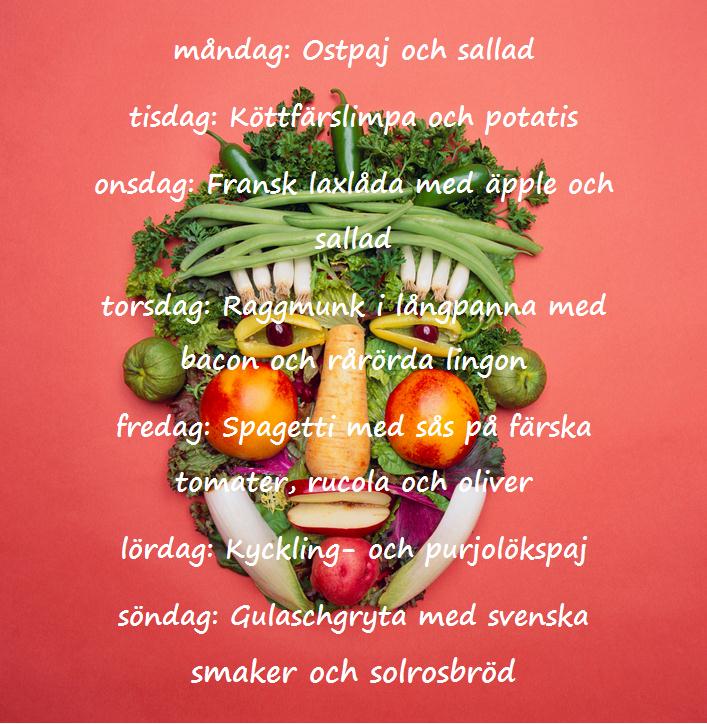 Good morning!
This week's menu is posted first thing today. I have put together a menu based on the two cook books I have mentioned over the past weeks, plus one dish from Mini-mes own cook book and two meals from one yof my favourite food sites: www.arla.se
What do you think; is it OK to get the menu on Mondays? Are there any specific wishes about types of food or to have the menu posted on another day? Am I inspiring you? Let me know what you think.
This week there will be a lot of work. The days at the office gos so quickly. I have an idea about what my day contain but in the end other things fill the day and it never turns out the way I have planned. Which is actually part of the charm with my job. 
This week I will kick-start the work on my friends' wedding programs. All the paper has been ordered and picked up. The layout has been decided on and my sample has been approved of by the happy couple. Now it's time to get busy! The wedding is in two weeks so no time to lazy around.
We continue the count down to our trip and can't wait! I really need to get going with my excercising. That workout I mentioned last week is a killer, I will share it with you and you'll see,  but it's good so I will stick to it. One is supposed to the workout morning AND night every day.
Well, no pain no gain I guess…
Have a nice day!
Talk to you later
Love Christine
Menu:
Monday: Cheese pie
Tuesday: Meatlof and potatoes
Wednesday: Salmon casserole with apples
Thursday: Potato pancake with bacon
Friday: Spaghettti with fresh tomaotes, rocket salad and olives
Saturday: Chicken and leek pie
Sunday: Goulash stew and sunflower bread
Fatal error: Uncaught Exception: 12: REST API is deprecated for versions v2.1 and higher (12) thrown in /storage/content/90/144790/matikvadrat.se/public_html/wp-content/plugins/seo-facebook-comments/facebook/base_facebook.php on line 1273