Hej,
Du har väl inte missat att det är kladdkakans dag idag? Jo visst finns det en sådan! Precis som kanelbullen är kladdkakan lite typiskt svensk och väldigt väldigt poppis ute i de svenska hemmen. Det kan man ju förstå, enkel att baka, lätt att variera och så himla god. Klart kladdkakan ska ha en egen dag!
Jag varken bakade eller åt kladdkaka idag, är ju inne på min paleo-diet (men ska nog testa att göra en paleokladdkaka snart) men för några veckor sen bakade jag en väldigt vit kladdkaka med äpple i.
Jag har en kakform formad som ett äpple, som jag använde som mall när jag pudrade kanel på kakan.
In Sweden today it's the National Kladdkake-day (Kladdkaka is like a brownie and very popular).
It's simple to make, easy to vary and oh so delicious. What's not to like?
Since I am on my Paleo diet I didn't eat any kladdkaka today. But a few weeks back I baked one (which I had some of for dessert) with apples in. 
I have an apple shaped cookie cutter which I used as a template for putting some cinnamon on the cake.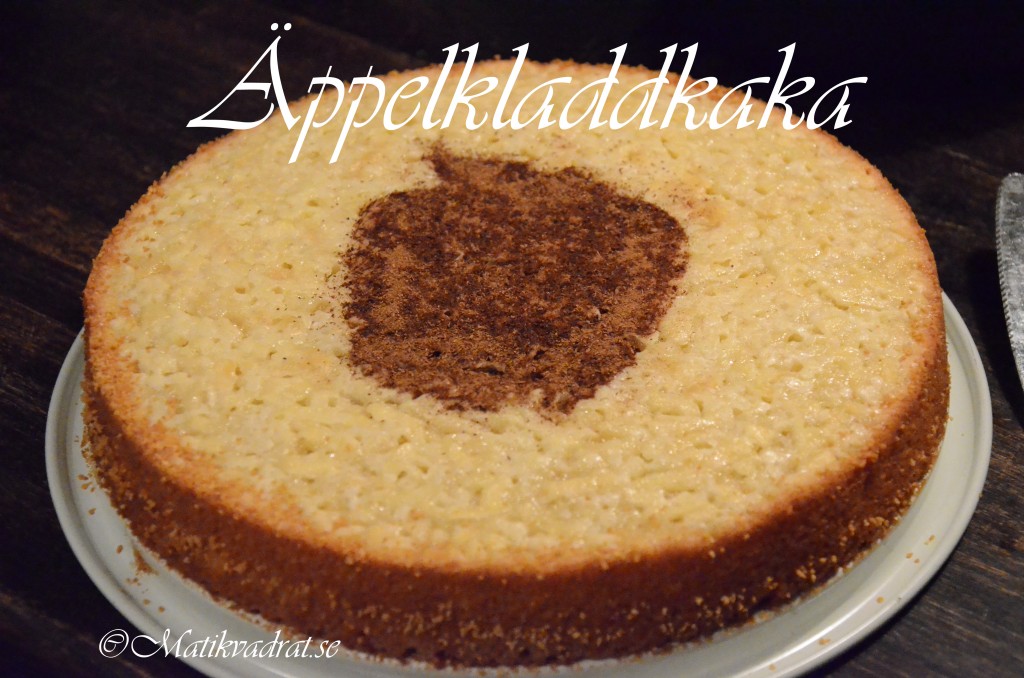 Receptet är från tidningen Hembakat.
Till 10–12 bitar, en springform behöver du:
200 g smör
3 ägg
4,5 dl strösocker
3,75 dl vetemjöl
1,5 msk vaniljsocker
2–3 äpplen
Gör så här:
 Sätt ugnen på 175 grader. Smält smöret.
Vispa ihop ägg och socker och tillsätt det smälta, varma smöret.
Tillsätt mjöl och vaniljsocker och rör ihop allt till en slät smet. Skala och riv äpplena och blanda ner det i smeten.
Häll smeten i en smord och bröad form, ca 24 cm i diameter.
Grädda kakan mitt i ugnen i 20–25 min. Kakan ska fortfarande vara lite kladdig (men inte lös) i mitten när den är klar. Låt kakan kallna innan servering. Pudra lite kanel eller florsocker över kakan.
Tips!
Kakan var väldigt god att äta kall dagen efter, så om du kan, gör den en dag i förväg.
This recipe is for a regular size springform, 10-12 portions:
200 g butter
3 eggs
4,5 dl sugar
3,75 dl flour
1,5 tbsp vanilla sugar
2–3 apples
How to make:
Turn the oven to 175 degrees C. Melt the butter.
Whisk together the eggs and sugar, and add the warm melted butter. 
Add the flour and vanilla sugar and mix it all to a smooth batter. Peel and grate the apples and add to the batter. Pour the batter into a greased  springform, ca 24 cm in diameter. 
Bake the cake in the middle of the oven for about 20-25 minutes. The cake is supposed to be sticky in the middle, but not loose. 
Let the cake cool before serving, and dust with some powdered sugar. 
Tip!
The cake was very good to eat cold, the day after. So if you can, make it one day ahead. 
Fatal error: Uncaught Exception: 12: REST API is deprecated for versions v2.1 and higher (12) thrown in /storage/content/90/144790/matikvadrat.se/public_html/wp-content/plugins/seo-facebook-comments/facebook/base_facebook.php on line 1273