* Scroll down for English
Hej,
Igår for jag runt hela dagen och shoppade och förberedde för dagens middag. Ska strax sätta igång med matlagningen. Höll dock på att få en hjärtinfarkt igår i affären när jag inte hittade någon kalkon. Det hade ju varit en aning jobbigt. Som tur var fick jag med mig en hem och middagen var räddad!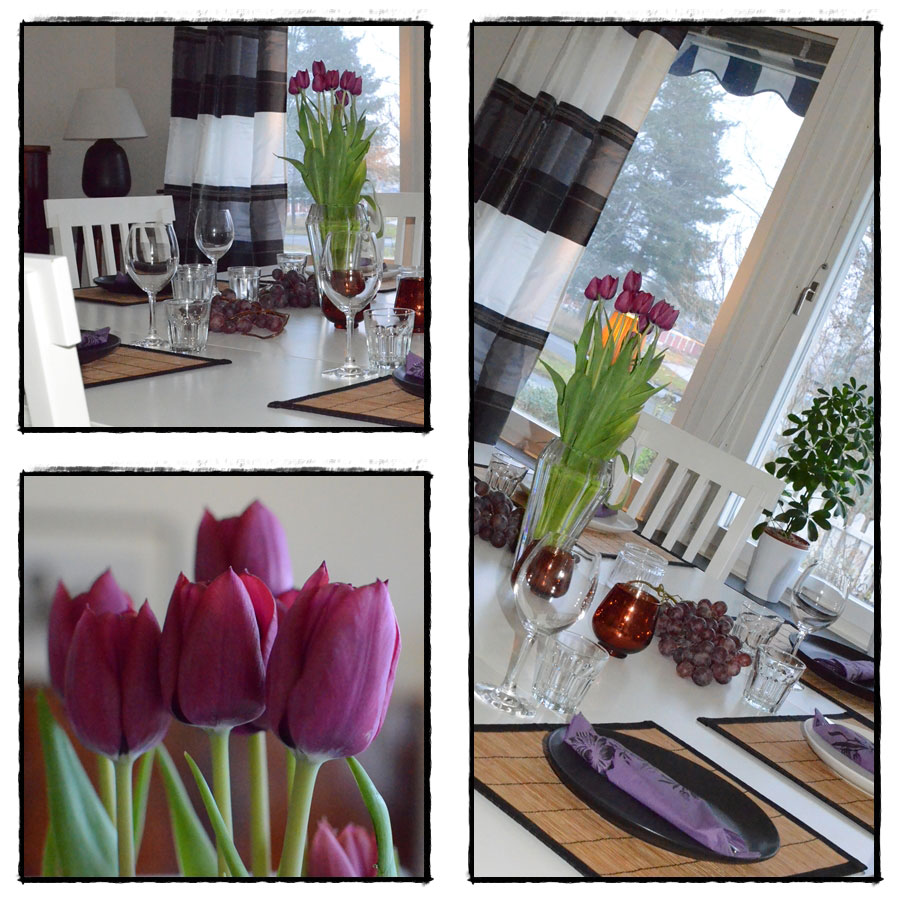 Bordet är redan dukat, det blev enkelt dekorerat och fick gå i lila, alltid roligt när bordsdekorationerna går att äta också.
Köpte ny fin orkidé till sovrummet. Men egentligen borde jag satsa mina pengar på en riktigt snygg fake-orkidé. De riktigt stora kostar mellan 800-1000 kr men att köpa nya med jämna mellanrum gör ju att man snart är uppe i (redan har gått om) den summan.
Har länge letat efter nya stövlar. Har inte riktigt varit mitt mode i år. Men så hittade jag ett par supersnygga i Stockholm för några helger sen. Precis så som jag ville ha, svarta med hög och smal klack. Men så ville jag ha ett par med låg klack också. Igår på stan hittade jag de perfekta stövlarna. Till ett mycket bra pris dessutom. 50%rabatt! Att de dessutom fanns i min storlek var ju helt otroligt, ett tecken från skoguden 🙂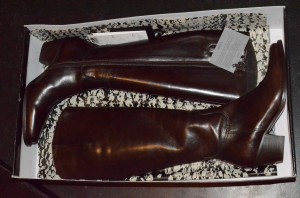 Medan jag var ute på stan var sambon aktiv här hemma. Nu börjar ett rum i källaren, bakom trappen ta form och trappen har fått en halvvägg. Det kommer bli riktigt bra när det är klart och det är så skönt att vi äntligen har kommit igång med renoveringen igen.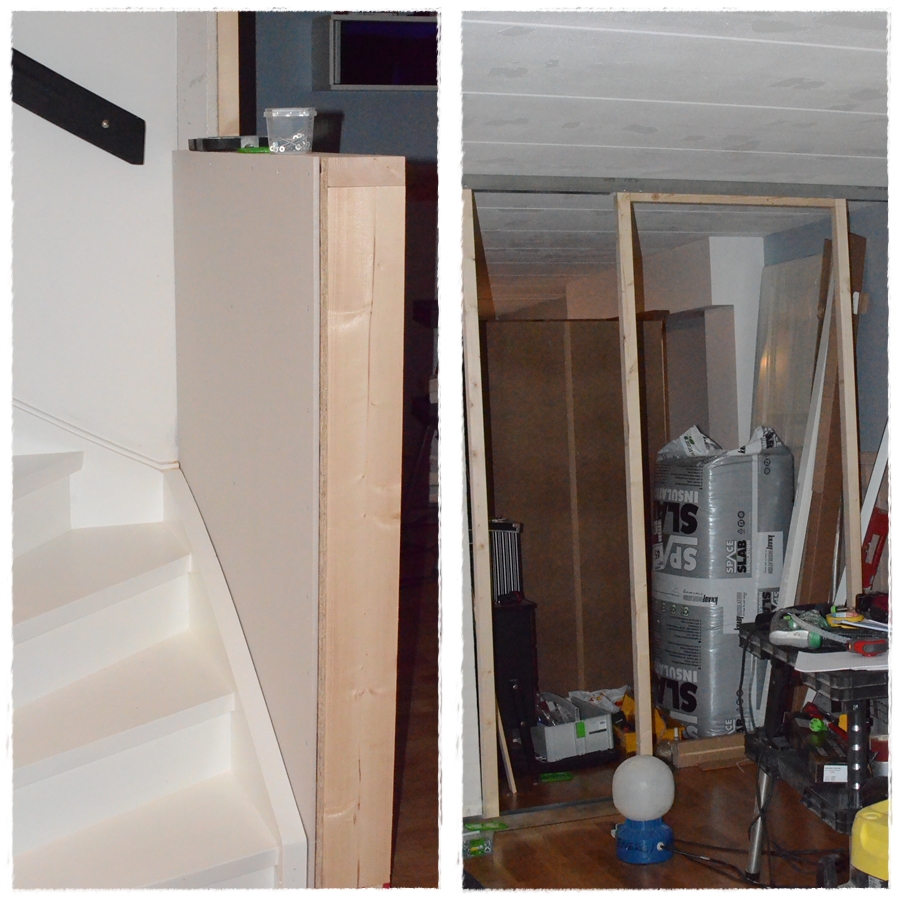 Näe nu ska jag baka bröd och förbereda fyllningen till kalkonen.
Ha en bra  söndag och titta gärna in senare och se hur det går för mig.
Kram Christine
English
Yesterday I had a shopping day, in town and at the supermarket. I found a really nice pair of boots, dark brown with low heel, exactly like what I had been looking for. Now I am kitted for the winter, with both a high heeled black pair, bought in Stockholm a few weeks back, and now these lovely shoes. Best thing is that thye were 50% discounted!
My heart nearly stopped though when in the supermarket, because I couldn't find a turkey. Luckily I did find one in the end and could go home happy. That would have been one fine Thanksgiving dinner, without turkey 🙂
The table is already set, I did it yesterday and it's a simple table setting in purple tones. It's always fun when the table decorations are edible.
I also bought a new orchid for the bedroom yesterday. I rarely get them to rebloom and I don't really have the patience to wait either so I always end up buying new ones. But I should just buy a really nice looking fake orchid. They are pricey but it's a one-off buy and then I am set, I will have a big beautiful orchid full of blooms always.
While I was busy shopping and adding to my shoe collection the hubby was rather busy too. We are now getting closer and closer to a new room in the basement.We are transforming a dead space behind the staircase to a small room for the hubby to keep all his fly fishing stuff.
As well as the new room, I wanted a half wall at the end of the staircase, which is now up too. I am so glad the renovating is back on track. Hopefully we can have the home we really want soon.
Oh well, time for me to go prepare the turkey and make dinner rolls now.
Have a nice Sunday and I would be very happy if you would come back to check on me later today.
Love Christine 
Fatal error: Uncaught Exception: 12: REST API is deprecated for versions v2.1 and higher (12) thrown in /storage/content/90/144790/matikvadrat.se/public_html/wp-content/plugins/seo-facebook-comments/facebook/base_facebook.php on line 1273