Jag bakade i lördags. Hade en burk Nutella som jag så gärna ville använda till något. Den nyinköpta lilla bakboken med massor med smarriga recept innehållandes Nutella är bra, men det är faktiskt inte därifrån jag tog receptet.
En av mina favoritkakor är chokladsnittar, ni vet de sneda chokladkakorna med pärlsocker på. Min farmor brukade göra dem. De är dessutom enkla att göra, så i lördags efter frukost snodde jag ihop en sats. Det är här Nutellan kommer in i bilden. Jag tillsatte Nutella i degen, och det gjorde ju verkligen inget om jag säger så 🙂
Mums! Det blir väldigt många kakor av en sats deg, så det räckte till tre burkar. En fick stanna hemma, en fick åka till mina föräldrar och en tog jag med till jobbet idag.
Jag gjorde kakorna lite olika tjocka och det är en smaksak. De tunnare blir mer knäckiga och de tjockare lite mer porösa.
Du behöver:
200 g smör
2,5 dl socker
1 msk sirap
3 msk kakao
2 tsk vaniljsocker
2 tsk bakpulver
4,5 dl vetemjöl
3 msk Nutella (jag använde mig av en vanlig matsked eftersom det är lättare att skopa upp Nutellan med)
Gör så här:

Sätt ugnen på 175 grader.
Blanda samman alla ingredienser i en matberedare. Dela degen i mindre delar och rulla ut till längder. Lägg dem en plåt med bakplåtspapper. Platta till rullarna, till de blir ett par centimeter breda, de kommer flyta ut lite under gräddningen också. Pensla dem ett vispat ägg och strö över pärlsocker.
Grädda i 13-15 min. Låt dem svalna lite. Skär sedan sneda snitt med en vass kniv.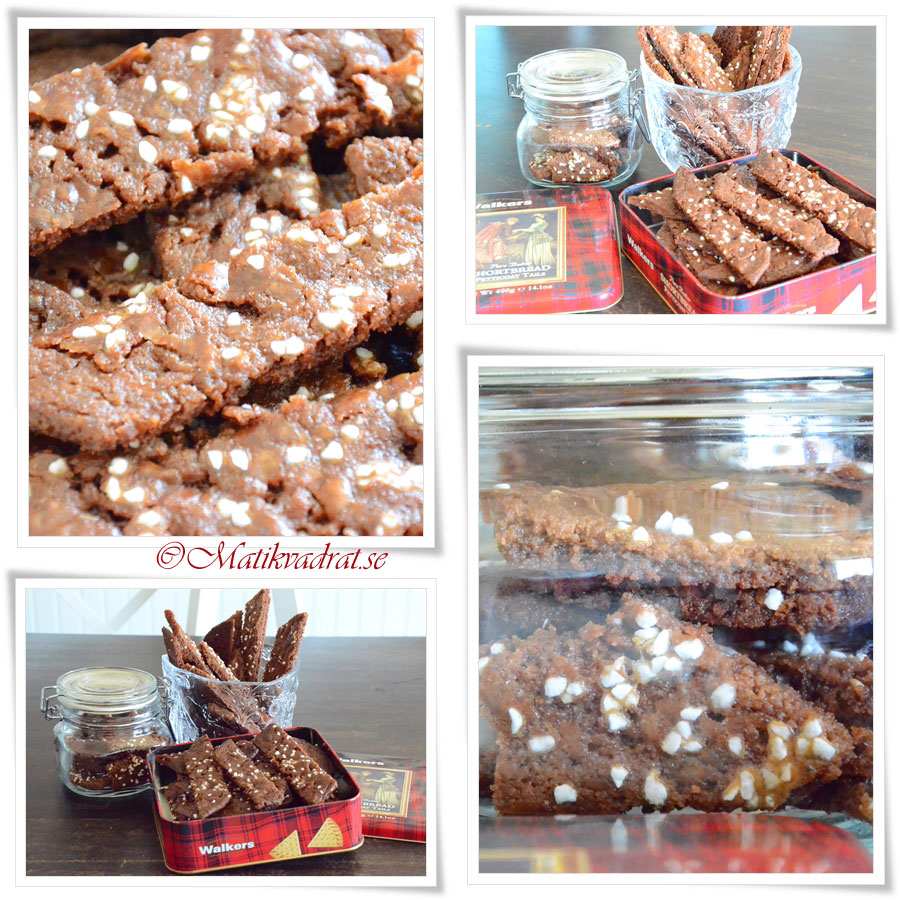 A simple and delicious chocolate cookie, this is a Swedish classic cookie, now with even more chocolate in the form of Nutella. 
Ingredients:
200 g butter
2,5 dl sugar
1 tbsp syrup
3 tbsp cocoa powder
2 tsp vanilla sugar
2 tsp baking powder 
4,5 dl flour
3 tbsp Nutella (use a regular eating spoon and be generous 🙂 )
To make:
Turn the oven to 175 degrees C.
Mix all the ingredients in a food blender until it becomes a dough. Divide the dough into smaller parts and make into rolls. 
Put the rolls on a baking sheet with parchment paper and flatten each roll slightly. Until they are a couple of centimeters wide. Do remember though that they will run out during baking.
Brush with beaten egg and sprinkle with pearl sugar. Bake in the middle of the oven for about 13-15 minutes. 
Let them cool slightly before cutting them slantwise. 
The cookies will be soft at first but will quite quickly get the right texture. Depending on how thick the rolls are after flattening the cookies will have diffferent texture. 
Fatal error: Uncaught Exception: 12: REST API is deprecated for versions v2.1 and higher (12) thrown in /storage/content/90/144790/matikvadrat.se/public_html/wp-content/plugins/seo-facebook-comments/facebook/base_facebook.php on line 1273