Godmorgon alla yrvakna lördagsfirare! Eller är ni pigga och uppe sen en stund?
Sambon och jag var själva igår då Mini-me valde att sova hos sin mormor och morfar. Vi fixade och städade här hemma, fick ordning på vardagsrummet och jag bakade hallonmoussetårta på chokladkokosbotten.

Lime och hallon är en snygg färgkombo och smakade väldigt gott.
Tårtan har stått i kylen över natten för att stelna så jag ska ner och kolla till den strax.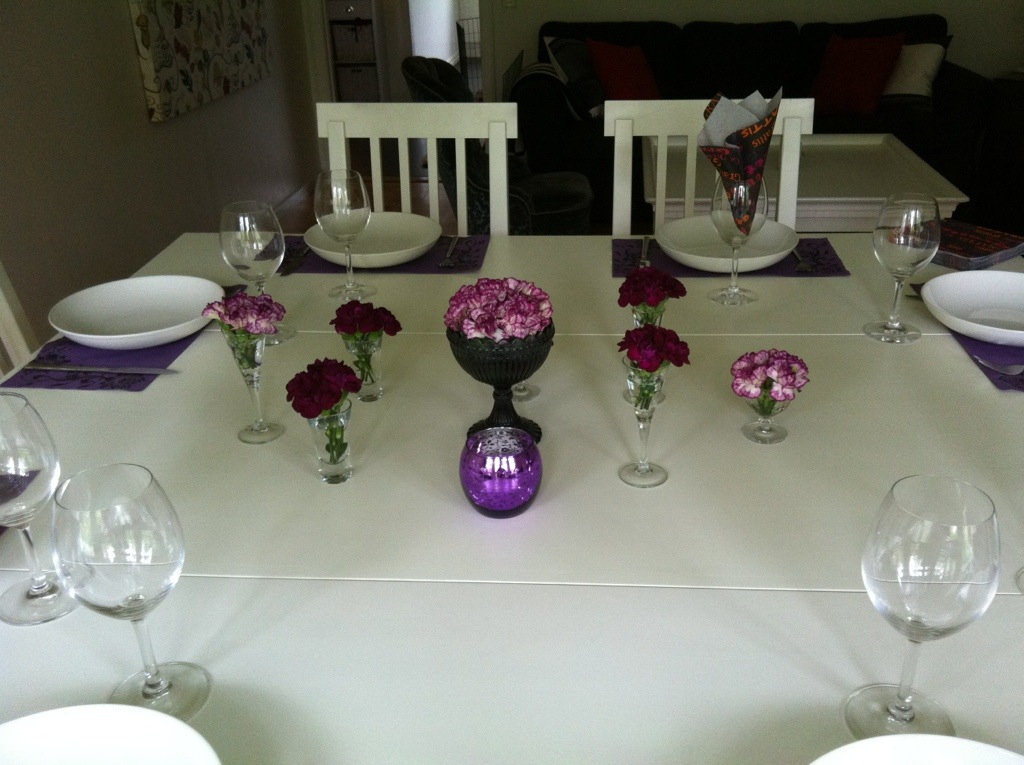 Bordet är dukat i lila nyanser med nejlikor i två färgställningar som enda blommor.
Nu ska jag baka kuvertbröd och sen är det dags att sätta igång med maten.
Ha en skön dag! Kram Christine
Hi, are awake but still sleepy or have you been up for hours already? Mini-me slept at her grandparents place so the hubby and I could concentrate on getting the living room back into something we can use and a room to be in, after weeks of functioning as a storage room. I made the cake; a raspberry mousse cake on a chocolate coconut brownie base yesterday and it has been in the fridge over night. Now it's time for bread making and then I need to start with the main course.
Have a great day everyone! Love Ch
Fatal error: Uncaught Exception: 12: REST API is deprecated for versions v2.1 and higher (12) thrown in /storage/content/90/144790/matikvadrat.se/public_html/wp-content/plugins/seo-facebook-comments/facebook/base_facebook.php on line 1273