* Scroll down for English
Vi har väl alla ätit det när vi var små? Jag pratar om chokladpudding. Jag kommer ihåg att vi fick det ibland på fritids, som mellanmål. Med vispad grädde till. Inget man ger barnen till  så ofta nu för tiden.
Jag har fått för mig att jag inte tycker om chokladpudding. Det beror på de där mellanmålen på fritids. Det var inte speciellt gott, och speciellt inte när man fick det så ofta.
Nu var det år sen jag smakade på det och ikväll skulle jag använda chokladpudding som fyllning i en av tårtorna.
Det hade varit enkelt att köpa ett paket pulver och blanda med mjölk. Men jag tänkte att det kan ju inte vara så svårt att göra det själv.
Mycket riktigt! Efter bläddrande i gamla kokböcker hittade jag ett recept i Vår kokbok. Den ser inte mycket ut för världen och är långt ifrån lika flashig som dagens glossiga kokböcker med überstylade foton. Men den har sina guldkorn, speciellt när man vill hitta något lite äldre recept.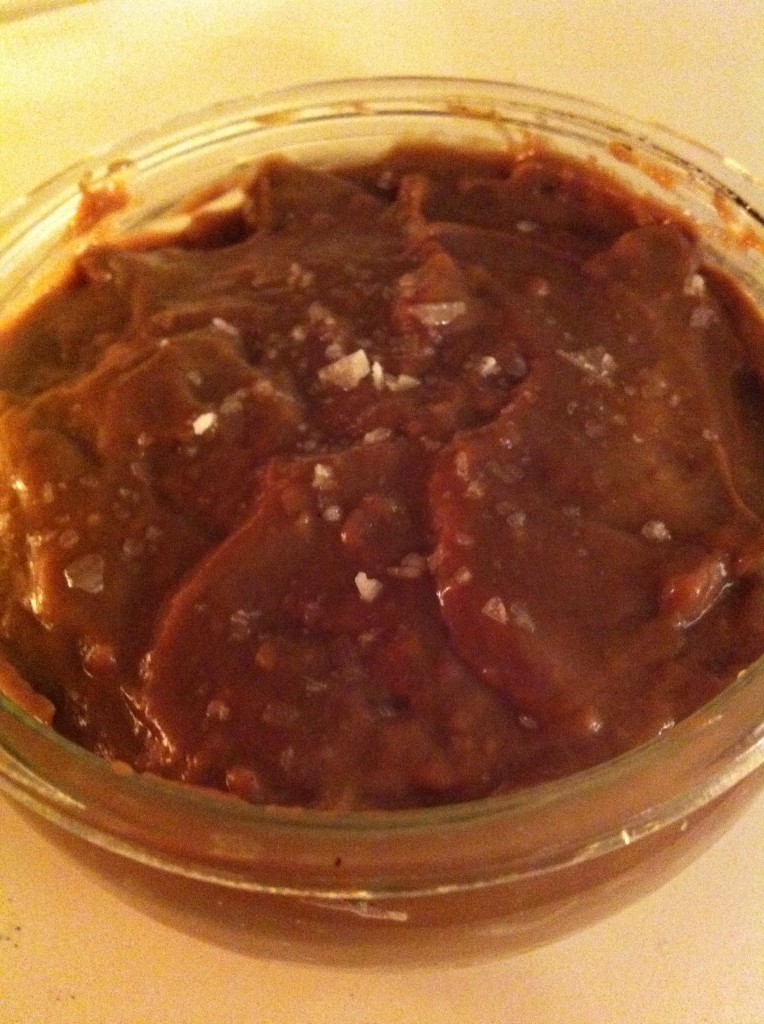 Förlåt den dåliga bilden, iPhone är bra på mycket men några fantastiska bilder kommer den aldrig ta i dunkelt ljus. Jag gjorde i ordning en liten bruléeform med chokladpudding, och strödde lite flingsalt på. Den ska jag ha till efterrätt imorgon kväll.
Till 4 portioner behöver du:
6 dl mjölk
5 msk majsstärkelse
3 msk socker
3 msk kakao
1 ägg
1 msk vaniljsocker
Gör så här:
Blanda allt utom vaniljsockret i en kastrull. Sjud under omrörning till krämen har tjocknat.
Låt krämen svalna och blanda sen i vaniljsockret.
Häll upp krämen i formar och ställ i kylen i 3-4 timmar.
Servera med vispad grädde.
Njut en sked full av barndomsminnen!
English:
Did you get served chocolate pudding when you were little. Did you love it or did you get fed up with it, as I did?
We got it a lot as an after school snack, but it was the kind made from powder. I haven't really been able to eat it since.
Today I had to make some though, to use as a filling for one of the cakes. I thought of buying the powder, to be mixed with milk but I just couldn't do it. So I looked up the recipe in an old cook book, which doesn't look nearly as nice as the other ones I have but is one of those old classics that one comes back to when in need of an older and not so modern, but very tasty recipe.
It turned out very well, was super easy to make and I now have a small jar of it, sprinkled with some sea salt, waiting for me.
4 portions:
6 dl milk
5 tbsp corn starch
3 tbsp sugar
3 tbsp cocoa powder
1 egg
1 tbsp vanilla sugar
This is what you do:
Mix all of the ingredienst except for the vanilla sugar in a pan. Let simmer while stirring, until thickened.
Let the chocolate cream cool down and then stir in the vanilla sugar.
Pour into moulds or a serving dish or put in the fridge for 3-4 hours.
Serve with whipped cream.
Enjoy a spoonful of childhood!
Sorry for the crappy photot but it was taken with the iPhone, which doesn't do well with bad lighting.
Fatal error: Uncaught Exception: 12: REST API is deprecated for versions v2.1 and higher (12) thrown in /storage/content/90/144790/matikvadrat.se/public_html/wp-content/plugins/seo-facebook-comments/facebook/base_facebook.php on line 1273