Hej,
Veckans tips på en present istället för en blomma är helt enkelt vin (eller annan dryck, Systembolaget har många bra alkoholfria alternativ också) och en god chokladkaka.
De här fick två vänner i present tidigare i veckan.
Vinflaskorna är småflaskor, perfekta om man bara vill ha ett glas.
This week's hostess gift is simply a bottle of wine and a nice bar of chocolate. 
These two presents were given to friends earlier this week. I
I love the smaller size of wine bottle, perfect when you only want one glass.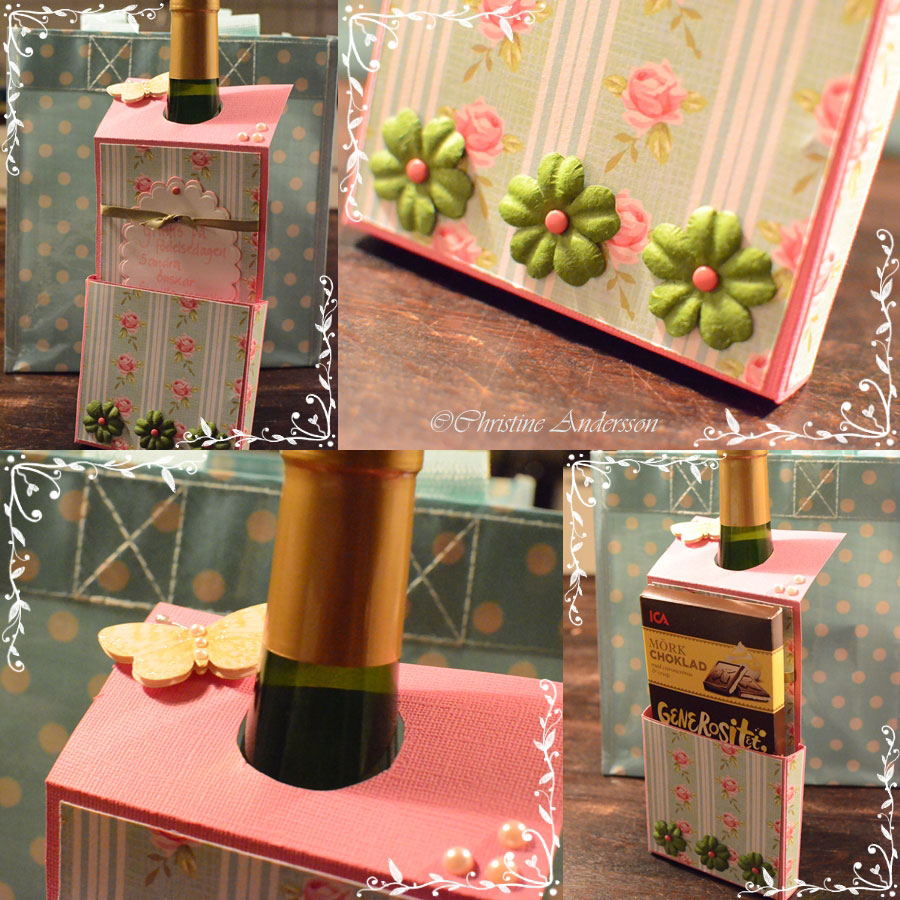 Etiketten går att göra både med och utan ficka, enklast är ju så klart ett kort utan ficka.
Fickan går att göra på flera olika sätt. Det enklaste är att limma fast den på kortet.
Mät din flaska så att ditt kort inte blir för stort, klipp till ett tjockare papper, 10 cm brett är bra. Tänk på att inkludera biten som ska vikas i längden på kortet. Vik kortet på lämpligt ställe så att den biten som hänger ner blir lagom lång.
Jag gjorde hål för flaskhalsen genom att rita en cirkel och skära ut den med en skalpell. Det går också att använda runda stansar för papper, men jag hade ingen i lämplig storlek.
Viktigt är ju att inte göra hålet för stort, för då åker korter ner för långt.
Dekorera kortet eller skriv bara en hälsning.
The card can be made with or without a pocket for something extra.
The pocket can be made in a number of ways, but the simplest is to just glue it to the front of the card.
Measure your bottle so the card doesn't become too big, and cut out a card in a thicker paper, 10 cm wide is good. 
Just remember to include the part to be folded to the lenght of the card. 
Fold the card so the flap hanging down is not too long or too short. 
I made a hole for the neck of the bottle by drawing a circle and cutting it with a scalpel. You could use a die cut too, but I had none in the right size. 
It's important not to make the hole too big, as the card will then slide too far down the neck of the bottle. 
Then you are done, and can decorate the card to your heart's desire or just write a note. 
Vill du ha en ficka att kunna stoppa ner något extra i är det enklaste att klippa till en bit som passar kortet och klistra fast den på framsidan.
För en mer stadig ficka kan man göra fickan lite bredare och längre än vad den ska vara och sen vika till det som sticker ut på pappret. De vikta delarna limmar man sen fast på baksidan av kortet.
Lycka till!
Kram Christine
If you want to add a pocket the easiest way is to cut out a shorter card that will fit the big card and then just glue it to the front of the big card. 
For a more sturdy version make the pocket a little bit wider and longer than it's supposed to be, and then fold the extra bits and glue them to the back of the card. 
Good luck!
Love Christine
Fatal error: Uncaught Exception: 12: REST API is deprecated for versions v2.1 and higher (12) thrown in /storage/content/90/144790/matikvadrat.se/public_html/wp-content/plugins/seo-facebook-comments/facebook/base_facebook.php on line 1273