Warning: count(): Parameter must be an array or an object that implements Countable in /storage/content/90/144790/matikvadrat.se/public_html/wp-content/plugins/really-simple-facebook-twitter-share-buttons/really-simple-facebook-twitter-share-buttons.php on line 619

Hej,
Veckans drink får smygstarta temat för morgondagens middag, som är asiatiskt. Vi har bjudit över vänner som vi inte har träffat på länge. Ska bli så kul att träffas. De har varit i Singapore tidigare så vi ska pumpa dem på info och tips 🙂
En klassisk drink som går att variera i det oändliga är ju martinin. Den känns väldigt sofistikerad och alltid rätt som fördrink.
Men jag vill ju så klart att den ska matcha resten av mitt tema, så hur ska ja få till en känsla, och smak av Asien?

Jag tänkte på vad middagen skulle bestå av och tog två ingredienser som skulle passa i en drink: ananas och chili.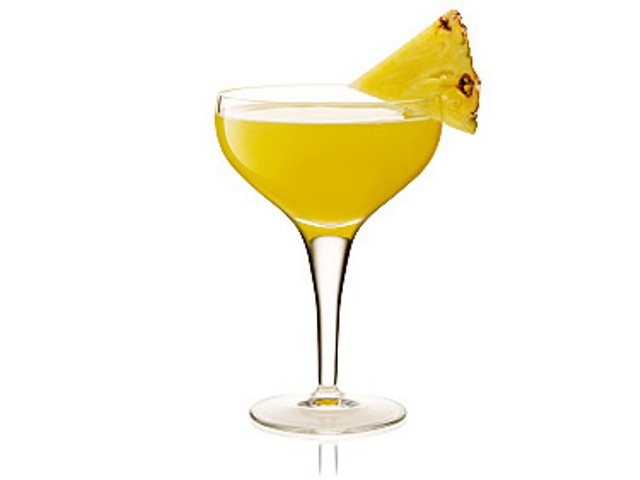 Tror att det kan bli riktigt gott, sött med hetta. En perfekt kombination!
Till en drink behöver du:
1 chili,
2 cl vodka
4 cl ananasjuice
1 cl sockerlag
Gör så här:
Ta bort alla frön i chilin. Muddla chilin tillsammans med sockerlagen och vodkan.
Sila vätskan i en shaker och häll i ananasjuicen.
Skaka tillsammans med mycket is.
Servera i martiniglas och garnera med chili på kanten av glaset.
Vill man ha en lite sötare drink kan man ha socker på kanten. Fukta då kanten på glaset innan drinken hälls i och doppa glaset upp och ner i socker på ett fat. Kanske lite rivet limeskal i sockret?
This week's drink is a classic with an Asian flavoured twist: martini the ever stylish drink with two ingredients from the dinner I plan to serve on Saturday, when we have friends over to talk about Singapore.
Pineapple and chili! Sweet but spicy, the perfect combo!
For one drink you need:
1 chili
2 cl vodka
4 cl pineapple juice
1 cl syrup
Directions:
Clean the chilies and remove the seeds. Muddle the chilies with syrup and vodka.
Drain liquid in shaker and then add pineapple juice.
Shake well with ice.
Serve in martini glass. Garnish with chili on rim. For a sweeter treat, sugar the rim, and perhaps add lime zest to the sugar.

Fatal error: Uncaught Exception: 12: REST API is deprecated for versions v2.1 and higher (12) thrown in /storage/content/90/144790/matikvadrat.se/public_html/wp-content/plugins/seo-facebook-comments/facebook/base_facebook.php on line 1273