När alla vännerna gått hem, är det bara disken kvar.
Vilken fest vi har haft! En jättemysig tredje advent. Maten blev väldigt uppskattad, alla blev mätta och ändå blev det mat över. Precis som det ska vara.
When all the friends have gone the dishes are the only things waiting. It has been such a nice afternoon! The food was good and more than enough for all of us. Just as it should be.
Vi bjöd på spagetti bolognese gjord på högrev, med salami, sidfläsk och rödvin och julmustköttbullar. Till det hade vi grönsallad med avokado och blodgrapefrukt och ett pull apart-bröd som jag skar i rutor och hällde smält smör med örter och lök över. Sen petade jag ner riven ost och gratinerade bröden. Riiiktigt gott! Kommer pröva det igen och har redan tänkt ut en del andra smakkombinationer 🙂
We served a spaghetti Bolognese made from beef cut into pieces rather than minced meat, salami, cured pork and red wine. I had also made some more meatballs. As side dishes we had a salad with grapefruit and avocado and pull apart bread. The bread was sooooo good. I am already thinking of the next bread I will make.
Till efterrätt blev det kladdkakemuffins med Dumle. Jag toppade med vispad grädde och hackad choklad.
Nu fick jag också äntligen smaka Rice Krispies-chokladen, och precis som alla säger blev de farligt goda.
Receptet hittade jag på bloggen Bakverk och fikastunder ( hittas på www.femme.se).
De gick åt nästan direkt så jag måste göra nya. Ska nog pröva en annan choklad nästa gång. Snickers kanske?
For dessert I made chocolate brownie cupcakes with a toffee centre. As topping I used whipped cream an some chopped milk chocolate. I finally got to taste the Rice krispie treats now. They were dangerously yummy. I thank whoever decided for my love of food and all things sweet. I've got to make some more. Perhaps with Snickers this time?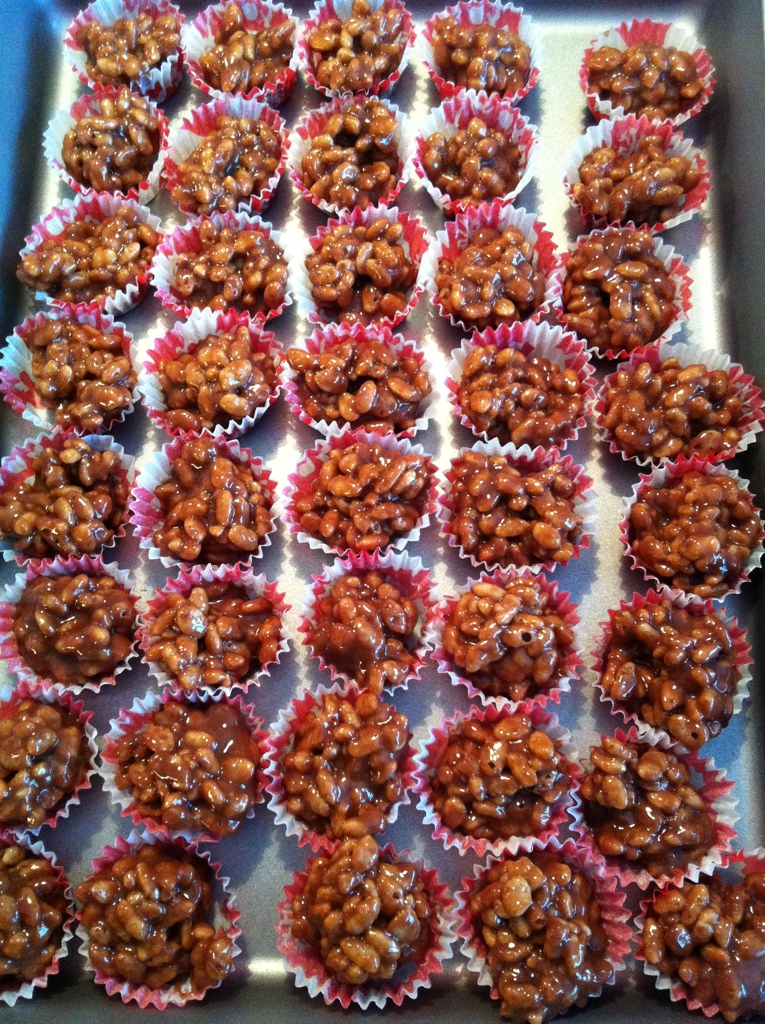 Så trött nu! Veckan som kommer är slutspurten innan jul. Är ni redo?
So tired now! The coming week is the round up before Christmas. Are you ready?
Fatal error: Uncaught Exception: 12: REST API is deprecated for versions v2.1 and higher (12) thrown in /storage/content/90/144790/matikvadrat.se/public_html/wp-content/plugins/seo-facebook-comments/facebook/base_facebook.php on line 1273