Jag kan inte fatta att vi redan är ett par dagar in på det nya året. Jag har flera spännande saker framför mig i år, och hoppas verkligen att det ska bli ett bra år. Några av sakerna är en väns bröllop, en bebis som, om allt går bra kommer i vår (OBS! INTE min bebis), två konserter och sist men inte minst vår resa till Bangkok och Singapore.
Har ni något spännande som väntar?
Trots pratet om framtiden så kommer här en tillbakablick, från nyårsmiddagen. Den var planerad för åtta vuxna och sju barn, men slutade med fyra vuxna och tre barn. Hur som helst blev det en väldigt trevlig kväll, med massor av god mat.
I can't believe it's already a couple of days into the new year. I am so excited about this year and hope and think it will be a really good one. There are some fun things planned already; a friend's wedding, the expected arrival of a baby (not mine), two concerts and best of all; our trip to Bangkok and Singapore.
Have you got anything exciting planned already?
Here's a glimpse of New Year's Eve. A dinner planned for eight grown-ups and seven children turned into a dinner for four grown-ups and three children. A splendid evening even so and a lot of good food.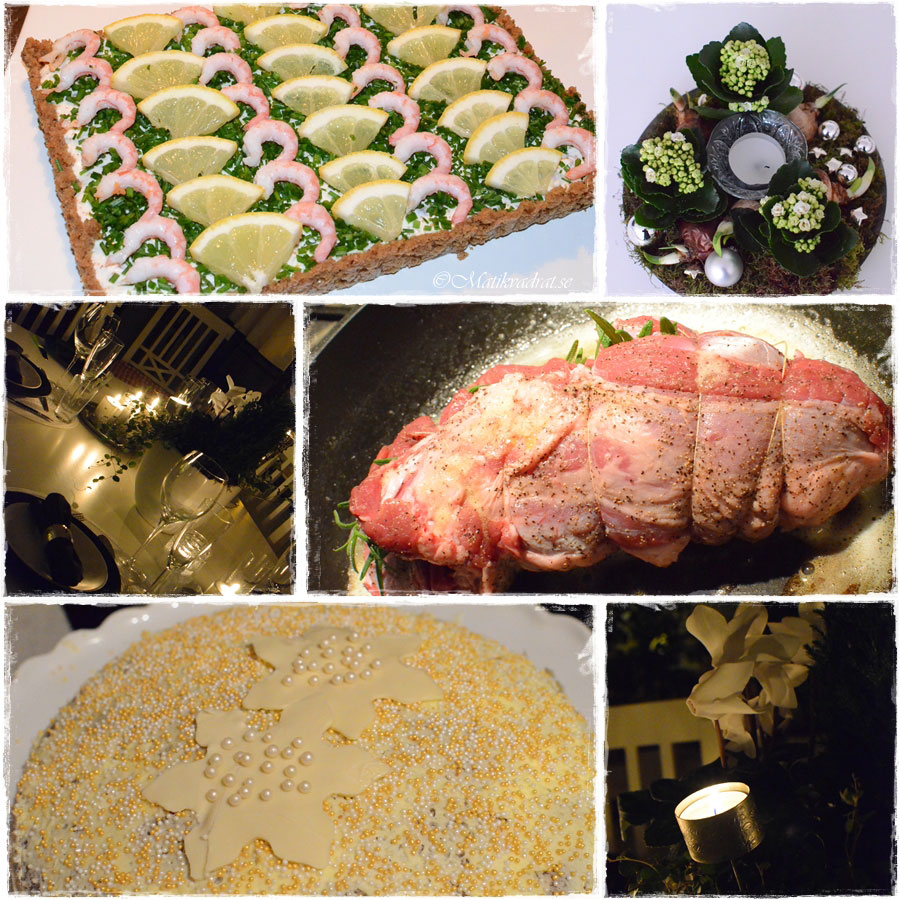 Förrätt: Löjromscheesecake med räkor
Varmrätt: Lammstek, potatisgratäng, rödvinssås och haricots verts
Dessert: Chokladtårta med apelsinkräm, dekorerad med silver- och guldströsselpärlor och snöflingor gjorda i vit choklad.
Till löjromscheesecaken behöver du:
4 gelatinblad
200 g kavring
75 g smör, smält
1 dl crème fraiche
300 g philadelphiaost
1/2 rödlök, finhackad
100 g löjrom
rivet skal och saft från en citron
salt and peppar
Garnering:
500 g oskalade räkor
1 dl hackad gräslök
 Gör så här:
 Klä en pajform med löstagbar kant, med plastfolie. Lägg gelatinbladen i en skål med kallt vatten.
Mixa kavringen i matberedare och tillsätt smöret. Tryck ut smulorna i botten av formen.
Rör ihop crème fraiche, philadelphiaost, rödlök, rom, citronskal och citronsaft till en kräm. Smaka av med salt och vitpeppar.
Ta upp gelatinbladen ur vattnet, krama ur dem och smält dem på svag värme med lite av vattnet. Blanda ner det smälta gelatinet i krämen. Bred ut fyllningen över kavringsbotten. Låt stå kallt i minst 3 timmar eller tills fyllningen stelnar.
5. Skala räkorna.
När fyllningen har stelnat, lyft försiktigt upp cheesecaken med hjälp av plastfolien. Strö gräslök över pajerna och tryck till lite lätt så att den fastnar.
Garnera med räkor och citron.
A sort of cake with bleak roe on rye bread as starter.
Roast lamb with potato gratin, red wine sauce and haricots verts for main course.
For dessert a chocolate cake with a orange custard filling, decorated with gold and silver sprinkles and snowflakes made of white chocolate. 
Bleak roe cake:
4 gelatine sheets
200 g dark rye bread
75 g melted butter
1 dl crème fraiche
300 g cream cheese
1/2 red onion, finely chopped
100 g bleak roe
zest and juice froom one lemon
salt and pepper
Garnish:
500 g unshelled prawns
1 dl chopped chives
Line a pie dish with cling film.
Put the sheets of gelatine in a bowl of cold water.
Mix the rye bread in a food processor and add the melted butter. Mix and press the crumbs into the bottom of the pie dish. 
Mix the crème fraiche and cream cheese with the chopped red onion, lemon zest and lemon juice. Season to taste. 
Take the sheets of gelatine out of the water, squeeze the excess liquid out and melt in a pan, over low heat, together with a little of the water. Mix the melted gelatine into the cream cheese mixture. Spread the mixture over the rye bread bottom.
Let the cake sit in the fridge for at least 3 hours, or preferably over night. 
Decorate with the chopped chives, peeled prawns and lemon wedges.