kväll blev det lasagne, och det var sambon som lagade den. Första gången för honom och det gick så klart jättebra. Väldigt gott med lasagne och en sallad, det finns väl knappt någon som inte tycker om det?
Tonight we had lasagna for dinner, and the hubby made it. First time making lasagna for him and it was of course really good. Lasagna and a salad, who can say no to that?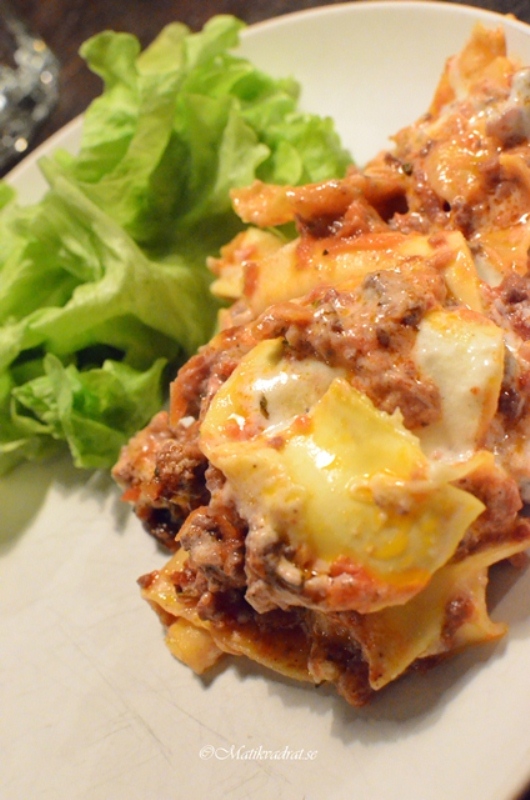 Till 6 portioner behöver du:
4 skivor bacon, finskuret
1 nypa kanel
1 gul lök, finhackad
1 morot, grovriven
2 vitlöksklyftor, skalade och hackade (pressade går också bra)
2 nävar färska örter (oregano, basilika, timjan, rosmarin) Kom ihåg att skydda dem mot kylan på väg hem från affären!
olivolja
600 g köttfärs
2burkar plommontomater eller en burk krossade tomater
2 glas rödvin
2 lagerblad
1 squash, skuren i bitar
salt och peppar
1 msk korianderfrön, stötta
1 torkad röd chili, stött (chiliflakes, chilipulver eller färsk hackad chili funkar lika bra)
400 g färska pasta-ark
400 g mozzarella, riven i bitar
Till den vita såsen:
5 dl crème fraiche
3 sardeller, finhackade (går att utesluta men ger god sälta och smälter så maten smakar inte sardell)
2 nävar färskriven parmesan
Gör så här:
Värm ugnen till 175 grader. Stek bacon och kanel i en gryta eller traktörpanna, tills det fått fin färg. Tillsätt lök, morot, vitlök, örter och ca 4 msk olivolja. Rör om och tillsätt köttfärsen. Fräs ihop i ca 5 minuter och häll sen i vin och tomater. Lägg i lagerbladen och låt allt koka upp.
Här delar sig vägen, det finns nu två sätt att göra det här på, det långa sättet som säkert är supergott, långkok brukar ju vara det, eller så kör man snabbvarianten, vilket vi gjorde ikväll.

Blöt ett smörpapper, lägg det i ovanpå grytan och lägg på locket. Ställ in grytan i ugnen i ca 2 timmar ELLER låt den sjuda på spisen i ca 1,5 timme. Gnid in squashbitarna eller skivorna med olivolja, salta och peppra, strö över de stötta korianderfröna och chilin. Lägg squashen på en bakpåt och stek i ca 45 minuter.
Blanda crème fraiche, sardeller och en näve parmesan och smaka av med salt och peppar. Späd med lite mjölk om du tycker det blir för tjockt.
Öka ugnsvärmen till 200 grader. Pensla en ugnsform med olivolja och lägg ett lager pasta i botten. Läg gpå ett lager köttfärssås och vit sås och strö på lite priven parmesan. Lägg ut squashbitarna i ett lager. Upprepa köttfärssås, vi sås, parmesan och squash. Avsluta med ett lager pasta täckt med vit sås.
Lägg på mozzarella och strö över extra parmesan.
Grädda i ugnen i ca 30 minuter.
Ingredients:
4 rashers pancetta or smoked bacon, finely sliced
• a pinch of cinnamon
• 1 onion, finely chopped
• 1 carrot, finely chopped or coarsly grated
• 2 cloves of garlic, peeled and finely chopped
• 2 handfuls of fresh herbs (sage, oregano, rosemary, thyme)
• olive oil
• 600g minced meat
• 2 x 400g tins of good-quality plum tomatoes
• 2 glasses of red wine or water
• 2 bay leaves
• 1 butternut squash, halved, deseeded and roughly chopped
• 1 tablespoon coriander seeds, bashed
• 1 dried red chilli, bashed
• sea salt and freshly ground black pepper
• 400g fresh lasagne sheets
• 400g mozzarella, torn up
for the white sauce
• 1 x 500ml tub of crème fraîche
• 3 anchovies, finely chopped
• 2 handfuls of freshly grated Parmesan cheese
optional: a little milk
Instructions: 
Preheat the oven to 180ºC/350ºF/gas 4. In a large casserole-type pan slowly fry the pancetta and cinnamon until golden, then add the onion, carrot, garlic and herbs and about 4 tablespoons of olive oil.
Mix together, then add the beef. Cook for about 5 minutes, then add the tinned tomatoes and the wine or water. Add the bay leaves and bring to the boil.
Then get some greaseproof paper, wet it and place it on top of the pan with a lid placed on top as well.
Then place in the preheated oven for 2 hours or simmer on the hob over a gentle heat for around an hour and a half.
Rub your butternut squash slices with olive oil, and sprinkle with salt, pepper and the bashed-up coriander seeds and chilli. Place on a baking tray and roast in the oven for the last 45 minutes of cooking the sauce.
When the sauce is done, season to taste and put to one side.
Mix together your crème fraîche, anchovies, and a handful of Parmesan, and season with salt and pepper. You may need to loosen the mixture with a little milk.
Turn the oven to 200ºC/400ºF/gas 6. To assemble the lasagne, rub an earthenware lasagne dish with olive oil, lay some sheets of lasagne over the bottom and drape them over the sides.
Add a layer of meat, a little white sauce and a sprinkling of Parmesan. Break the butternut squash into pieces and use this as one layer, then repeat the layers, finishing with a layer of pasta covered in white sauce.
Tear over the mozzarella and sprinkle with some extra Parmesan.
Cook in the preheated oven for 30–35 minutes until golden.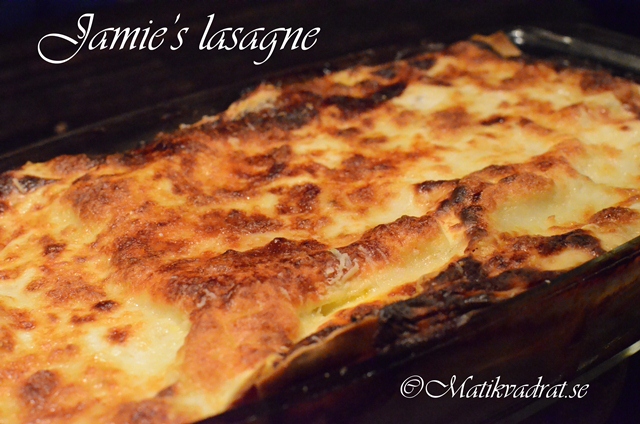 Snabbvarianten:
Koka ihop köttfärssåsen, skippa squashen om du vill. Lägg ihop lasagnen som ovan: varva pasta, köttfärssås, vit sås, parmesan och ev. squash. Avsluta med pasta och vit sås. Strö över riven mozzarella och parmesan. Grädda i ca 30 minuter.
Blanda en sallad, strö flingsalt över och ringla lite olivolja på (krångligare salladsdressing behövs inte).
Hugg in på middagen!
The quick version: 
Make the bolognese, omit the butternut squash if you want to. Layer the lasagna and add cheese on top. 
Bake in the oven for 30 minutes. Serve with a mixed salad, all you really need to dress a salad is sea salt and a good olive oil.
Fatal error: Uncaught Exception: 12: REST API is deprecated for versions v2.1 and higher (12) thrown in /storage/content/90/144790/matikvadrat.se/public_html/wp-content/plugins/seo-facebook-comments/facebook/base_facebook.php on line 1273