I lördags var vi på ettårskalas. Lilla Ellen har blivit en stor tjej som kan gå själv nu.
Åh jag minns den där tiden, hur fantastiskt det var när ens lilla skrutt helt plötsligt tog sig fram på två ben. Mini-mes ettårskalas var jätterolig och hon var verkligen i sitt esse. Hon fick dricka festis, äta tårta och kakor för första gången (tårta andra gången i sitt liv) och var helt i extas. Jag hade gjort pizzabullar och chicken nuggets också. Hon åt och åt, for runt bland alla barnen och öppnade presenter. Gulligast av allt var att hon självmant följde sina gäster till dörren och vinkade hej då när de gick.
On Saturday we went to little Ellen's first birthday party. She's become a big girl who now walks.
Oh I remember that time, how amazing it was when one's little bunny all of a sudden walked. Mini-me's first birthday party was so much fun and she thoroughly enjoyed it. She got to eat and drink things she had never tasted before, such as lemonade, cake and cookies. and she was extatic. I also made pizza buns and chicken nuggets and she ate and ate, ran around with the other children and opened presents. The cutest thing of all was that she, without being told by anyone, saw each of her little guests to the door and waved good-bye.
Här är hon på sin faktiska födelsedag, efter att ha ätit pannakor med sylt och grädde och tårta (sylt och tårta var helt nytt för henne men hon tyckte tydligen om det 🙂 )
Har sparat den där t-shirten, helt otvättad. MASSOR med fläckar från choklad, sylt och bär.
Here she is on her actual birthday, after having eaten lots of pancakes with jam and whipped cream and cake.
Apparently she liked it 🙂
I have saved that t-shirt, without washing it. It's got loads of stains, from chocolate, jam and berries.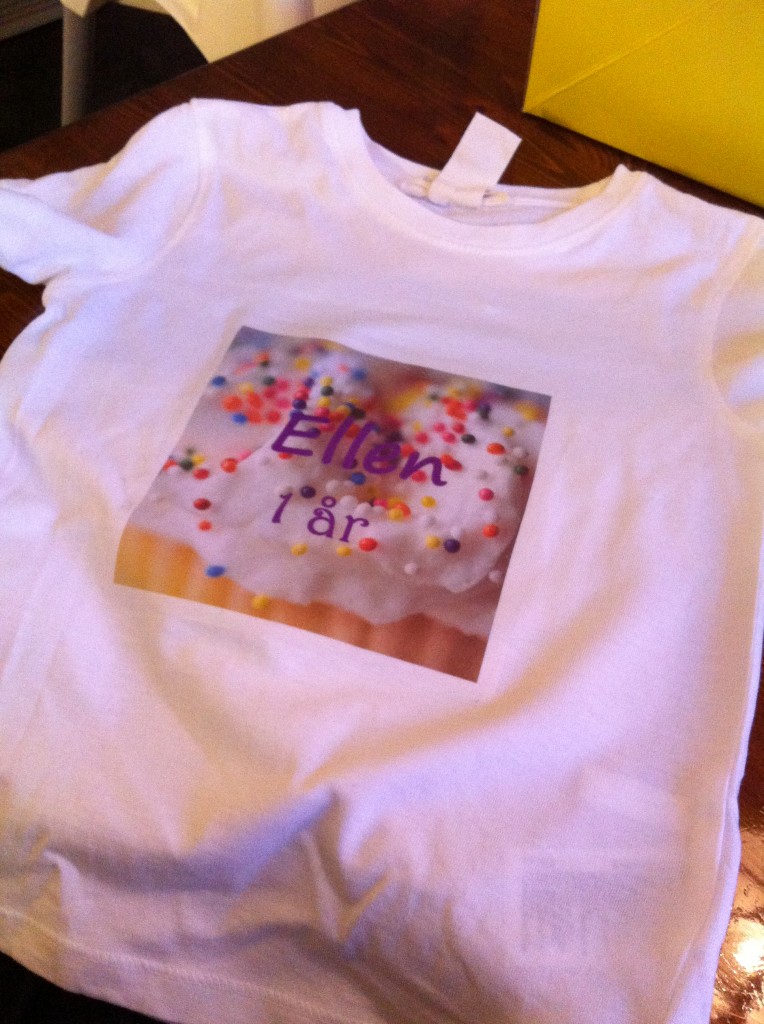 Lilla Ellen fick ett tekanne-set av oss, Mini-me älskar sitt set så jag tänkte att det skulle bli en bra present, och det blev väldigt uppskattat. Men så ville jag ge henne något mer och så kom jag att tänka på att jag kunde göra en t-shirt till henne. Hade tänkt sy en men hade inte haft tid till det. Så då fick det bli en annan lösning.
Jag gjorde en bild, som jag printade ut på överföringspapper och så strök jag på mitt motiv på en vanlig vit t-shirt. Färgåtergivningen blev inte exakt som på datorn men det blev rätt bra ändå. En helt egen t-shirt på mindre än 10 minuter.
Kul extrapresent!
Ellen got a tea party-set from us, Mini-me got one for her first birthday and she has always loved playing with it so I thought it would be a perfect present. It did turn out to be a great present.
But I wanted to give her something more, and thought I could make her a t-shirt. At first I had planned to sew it but there wasn't enough time, so I had to solve it in another way.
I made a picture, in Word, which I then printed on image transfer paper and then ironed on to a plain white t-shirt. The colours didn't quite look as vibrant as on the computer screen but it turned out pretty good anyway.
A custom t-shirt in less than 10 minutes!
A fun present!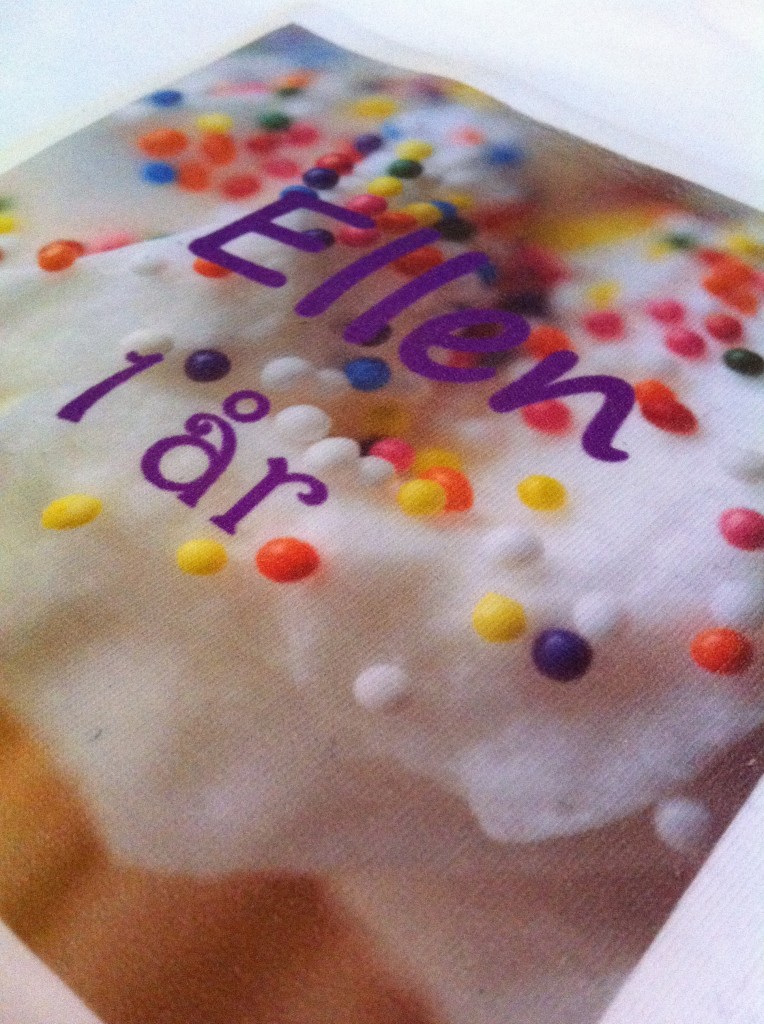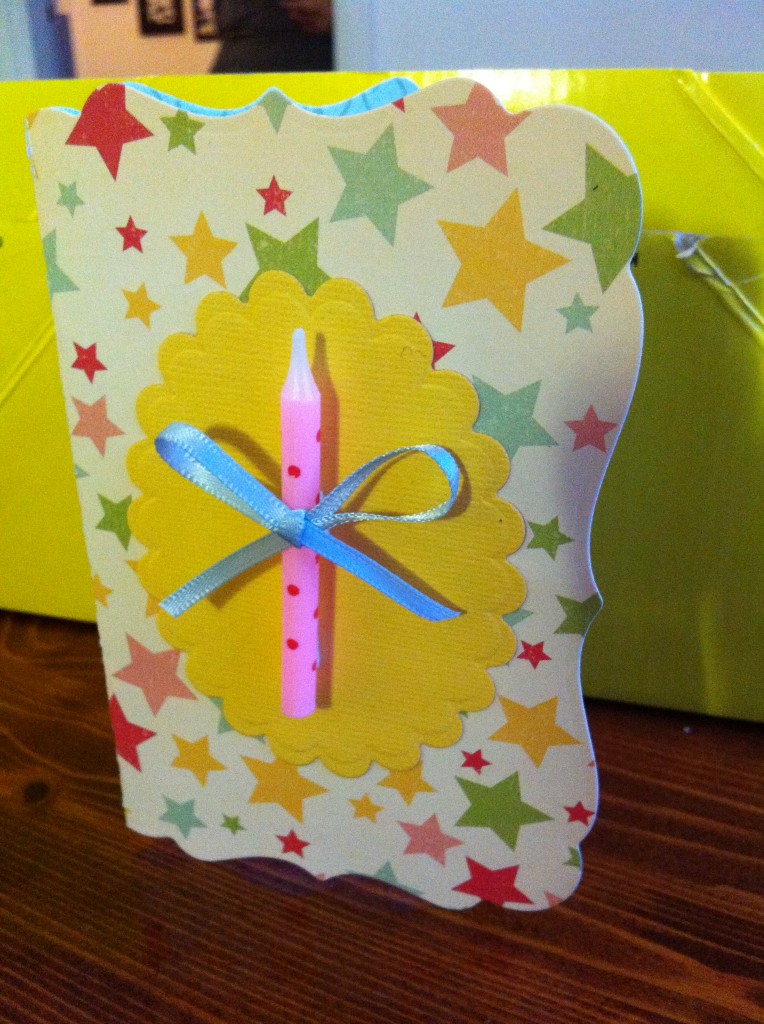 Fatal error: Uncaught Exception: 12: REST API is deprecated for versions v2.1 and higher (12) thrown in /storage/content/90/144790/matikvadrat.se/public_html/wp-content/plugins/seo-facebook-comments/facebook/base_facebook.php on line 1273