Pink= English
Hej,
Vissa blomsterarrangemang är enklare än andra. Lökväxter är tacksamma, de behöver inte mycket av varken jord eller vatten, de har allt de behöver i själva löken.
Därför kan de planteras eller arrangeras snarare, lite hur som helst. Ett år virade jag mossa runt lökarna och hängde hyacinterna i fönstret, med tunn genomskinlig tråd. Väldigt effektfullt!
Hi,
Some flower arrangements are easier than others. Bulbs are very rewarding to use as they don't need much of neither water nor soil. They have got everything they need in the actual bulb. 
This is why they can be planted, or rather arranged, in so many ways. One year I wrapped some green moss around the bulbs and hung the hyachints in the windows, with thin clear thread. Very striking!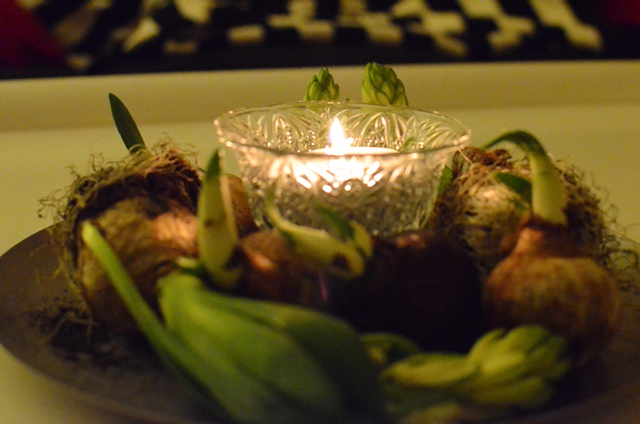 I år har jag helt enkelt lagt dem på ett fat. Vita hyacinter, tillsammans med några andra lökar jag hittade i en korg på Plantagen. Kommer inte ihåg vad det är för blomma, men har för mig att det skulle bli vita tazetteliknande blommor. Hyacinterna började redan dagen efter att jag lagt dem på fatet att resa på sig och ströva uppåt. Häftigt att se vilken kraft det finns i skira blommor.
Egentligen hade jag tänkt att gömma rotklumparna med grön mossa, men det gick inte att uppbringa i denna stad. Kanske har jag tur och kan hitta ett par påsar mossa hos Tant Grön i Vintrosa, dit jag ska lite senare idag.
This year I just put them on a platter. White hyacinths, together with some other bulbs, which I now can't remember what they are. But the flowers will be white too. The hyacinths started striving upwards as soon as laid them down (almost at least). So cool to see the power that's in these delicate flowers. 
I was actually going to cover the roots with some green moss, but that proved very difficult to find. It's increasingly popular for Christmas. Perhaps I can find some when visiting a boutique/café outside of town, where I am going later on today with some friends. 
The dinner table after everything was cleared off yesterday, when we celebrated Lucia. 
Kika in här om ett tag för receptet på saffransbullarna och några fina bilder från Tant Grön.
Ha en bra dag!
Kram Christine
Make sure to check in later for the saffron bun recipe and some nice photos from today's little trip.
Have a nice day, see you later!
Fatal error: Uncaught Exception: 12: REST API is deprecated for versions v2.1 and higher (12) thrown in /storage/content/90/144790/matikvadrat.se/public_html/wp-content/plugins/seo-facebook-comments/facebook/base_facebook.php on line 1273