* Scroll down for English
Hej,
Kikar äntligen in här på bloggen. Det har varit en blandad kompott idag och jösses så seg jag var ett tag runt 17-tiden. Jag har levererat tårtor, handlat på kondis, varit i pulkabacken, dammsugit av hemmet, slappat i sängen och  gjort pizza på rester. Har velat gå och lägga mig i flera timmar nu men snart så…
Ska snart krypa ner i sängen med ett par avsnitt av Mad men eller Sons of Anarchy. Jag ligger lite efter när det gäller bra tv-serier. Det blir så när man har så mycket man vill pyssla med på kvällarna.
Dagens lucköppning tänkte jag i alla fall dela med mig av, innan det är dags för mig att somna med iPaden i knät 🙂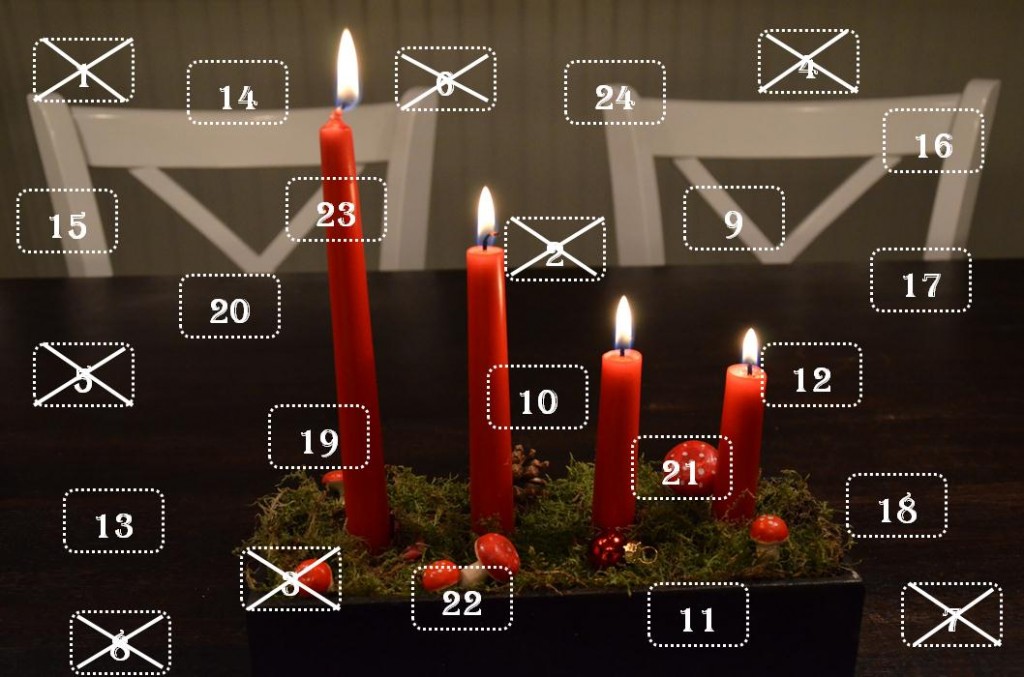 Det här är väldoft för hemmet, gjord på bara ett fåtal naturliga ingredienser och håller sig tydligen i flera veckor.
Jag hittade tipset på bloggen Make It Do.
Du behöver:
1 apelsin, skuren i kvartar
3 kanelstänger, brutna i bitar
1 msk hela nejlikor
1,25 dl lingon eller tranbär
Vatten i en kastrull
Gör så här:
Väldigt enkelt!
Lägg allt i en kastrull, slå på vatten och låt stå och puttra på svag värme. Fyll på vatten om det behövs.
En ljuvlig doft sprids i huset.
När du är klar tar du helt enkelt bort kastrullen från värmen och lägger på ett lock. Värm på blandningen igen när du vill att det ska lukta gott i huset.
Blandningen ska stå sig i ett par veckor, men kan se lite mörk och otrevlig ut efter ett tag, men ska tydligen fortsätta lukta gott.
Jag har precis påbörjat min doftkastrull så vi får se.
Det här är en jätterolig och annorlunda present att ge bort istället för en blomma. 
Lägg då apelsinen hel i en bit cellofan, tillsammans med kryddorna och lingonen, dra upp cellofanet och bind ett vackert snöre runtom. Sätt en fin lapp med instruktioner på och du har en perfekt och billig present att ge bort. 
Kram Christine
English:
At last I make an appearance here. It's been a very mixed day and oh dear how tired I was around 5 o'clock in the afternoon. I could have fallen asleep standing. I have delivered cakes, took Mini-me shopping in a bakery, been to the slopes close to the house, where we went bob sledging, managed to clean the house a bit, had a relaxed hour snuggled in bed with a film and for once madegood use of yesterday's leftovers.
Am soon going to bed with a few episodes of either Mad men or Sons of Anarchy. Yes I know, I am somewhat behind when it comes to good TV-series. That's what happens when one has too many projects taking up the time in the evenings.
However, I wasn't about to forget today's treat in the Christmas calendar. I thought I'd share it with you before I fall asleep with the iPad in my lap 🙂
This is a tip for making the whole house smell like Christmas. Only a few and natural ingredients and it's supposed to stay fresh for weeks.
I got the idea from the blog Make It Do.
All you need is: 
1 orange, cut in quarters
3 cinnamon sticks, broken into smaller pieces
1 tbsp whole cloves
1/2 cup/ 1,25 dl lingonberries or cranberries
Water in a pan
Instructions:
It's a doodle!
Put everything i pan, pour in water and put it on the stove, on lowest heat. Fill up with water when necessary.
The sweet aroma of the ingredients should soon start to fill the house.
Once you feel you had enough you simply turn of the heat and remove the pan. Heat the mixture up again as soon as you're ready for another whiff.
Apparently the mixture can turn dark and look a bit yucky but it's supposed to work wonders anyway.
I have just started my mixture, so we'll see…
This is a great and different hostess gift!
Put the orange (whole) together with the spices and the lingonberries on a sheet of cellophane. Bring up the sides of the sheet and tie together with a ribbon. Add a nice note with instructions and you are set.
A cheap and cheerful present!
 Love Christine
Fatal error: Uncaught Exception: 12: REST API is deprecated for versions v2.1 and higher (12) thrown in /storage/content/90/144790/matikvadrat.se/public_html/wp-content/plugins/seo-facebook-comments/facebook/base_facebook.php on line 1273