Pink text = English
Hej,
Igår handlade det mesta om tårtor. Ända sen i onsdags har jag jobbat med tårtorna. Det är verkligen skönt att dela upp tillverkningen i flera steg och dessutom får man en tårta som har hunnit stå och safta till sig.
Igår la jag på sista dekorationerna och sen skulle de levereras. Jag blev, som vanligt, inte helt nöjd men nu när jag tittar på bilderna tycker jag att de blev helt OK. Jag lär mig fortfarande…
Denna gång använde jag mig av tårtoblat för första gången. Ett smidigt sätt att få en snygg dekoration på tårtan, men inte helt lätt att få dit. Tårtoblatet smälter tydligen efter några timmar så jag vågade inte lägga på dem redan i fredags kväll utan la på dem precis innan jag skulle åka iväg med dem. Det finns tydligen speciell gelé man kan använda för att fästa tårtoblaten på täckta tårtor, men det upptäckte jag en aning för sent så någon sådan hade jag inte. Men jag gjorde mitt eget geléspad att pensla med. Tyvärr fick jag det inte helt fritt från klumpar men jag lyckades i alla fall få fast bilderna på tårtorna. Det ska penslas både på under- och överssidan.
Hade också kunnat använda lite smält fruktgelé. Note to self: aprikosgelé är inte så dumt att hemma. Det kan man använda att pensla med lite här och var när det gäller tårtor och pajer.
Yesterday was mostly about cakes. Ever since Wednesday I have been working on these cakes. It's so nice to be able to split up the work into several steps, plus the cakes have time to set and become moist.
Yesterday I put the last of the decorations on the cakes and then they were to be delivered. As usual, I wasn't completely satisfied with the result but looking at the photos now I think they look OK. I am still learning…
I used cake wafers with pictures from Disney's Cars.
It's a quick and simple way of decorating a cake but wasn't as easy as I had thought since the wafer apparently melts after a few hours, when in contact with marzipan or cream. Because of this I didn't dare put them on the cakes on Friday evening but instead waited as long as I could.
Apparently there is a special gel one can use to apply these sort of wafers to the cakes. Something I discovered far too late and therefore didn't have. But I made my own gel liquid. Unfortunately I didn't manage to get all the lumps out but at least I managed to get the pictures to stick to the cakes.
 Note to self: Apricot jam is not a bad idea. I could make use of a jar. It's sometimes required both for cakes and pies.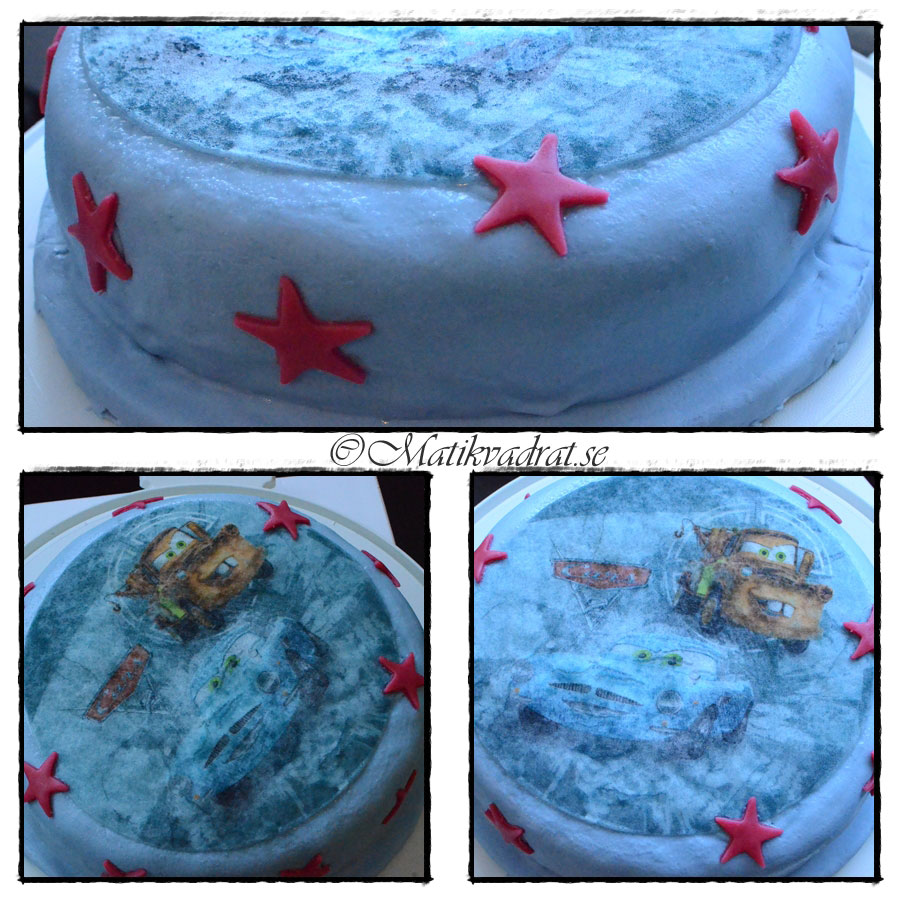 Den blåa tårtan bestod av ljusa bottnar och var fylld med mosad banan och chokladpudding. Jag spacklade tårtan med grädde och täckte den med kavlingsmarsipan penslad med matolja på undersidan (för att marsipanen inte skulle smälta över natten).
Tårtoblat med Bärgarn från Disney's Cars och så några panikdekorationer i form av stjärnor, som blev rätt snyggt.
The blue cake was made of vanilla sponge and filled with mashed banana and chocolate pudding. It was covered with whipped cream and marzipan. The cake wafer is with they Disney Cars character Mater, and the stars were last-minute panic decorations that turned out quite well.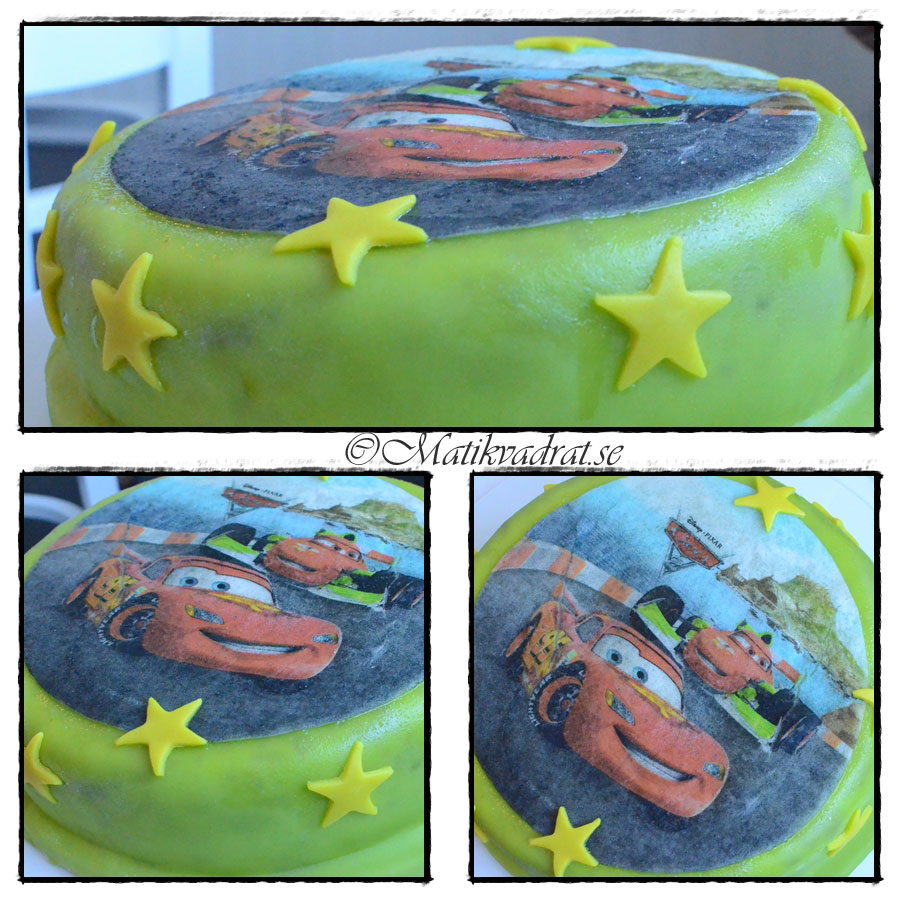 Den gröna tårtan bestod av chokladbottnar fyllda med mosad banan och vaniljkräm. Även denna spacklad med grädde och täckt med kavlingsmarsipan. Tårtoblat med Blixten McQueen och matchande stjärnor.
Jag hoppas verkligen att de var goda. Födelsedagsbarnens mamma verkade i alla fall nöjd med utseendet på dem.
Ska ta och beställa sån där gelé och lite fler utstickare, bl.a. ett set med bokstäver.
Mini-me förstod inte alls varför jag gjorde två tårtor, som vi inte skulle behålla. Att någon annan skulle få dem och hon inte ens skulle få smaka på dem var mycket besynnerligt och tråkigt. Så när tårtorna var levererade tog jag med henne in till Malins Hembageri där hon fick välja ut något att köpa med hem.
The green cake was made of chocolate sponge and filled with mashed banana and vanilla cream. Covered in the same way as before. The Disney Cars character is the extremely popular Lightning McQueen.
I really hope they tasted alright. At least the birthday boys' mother seemed pleased with the appearance of the cakes.
I am going to order that ready made gel, for attaching decorations to cakes, and also a set of letters.
Mini-me couldn't understand why I would make cakes and then give them away without her being able to eat one single crumb. So after we had delivered the cakes I took her to bakery close-by and let her choose something we could bring home with us.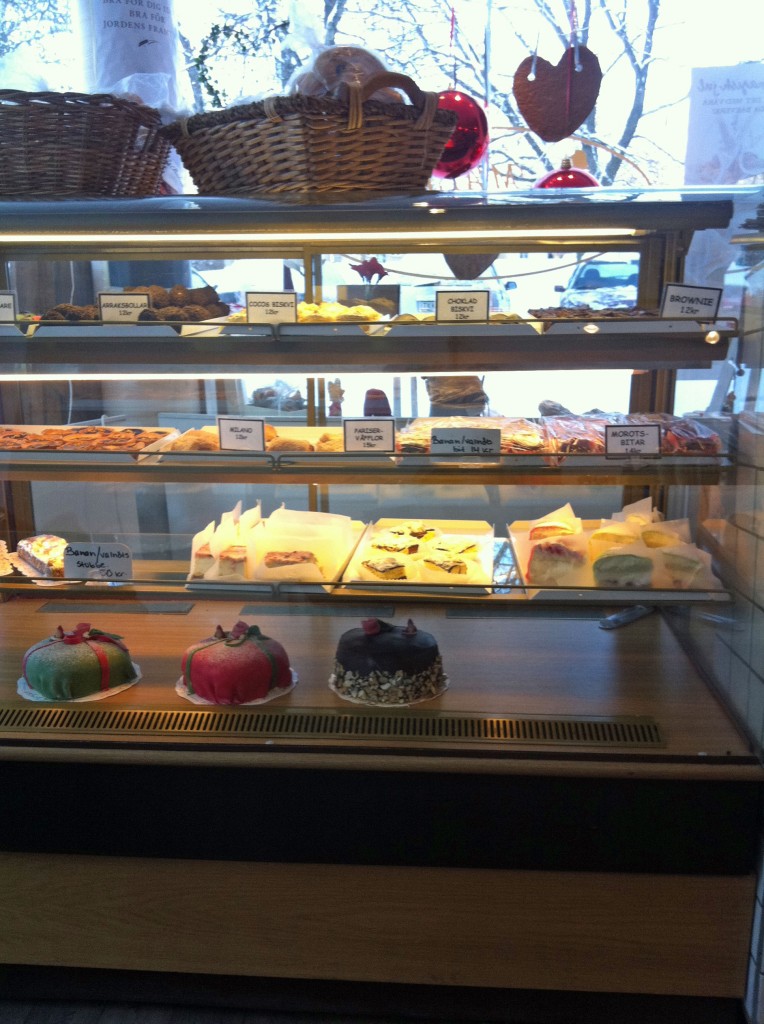 Ser ni?! Även proffs har ibland veck på sina tårtor! Jag kan sluta ha ångest 🙂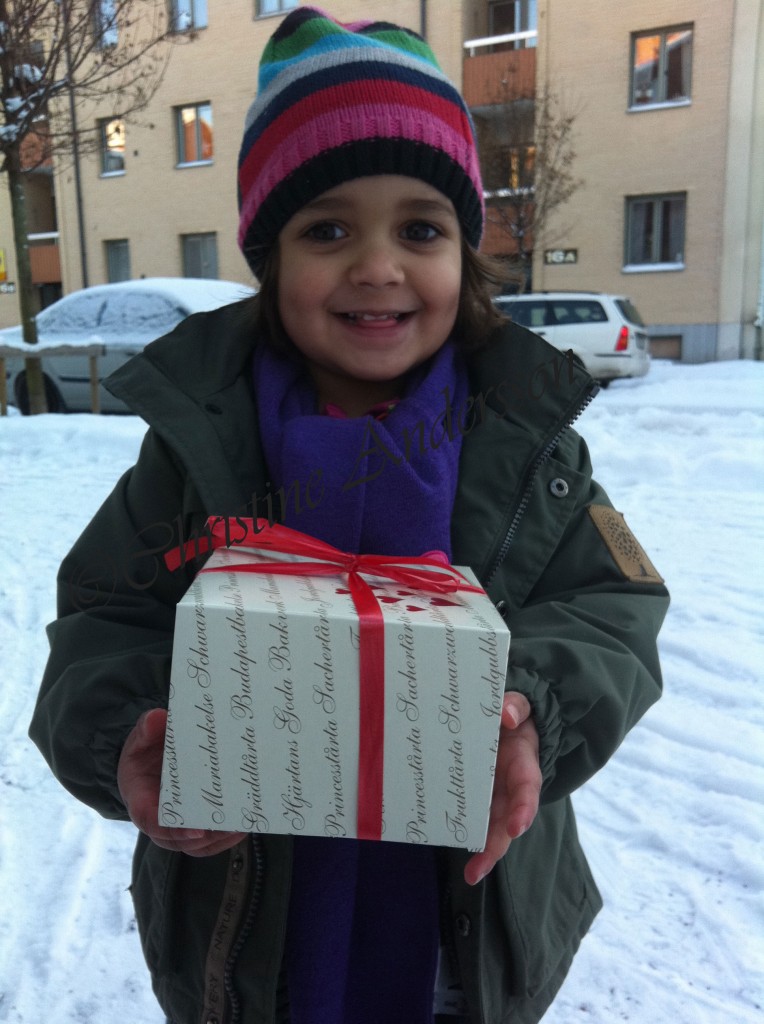 Det var en lycklig tjej som stolt bar sitt paket till bilen sen.
She was so happy and proud when she carried the little box back to the car.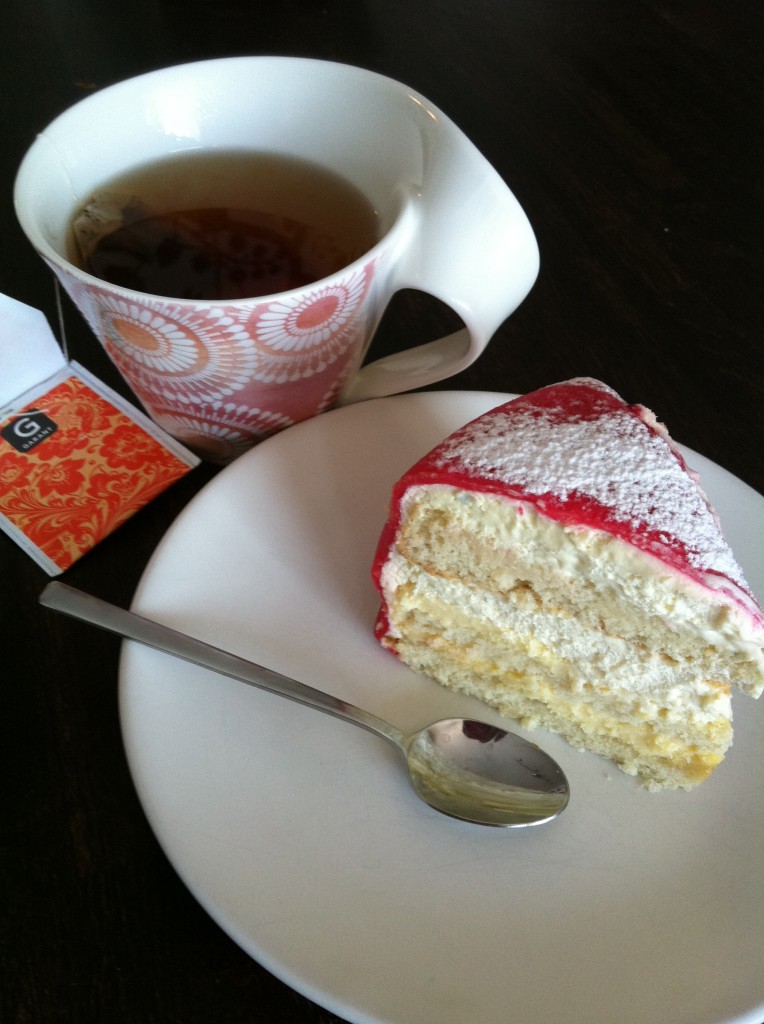 Så när vi kom hem fick det bli en välbehövlig fikapaus. Mini-me sparade halva sin tårtbit till senare, det gjorde inte jag. Egentligen liite för mycket grädde i prinsesstårta för min del, men det var gott. En kopp te i mysig kopp och jag var redo för pulkabacken.
So once we were back home we had a coffee break. Mini-me saved half of her piece of cake for later. Let's just say I didn't. This sort of cake contains too much whipped cream for my liking but it was still yummy. Accompanied by tea in one of my favourite cups and I was ready for the sledging.
Vi har en jättebra och ganska så stor backe i närheten av där vi bor, så den gick vi till. Vi hade med oss Ruffe, så Mini-me fick åka själv nerför backen och sen gick jag och hämtade boben och bar upp den igen.
Så härligt att höra henne skratta och skrika av förtjusning när hon susade nerför backen.
Här är vi på väg hem och hon är lite trött.
 En bra dag!
Idag ska vi till backen igen, fast själva så att jag kan åka med henne. Det ser både hon och jag fram emot.
We have a really good and rather large hill close by so we went there. Since we brought Rufus with us Mini-me had to go on her own down the hill, and then I would walk down and pick up the bob sleigh and carry it back up to the top again.
It was so great to hear her shriek with laughter and excitement when she swished down the hill.
Today we will go back to the slope, but leave the dog at home, so I can sit behind on the bob.
We are both looking forward to that!

Fatal error: Uncaught Exception: 12: REST API is deprecated for versions v2.1 and higher (12) thrown in /storage/content/90/144790/matikvadrat.se/public_html/wp-content/plugins/seo-facebook-comments/facebook/base_facebook.php on line 1273