Jag köpte blommor, kryddväxter och grönsaksplantor i helgen men har inte planterat dem alla än. Jag tar det lite i taget. Så i lördags och igår planterade jag en del, idag ska resten av amplarna göras och senare i veckan ska grönsakerna få slå rot på riktigt.
Igår gjorde jag en plantering med kryddväxter. Färska örter är så gott i matlagningen och jag har alltid färska örter i köket. Men nu när det är sommar får de flytta ut.

I den här planteringen finns både plantor från plantmarknaden och från Ica. Det är persilja, gräslök, timjan, oregano, basilika, rosmarin och salvia.
Skörda ofta så växer plantorna. Tänk på att ta skotten ovanför ett bladpar så kommer det nya skott och förgreningar hela tiden.
Yesterday I planted fresh herbs in a big bucket. I put it right outside the front door, so there's a lovely smell as one passes by, and the herbs will also be close to hand.
I used a mix of plants from the supermarket and the garden centre. Simply because the garden centre didn't have all the different types I wanted. I should think the supermarket herbs will thrive when properly potted and given lots of sunshine, rain and fresh air as opposed to the greenhouse they were born and raised in.
I used the following herbs: rosemary, sage, parsley, chives, oregano, thyme and basil.
You might think you don't have green fingers but as long as you remeber to water your herbs they will grow.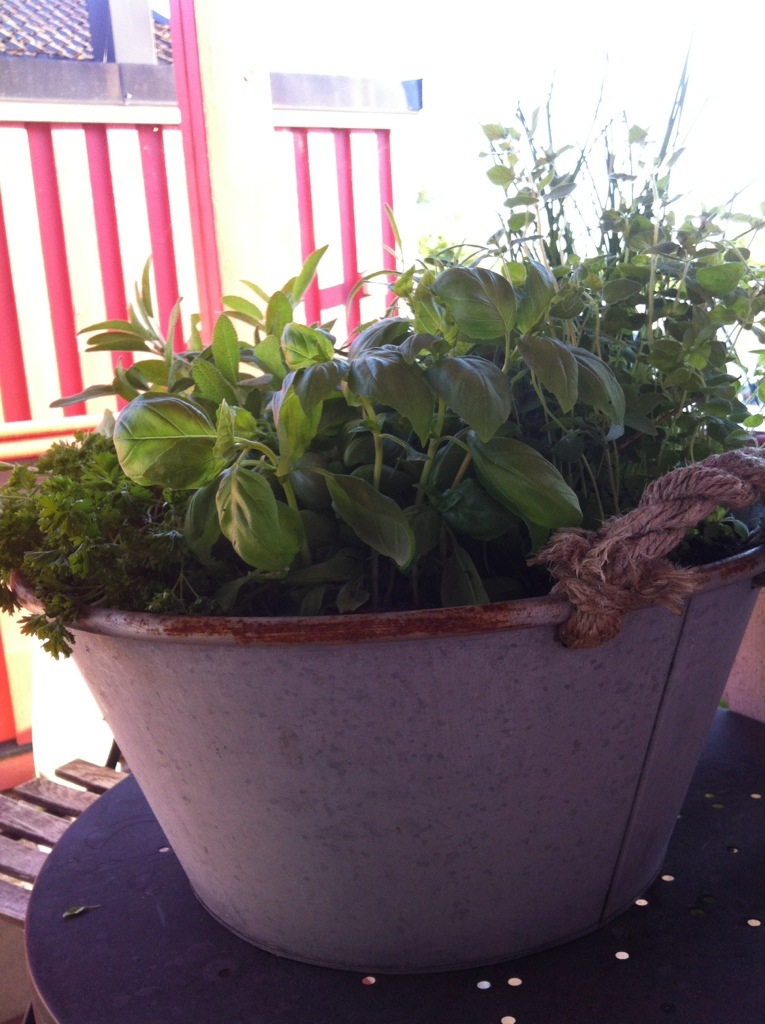 Fatal error: Uncaught Exception: 12: REST API is deprecated for versions v2.1 and higher (12) thrown in /storage/content/90/144790/matikvadrat.se/public_html/wp-content/plugins/seo-facebook-comments/facebook/base_facebook.php on line 1273