Sambon är borta ikväll, jag sitter och lyssnar på musik och hade ju tänkt att jag skulle fortsätta göra kort men jag fastnade, på Memory lane. Har suttit och tittat på gamla foton från min tid i Shanghai. Gud det känns som igår och när jag tittar på bilderna förflyttas jag tillbaka i tiden. Jag vet vad vi gjorde, vad vi sa och hur det kändes. Hade en liten kamera som jag alltid hade med mig, till skolan, på stan, hemma, på fester hos kompisar, på klubbar och restauranger och så klart resorna utanför Shanghai. Hela vistelsen är väl dokumenterad och jag både skrattar och gråter nät jag tittar på bilderna.
Jag är så glad för allt jag har fått chans att se och göra, för alla människor jag har fått möjlighet att lära känna.
Bild från http://pinterest.com/pin/110408628335726329/
Så här känner jag ofta med människor, ett ögonblick i tiden är vissa personer ens hela värld, och sen kommer man ifrån varandra. Det som har varit har varit och man kommer antagligen aldrig träffas igen, men ändå bär man med sig en del av dem varje dag.
Jag bodde i en värdfamilj som tog väl hand om mig och jag är verkligen nöjd med resan. Jag fick en inblick i kinesiskt vardagsliv, som jag aldrig hade fått annars och jag fick dessutom äta massor med god mat 🙂 Riktig kinamat!
The hubby is away this evening and I had plans on making more cards but I got caught up in looking at old photos, from my time in Shanghai. Between autumn 2006 and spring 2007 I lived in Shanghai, China, in an effort to learn Mandarin Chinese. I lived with a hos family who were so nice to me and took great care of me. Thanks to living with them I got an insight to what it's like in a real chinese family. And the food! Let's not forget about all the glorious food I got to eat. We're talking proper Chinese food now. I can still dream about the simple noodle dish my host father used to whip up for breakfast or lunch.
I have so many fond memories of my time in Shanghai and all the people I got to know. And I really do feel they are all a part of me. It's weird really how some people can be ones entire world for a while, and then they disappear into the sunset and you might never, or most likely, won't see them ever again.
I had a small camera which I brought with me everywhere. To school, when we went out, on the trips outside of Shanghai, at home. I took photos everywhere and I am so glad I did. Those photos make me both cry and laugh as I look at them now. 
 I feel blessed to have had the opportunity to go on a trip like this, and for all the people I got to meet.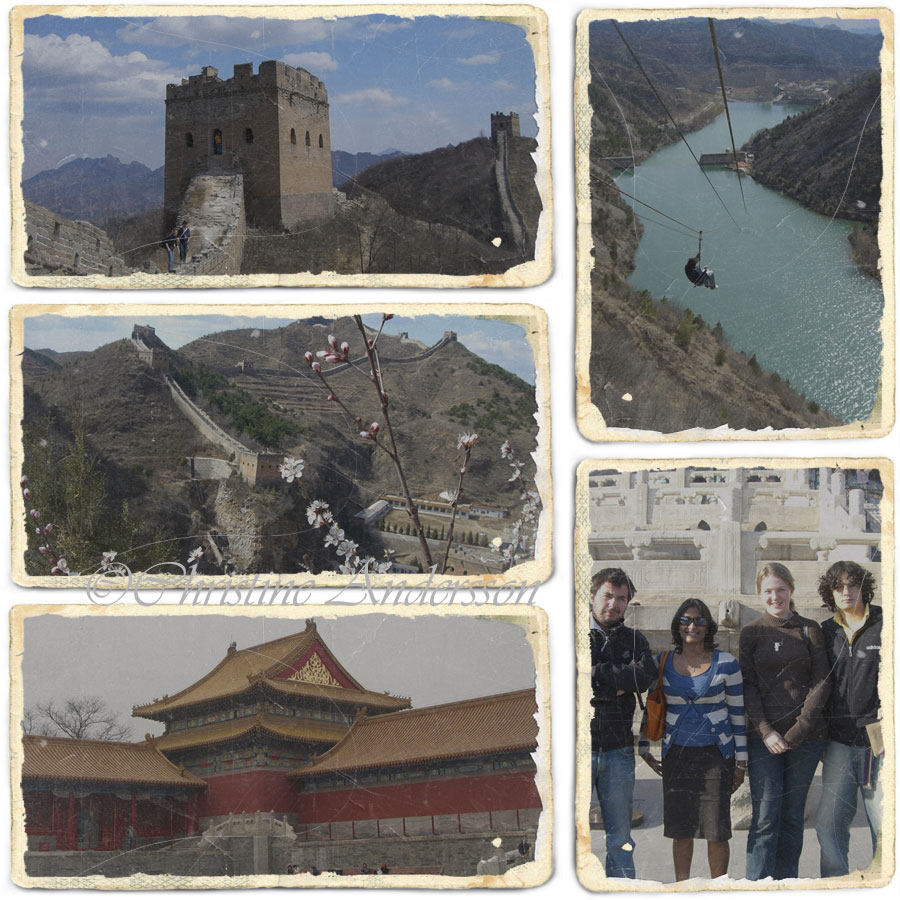 Man kan inte bo ett halvår i Kina utan att besöka huvudstaden Beijing och vandra på Kinesiska muren där vi åkte linbana nerför en ravin. Det gick fort och det var högt. Men det var härligt!. Vi hann också med ett besök i den Förbjudna staden och stod på Himmelska Fridens Torg i tystnad och funderade på det som hände där för så många år sen.
One can't live in China and not visit the capital Beijing, and walk on the Great Wall. During our visit to Beijing we of course went to the Forbidden City and the Tiananmen Square.
Nanjing är en mindre stad, "bara" 4,5 miljoner invånare, väster om Shanghai, som en gång i tiden var landets huvudstad. Vi tog tåget dit en helg och gick uppför en massa trappor 🙂
Republiken Kina på Taiwan betraktar fortfarande Nanjing som Kinas officiella huvudstad.
Som ni ser finns det stunder när jag lämnar kjolarna och de höga klackarna hemma. Det är inte ofta man ser mig i dylika outfits, men nu har ni bildbevis 🙂
Nanjing is a smaller city, west of Shanghai ("only 4,5 million inhabitants). This city was once the captial of China. We took the train there one weekend, and walked up a lot of steps 🙂
As of this day, the Republic of China in Taiwan still considers Nanjing to be the capital. Doon't ask me why!
As you can see there are moments when I ditch the high heels and skirts for more comfy attire. It's not often documented but here you go, here's evidence 🙂
Ni vet den goda maten jag pratade om? Den fick jag hemma hos min värdfamilj. Det var pappan i familjen som lagade maten. Det enda mamman kunde laga var jiaozi, ljuvligt goda ångkokta dumplings. Min värdmamma fyllde dem med hackade grönsaker och så åt vi dem med en dippsås gjord på soja och risvinäger har jag för mig. Bland det bästa man kan äta!
Den stora bilden här ovan, med all mat på, är ett tillfälle när vi åt Hot pot. En slags kinesisk variant på fondue. Väldigt trevligt sätt att umgås kring.
Det finns en gammal kinesisk trädgård i centrala Shanghai, och där kan man även köpa jaozi, kön ringlar sig lång och bakom ett fönster kan man se hur kockarna gör i ordning dem. Så häftigt att se hur snabba de är!
Remember I said I ate a lot of good food in China? Most of it was served at home. My host father was the cook. The mother could only make jiaozi, which she did a few times. Oh boy they were good!!! Jiaozi are small dumplings and my host mother used to fill them with veggies and after they were steam cooked we dipped them in a sauce made of soy sauce and rice vinegar. One of the best things I've eaten. 
The large photo with all the food on is a picture of a hot pot dinner. A chinese sort of fondue. Everybody puts their food of choice in to the boiling broth and then fish it back up again. A nice way of enjoying a meal together.
In the central parts of Shanghai there is an old chinesee garden, and next to it there is a place where they make and sell jiaozi. There's a long line of people waiting there and behind windows one can see the chefs prepare the dumplings. They are incredibly fast!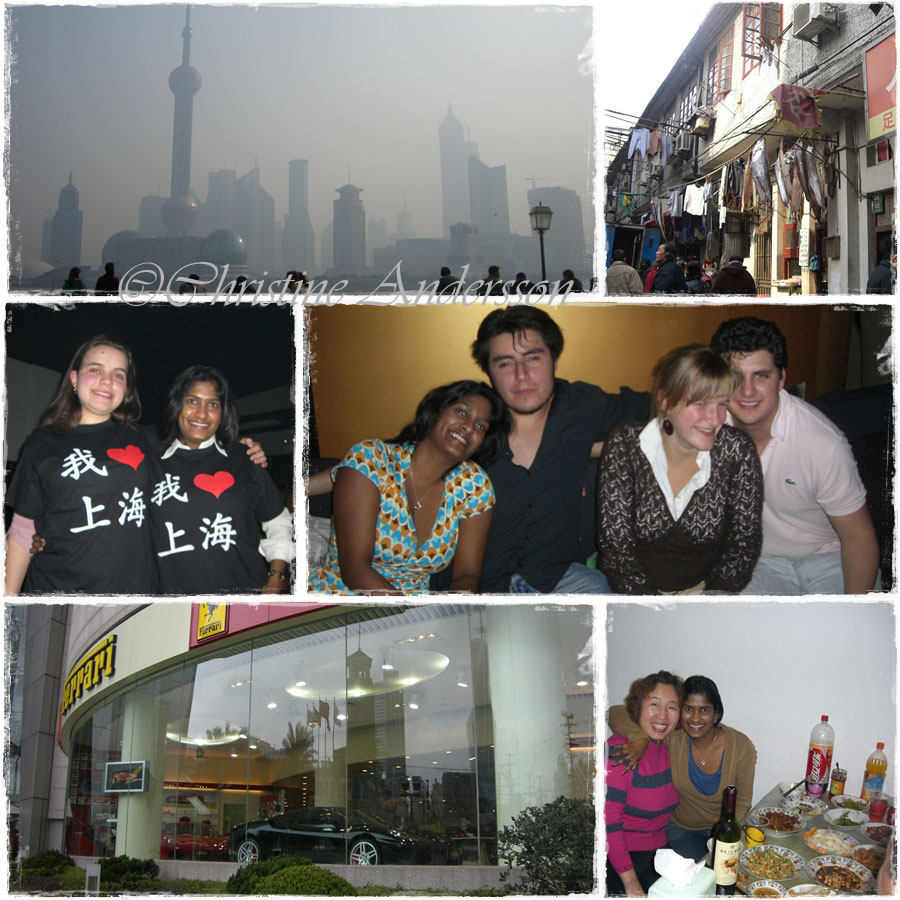 Mycket har hänt sen jag var i Shanghai (jag åkte hem våren 2007). Det är en ständig byggarbetsplats och jag tror knappt jag skulle känna igen stadssilhuetten om jag kom dit nu. Kontrasterna är stora i en så stor stad, man vet inte riktigt men man tror att det bor mellan 18-24 miljoner människor i Shanghai kommun. I centrala delarna av stan ca 8-10 miljoner. Medan många bor i små lägenheter, där tvätten hänger på tork på linor över gränden åker andra runt i dyra bilar. Någon som vill shoppa en Ferrari på lunchen? Min värdmor och jag sitter till bords vid en helt vanlig middag. Varje middag fanns det lika mycket att välja på.
A lot has happened since I left Shangha in the spring of 2007. It's an ever evolving construction site. I don't think I would recognise the skyline if I saw it today. There are big differences between people in this city. Many people live in small flats where they have to dry their laundry outside their windows and others drive around in crazy expensive cars. The lats picture is of me and my host mother, a normal day at the dinner table. So much nice food to choose from, every day.
Mycket trafik och avgaser hörde till vardagen. Mandariner och andra citrusfrukter på en gatumarknad i centrala Shanghai. Jag försökte laga middag hemma hos en kompis en kväll. Inte så lätt när man inte har en ugn, en kokbok eller de ingredienser man är van vid. Det finns dock ett par stora mataffärer med alla möjliga produkter som vi västerlänningar är vana vid. Vi provianterade lite i en av dem, men det var ändå inte helt lätt. Har för mig att det blev pasta av något slag 🙂 Mat på pinne är poppis att köpa på gatan, här var det jordgubbar som såldes. Vet inte riktigt var de kom ifrån för det var inte säsong för dem vill jag minnas. Att grilla maten själv vid bordet på små stekhällar prövade jag för första gången i Shanghai. Många av mina kompisar från språkskolan var sydamerikaner och de hade alla en förkärlek för att dansa. Milt uttryckt är det inte min grej, jag känner mig aldrig så fumlig och osäker som när någon vill dansa med mig. Men det gick inte att undvika fullt ut, så ibland fick jag ställa upp 🙂
Har du varit i Shanghai? Vad tyckte du om stället? Har du ett speciellt tillfälle eller resa som ändrade ditt liv och gav dig minnen och vänner för livet? Berätta gärna!
Kram Christine
A lot of traffic and air pollution was part of everyday life. On a street market I found big baskets of  different citrus fruits. I remember trying to make dinner for a group of friends at a friend's house. Not that easy when you don't have an oven, a cook book or any of the food products you are used to. There are however big supermarkets with western food, so I managed to fix some food in the end. I think I made pasta 🙂
Food on a stick is popular to buy, here there are strawberries. Don't know here they got them from though, as it wasn't the right season for them if I remember correctly. 
A lot of the guys at school were from South America and had this love of dancing. I hate it. I feel so akward and 
clumsy when I am asked to dance. But it couldn't always be avoided and so I just had to give it a go 🙂
Have you ever been to Shanghai? What did you think? Have you had a life changing trip? Tell me!
Love Christine
Fatal error: Uncaught Exception: 12: REST API is deprecated for versions v2.1 and higher (12) thrown in /storage/content/90/144790/matikvadrat.se/public_html/wp-content/plugins/seo-facebook-comments/facebook/base_facebook.php on line 1273