Äntligen är den här! Jag har väntat hela sommaren och nu är den fjärde och sista säsongen av Netflix-serien The Killing här. efter att jag såg det allra första avsnittet i serien har jag varit fast och plöjt säsong efter säsong. Sambon har inte ännu insett hur bra denna serie är. Har du inte sett den än tycker jag att du ska göra det! Har du inte Netflix kan du testa gratis en hel månad.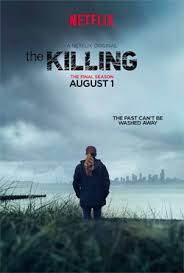 As promised Netflix delivered the 4th and final season of their excellent The Killing today.
During the summer I have watched all three existing seasons, more than once I have been up all night because I need to watch "just one more episode".
I haven't started on the fourth season yet as I want to savor it for a bit. I can't wait to see how it will all end.
If you have yet to be hooked, give the series a try and you will be the one thinking "just one more episode".
Fatal error: Uncaught Exception: 12: REST API is deprecated for versions v2.1 and higher (12) thrown in /storage/content/90/144790/matikvadrat.se/public_html/wp-content/plugins/seo-facebook-comments/facebook/base_facebook.php on line 1273