Pink= English
Hej,
Jag har ju nämnt det tidigare, kanske bara på Facebook i och för sig (se till att Gilla sidan om du inte redan har gjort det, så ser du vad jag pysslar med och får lite andra bilder än dem här i bloggen, mer live 🙂 )
MEN jag är lite insnöad på julmust för tillfället. Det är supergott att dricka men nu har jag också hittat ett par recept innehållandes julmust. Först ut är julmustkycklingen, som ni hittar recept på HÄR. 
Hi,
I have mentioned before, probably only on Facebook though (make sure you Like my page if you haven't already and you can see what I am up to, and see some other photos than the ones here on the blog, a bit more live so to speak 🙂 )
Anyways, I am hung up about julmust, this coca cola like beverage which is only available around Christmas, and Easter but then it's called påskmust (different name and label on the bottles but the same beverage).
It's really nice to drink, on it's own but now I have found some recipes containing julmust. First out is the chicken casserole I made the other day.
4 chicken filets, ca 500 g
butter
2 dl crème friache
2 dl julmust
1 chicken stock cube
1 tsp ground ginger
1 tsp dried rosemary 
1 tbsp soy sauce
Brown the chicken on both sides ina pan. Mix together crème fraiche, julmust, chicken stock, ginger,  rosemary and soy sauce and then add to the chicken. Let simmer for 10 minutes.
I served with couscous and a salad but rice or potatoes would be equally nice.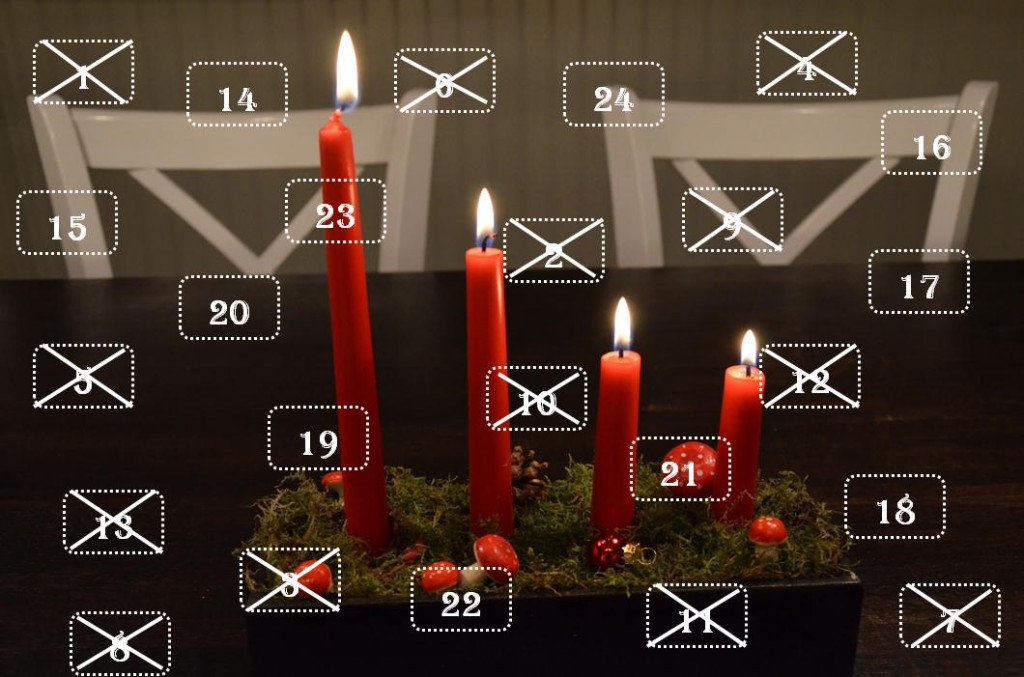 Dagens överraskning bakom lucka nummer 13 innehåller också julmust, men passar kanske bättre på julbordet än kycklingen. KÖTTBULLAR!
Today's surprise also contains julmust but is better suited for the Christmas smörgåsbord than the chicken. MEATBALLS!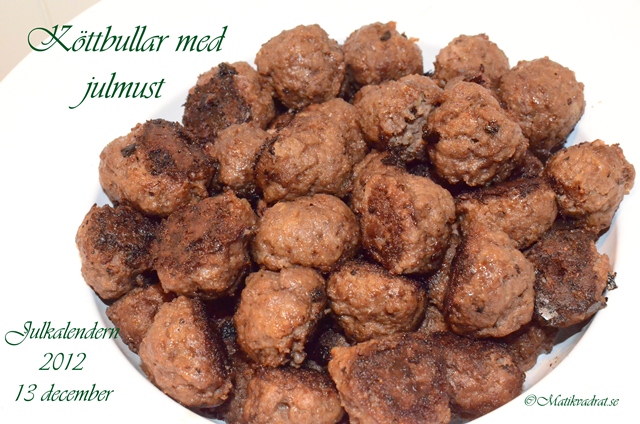 Vilken bra smet det blev av detta recept. Lätta att rulla och ramlade inte isär vid stekningen. Julmusten känner man lukten av tydligt när man rullar köttbullarna men när de väl är stekta märks det inte av speciellt. Det man är ute efter är väl den kryddiga smaken och bubblorna, som ger pösiga köttbullar. Det går ju lika bra med vanligt mineralvatten om man vill ha det.
What a great batter/mixture it was. Easy to shape and didn't fall apart when frying. I could smell the julmust clearly when I rolled the meatballs, but once fried you couldn't really notice it. 
I guess one is after the spicy flavour and above all, the bubbles, which give sfluffy meatballs. You could of course just use normal mineral water.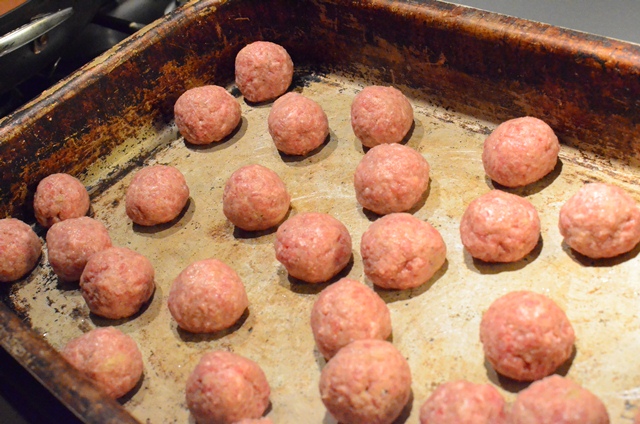 Ett tips är att steka köttbullarna i ugnen istället för i stekpanna på spisen. Du slipper stekoset och kan dessutom göra något annat under tiden.
A good idea is to cook the meatballs in the oven. It saves you from the frying smell and saves you time, as you can do something else while the meatballs are in the oven.
Hur många köttbullar det blir av det här beror ju på storleken:
1 liten gul lök alt. 1/2 lite större gul lök
1 dl ströbröd
1,5 dl julmust
800 g köttfärs (jag tycker bäst om nötfärs men blandfärs funkar det med)
1 dl matlagningsgrädde
1 ägg
1-2 tsk salt
1 tsk malen svartpeppar
2 krm malen kryddnejlika
Gör så här:
Blanda ströbröd med julmust och låt svälla. Blanda i riven gul lök, köttfärs, grädde, ägg och kryddor.
Rör till en jämn smet och rulla lagom stora köttbullar.
Stek i stekpanna ELLER lägg dem i en smord ugnsplåt/form och stek i ugnen på 225 graders C värme i ca 20 minuter. Jag använde varmluften och det funkade utmärkt (dra ner värmen till 200 grader i så fall).
Lossa köttbullarna försiktigt med en stekspade och lägg upp.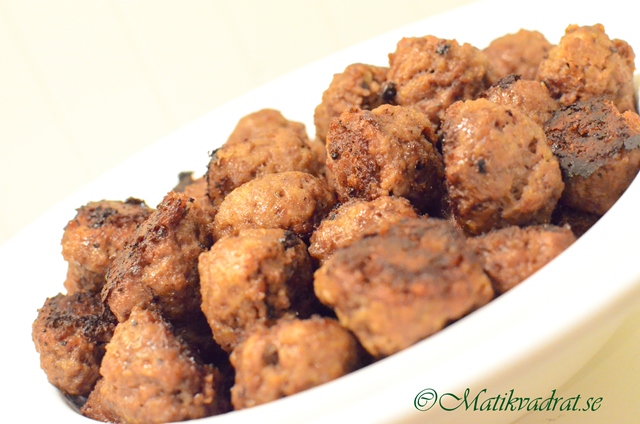 1 small onion
1 dl bread crumbs
1,5 dl julmust
800 g minced meat  (I prefer beef but you can use a mixture of beef and pork)
1 dl cream
1 egg
1-2 tsp salt
1 tsp ground black pepper
a pinch of ground  cloves
Instructions:
Mix bread crumbs and julmust and let it plump up. Mix in grated onion, minced meat, cream, egg and spices.
Mix to an even batter (should not be runny though) and roll to your preferred size meatballs.
Cook in a frying pan OR put them in a buttered oven dish and cook in the oven for 20 minutes, 225 degrees C. I just fan oven so I reduced the heat to 200 degrees C.
Carefully remove the meatballs from the roasting tray and put in a bow or on a plate.
ENJOY!
Love Christine
Fatal error: Uncaught Exception: 12: REST API is deprecated for versions v2.1 and higher (12) thrown in /storage/content/90/144790/matikvadrat.se/public_html/wp-content/plugins/seo-facebook-comments/facebook/base_facebook.php on line 1273