Hej,
Det är segt idag. Jag har ingen önskan eller energi att göra något alls, fast jag har en hel del jag vill göra. Och borde göra. Ni vet ju hur det på söndagar. Sambon jobbar och Ruffe ligger på trappen. En beardis älskar att vara ute, oavsett väder. Trappen är hans favvoställe. Mini-me kollar på film och spelar trummor, är det en regnig söndag så är det.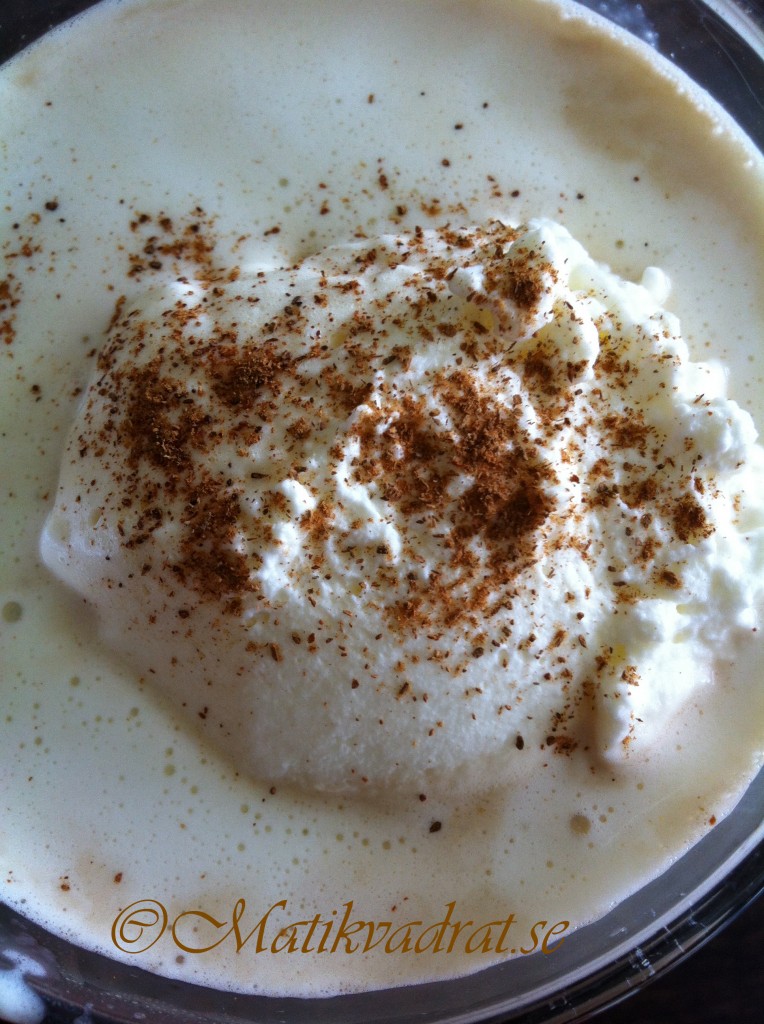 Jag tvättar och försöker komma ikapp med blogginläggen. Vad gör ni?
Jag har ju pratat om den supergoda latten jag gjorde förra söndagen och här kommer äntligen receptet på den. Sååå galet god att jag skulle kunna dricka den varje dag men jag håller mig till söndagar.
Det är till denna latte som man använder kanelsyrupen som jag berättade om tidigare i veckan.
Till ett stort glas behöver du:
170 ml nybryggt kaffe
170 ml varm mjölk
2-4 msk kanelsyrup (beroende på hur sött du vill ha det)
vispad grädde att toppa med
Malen kanel att pudra över
Gör så här:
Blanda kaffe, mjölk och syrup i ett högt glas. Toppa med vispad grädde och pudra över malen kanel.
Sjunk ner i soffan eller en fåtölj och njut!
Hi,
I'm having a very slow Sunday. There are so many things I should be doing but I just can't find the energy right now.
I am trying to catch up on my blogging though. Last Sunday I made a divine cinnamon latte and here's the recipe.
Made after recipe found on the blog Alphabet soup.
It's soooo good I could drink it every day, all day long but I am limiting myself to Sundays.
For one large glass you will need:
170 ml freshly brewed coffee
170 ml warm milk
2-4 tbsp cinnamon syrup (depending on how sweet you want it)
whipped cream to top it all of with
Ground cinnamon to sprinkle on top
Instructions:
Mix coffee, milk and syrup in a tall glass. Top with whipped cream and sprinkle the cinnamon on top. 
The cream will slowly melt into the coffee!