Heeej,
Jag är här, jag lever och är tillbaka i bloggsfären.
Tack till er som varit inne och besökt bloggen under den dryga vecka jag varit frånvarande.
Jag har varit jättesjuk men är nu äntligen på bättringsvägen. Jag har antingen haft Dengue-feber eller en helt vanlig influensa. Symtomen är de samma och jag var inne på akuten i söndags och tog en massa prover. Resultaten kommer om ca en vecka. Jag hoppas verkligen att jag inte har Denguefeber, för då måste jag vara väldigt försiktig framöver när jag reser. Man kan nämligen inte vaccinera sig mot det, och det finns ingen speciell medicin heller. Det enda man kan använda är myggmedel. Första gången man får Denguefeber är det inte farligt, förutom att man blir jäkligt dålig och kan bli uttorkad. Om man däremot får det en gång till, då blir det farligt för då får man ofta inre blödningar.
Denguefeber är vanligare än man tror, och jag har läst om det tidigare vilket fick mig att vilja åka in och testa mig för det. Jag har ju problemet att jag inte har full sjukdomshistorik. Jag kom till Sverige när jag var 4,5 år gammal och har ingen aning om och i så fall vilka sjukdomar jag har i släkten eller varit sjuk i, innan jag kom till Sverige.
Denguefeber är vanligt i hela Asien och enligt infektionsläkaren har man i Örebro haft fyra fall bara under våren, från Koh Lanta.
Nog om sjukdomar, jag är trött på det och vill komma igång igen. Men ni vet ju hur löjligt svag kroppen kan vara när man varit sjuk ett tag. Minsta lilla gör en utmattad. Jag skulle behöva en riktigt uppiggande drink. Denna drink är kanske egentligen bättre lämpad för en söndagsbrunch, när huvudet känns tungt.
Den kallas Michelada: 
Till ett glas behöver du:
tomatjuice (bra kvalitet ger bra drink)
Färskpressad limejuice
Salt och peppar
Tabasco
Worcestershiresås
En lager (öl) uteslut ölen för en alkoholfri version
Jag har inga exakta mått utan det är bara att blanda efter eget tycke. En del vill ha hetta i drinken, andra en mildare variant.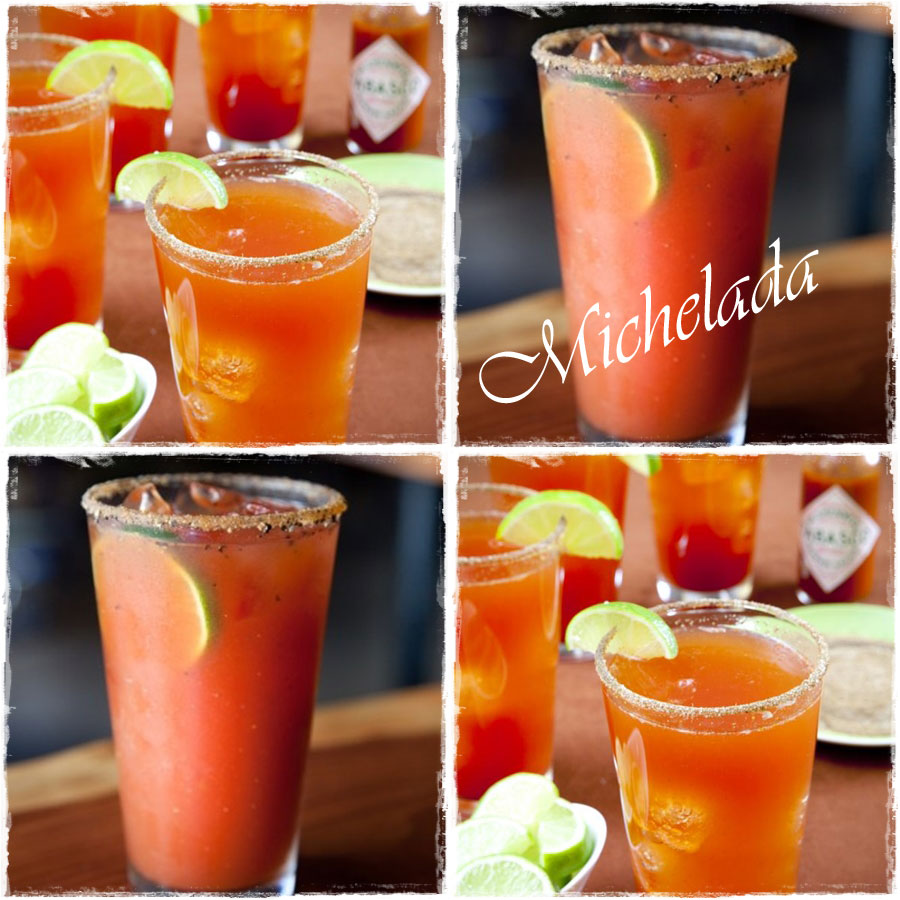 Pictures from Pinterest
Heelllo, 
I am here, I'm back, I'm alive. Thank you for checking in here this past week although there have been no new posts and no sign of life.
I have been ill for the past week and am still not 100%. I might have got Dengue fever, or "just" an ordinary flu. It's hard to tell, the symptoms of Dengue is those of a flu, but I spent some time in the ER on Sunday and had lots of tests taken, and the results will be back in a week or so. Dengue fever is not contagious between humans, you get it from mosquitos. There is no vaccine and no medicine against it. It's not dangerous, the first time around. As one of the doctors so cheerfully said; it's only dangerous if you get it a second time, 'cause then you might have some internal bleeding.
Yeah, see that's why I wanted to have the tests done.
Flu or Dengue fever; whatever it is I have been under the weather so to speak. High fever, an awful pain in my body, as if it was breaking from the inside out, and difficulties breathing. I am thankfully better now but you know how silly weak your body can be after something like this?
I take a bowl down from a cupboard or pick something up from the floor and I am exhausted and have to rest for a few hours. I have been falling asleep at the same time as Mini-me (around 19.00 in the evening) as if I have had an extremely exhausting day, doing nothing.
It's weird how the human body, which can handle so much and be so strong, can also be so frail and weak.
Anyway, it's Friday today and boy do I need a drink. Something to pick you up and dust you off for the weekend. Don't we all. However I should go for the light version, no alcohol for me. This drink might be better served for Sunday brunch, perhaps you should try it now to see if it will do for pick me-up time on Sunday.
It's called the Michelada: 
You will need:
Tomato juice ( the better the quailty the tastier the drink)
Fresh-squeezed lime juice
Salt and pepper
Tabasco sauce
Worcestershire
Lager beer (omit for non-alcholic version)
There are no exact measurements. Mix to your heart's desire and prefect your own drink.
Fatal error: Uncaught Exception: 12: REST API is deprecated for versions v2.1 and higher (12) thrown in /storage/content/90/144790/matikvadrat.se/public_html/wp-content/plugins/seo-facebook-comments/facebook/base_facebook.php on line 1273