Jag är trött på det här vädret. I alla fall när man "bara" är hemma och skyndar till och från jobbet.
Skillnad om man är ledig eller till och med är i fjällen. Då ska det vara vinter på riktigt, med minusgrader, snö och istappar från taket.
Men nu drömmer jag mig bort till sommaren och en fin trädgård. Vår trädgård är verkligen inget att skryta med, men jag vill verkligen ha en ordentlig trädgård extra allt. Med damm, växthus, uteplatser, fruktträd och massor av blommor. Vår tomt är ganska liten, så allt det där blir svårt att klämma in utan att det kommer se ut som om Plantagen kom dit och kräktes.
Men man kan ju få drömma, och så kanske en av sakerna kan bli verklighet i år. Vi får väl se…
Här är i alla fall några fina bilder från Pinterest. Jag har inte tagit bilderna själv, endast satt ihop dem.
Njut och dröm dig bort du med!
Ett tak av blåregn medan man tassar på mjukt gräs mellan höga cypresser, en gång kantad med väldoftande lavendel som stryker mot dina bara ben, ett mjölkliknande flöde av tusenskönor, så enkelt men så vackert. En vilostund i trädgården med en kopp te, det rofyllda ljudet av ett litet vattenfall och vackra fiskar som simmar i en damm. En snygg och stilren uteplats, kanske kan det förverkligas hemma hos oss?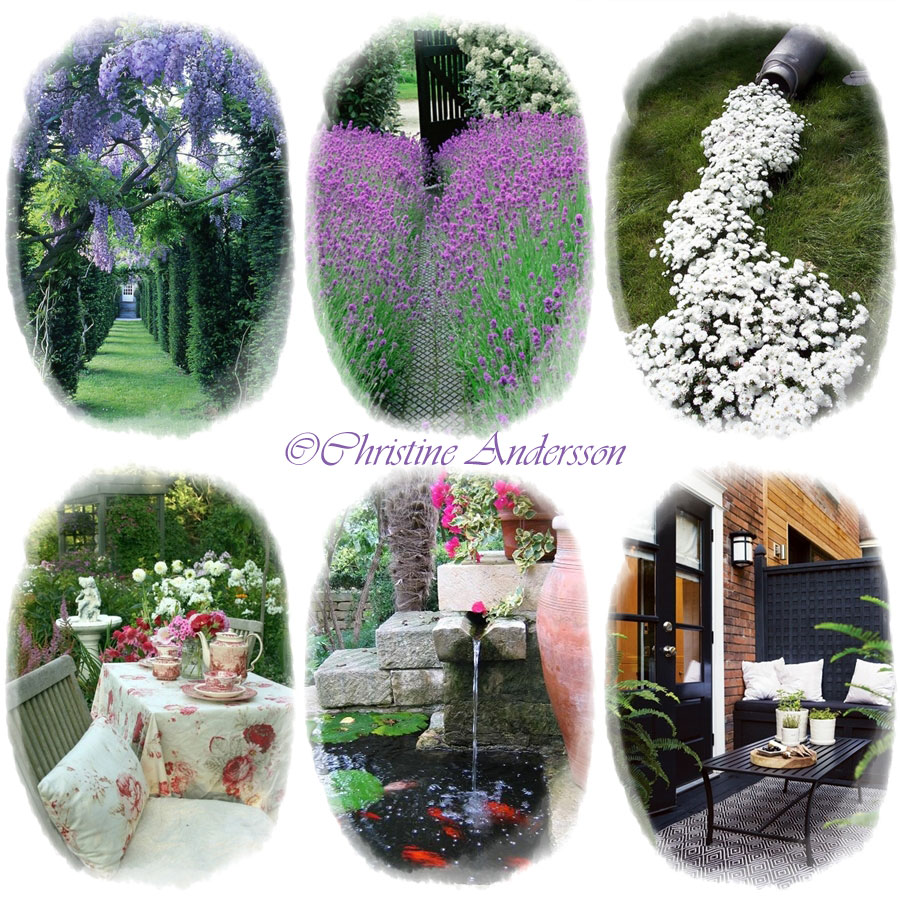 I am tired of this weather, of the cold and the snow. 
I only really want this sort of weather if I am in the Alps or similiar, or if I have the day off to enjoy a long walk in the fresh air. 
Pinterest is feeding my dreams and gives me inspiration for my own garden, which never is a lot to brag about. But I want it to be so nice. Have a lot of things which unfortunately it's a bit too small for. If we were to add all the things I want to the garden it would look a garden center came here an threw up all of over the place. 
But I keep dreaming and hope that perhaps one or two things can be done with the garden this year, to make me happy and make it look a bit better. 
We'll see…
Enjoy these pictures for now:
A ceiling of wisteria while one walks slowly on soft grass, in between high cypress trees, a walkway edged with lavender filling the air with its lovely scent as it brushes your bare legs, a milky white flow of daisys, so simple but oh so beautiful. A moments rest in the garden with a cup of tea, from the loveliest china, the soothing sound of a waterfall and beautiful koi fish swimming in a pond. A very nice and stylish patio, perhaps our patio can be made to look something like this?
Fatal error: Uncaught Exception: 12: REST API is deprecated for versions v2.1 and higher (12) thrown in /storage/content/90/144790/matikvadrat.se/public_html/wp-content/plugins/seo-facebook-comments/facebook/base_facebook.php on line 1273