Även idag har varit oerhört seg. En riktigt lugn helg men tyvärr känner jag mig aldrig speciellt nöjd med den här typen av helger, när jag inte har gjort något. Det känns som en bortslösad helg.
Ikväll ska vi äta shepherd's pie, en engelsk köttfärsgratäng toppad med potatismos. Enkelt och gott, ett tag åt vi det väldigt ofta men nu var det länge sen.
Ni kanske kommer ihåg att jag lagade bolognese på högrev för ett tag sen, till adventsminglet vi hade den tredje advent för att vara mer exakt. Den uppskattades av alla och är perfekt att göra när är många kring bordet. Receptet är för 4 portioner men kan enkelt multipliceras. Det är faktiskt en favorit i repris. Vi bjöd på detta första gången för snart ett år sen, när vi hade italienskt tema på en middag. Den middagen kan du läsa mer om här:
http://matikvadrat.se/2012/02/19/life-is-a-combination-of-magic-and-pasta-federico-fellini-2/
Anyhow, jag lovade vännerna att dela med mig av receptet, som jag har hittat på Arla. Så här kommer det. Det är inte alls svårt men man måste ha ett par timmar på sig, grytan ska stå och puttra rätt länge. Men det är det värt.
Allra godast blir det om man gör grytan en dag i förväg och sen bara värmer på den. Då får smakerna tid att utvecklas. Gäller för de flesta grytor.
Bolognese på högrev, 4 portioner
2 gula lökar
3 vitlöksklyftor
150 g morot
150 g rimmat sidfläsk
250 g högrev
100 g salami
1 msk smör
2 msk tomatpuré
3 dl rödvin
3 msk kalvfond
1 burk körsbärstomater, ca 400 g
2 tsk oregano
salt och svartpeppar
Till servering:
2 dl riven ost
Gör så här:
Skala och hacka lök och vitlök fint. Skala och skär moroten i små tärningar. Ta bort svålen på sidfläsket.
Skär fläsk, högrev och salami i fina tärningar.
Fräs lök, vitlök och morot i smör i en gryta.
Tillsätt fläsk, högrev, salami och tomatpuré och låt fräsa ytterligare ett par min. Slå på vin och fond, lägg i tomaterna.
Koka upp, sänk värmen och låt koka 1 ½-2 tim under lock. Rör om då och då.
Smaka av med salt och peppar.
Servera med nykokt spagetti, riven ost och en blandad sallad.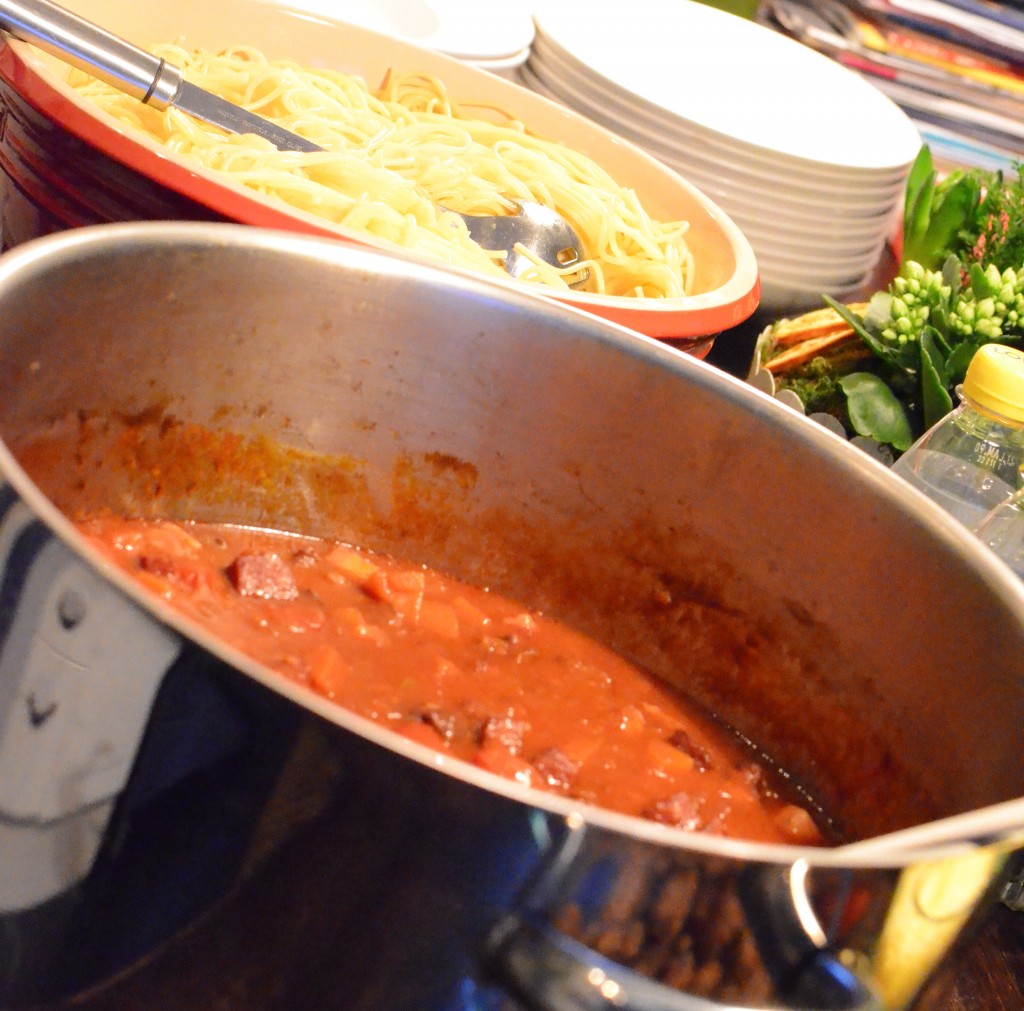 Today as well has been veeeery slow. A really peaceful weekend of doing nothing, but unfortunately I never feel quite satisfied with this sort of weekend. It feels like a weekend wasted. 
Tonight we are having shepherd's pie for dinner, a British dish with minced meat and mashed potatoes. Real comfort food, which we haven't had in a long time. 
You might remember that I made a bolognese some time ago, made not from minced meat but from chuck. We served it at our Third of Advent gathering with friends. It was really well-liked by everyone and perfect to make for a crowd. The recipe is for 4 people but is easily multiplied. This dish is in fact something we first served almost a year ago, when we had friends over for an Italian-themed dinner. 
You can read more about that dinner here:
http://matikvadrat.se/2012/02/19/life-is-a-combination-of-magic-and-pasta-federico-fellini-2/
Anyhow, I promised my friends I would share the recipe with them, so here it is.
It's not difficult at all to make, but does require a few hours cooking time. But trust me, it's worth it. 
The stew will be at it's best if made a day ahead and then reheated, as the flavours will have time to develop. This is same for most stews.
Bolognese made from chuck, 4 portions
2 yellow onions
3 cloves of garlic
150 g carrot
150 g pork belly or bacon
250 g chuck or other part of beef suitable for stew
1 tbsp butter
2 tbsp tomato purée
3 dl red wine
3 msk kalvfond
1 can cherry tomatoes, ca 400 g
2 tsp oregano
salt and  pepper 
For serving:
2 dl grated cheese
To make:
Peel and finely chop the onion and garlic. Peel and finely chop the carrots. Take the fat off the pork belly.
Dice the pork, the chuck and the salami. 
Fry the onions, garlic and carrots in butter in a pan.
Add all the meat and the tomato purée and let fry another couple of minutes. 
Add the wine and the canned tomatoes.
Bring to the boil, and then lower the heat, put a lid on and simmer for approx. 1,5-2 hours. 
Stir every now and then. 
Season with salt and pepper. 
Serve with spaghetti, grated cheese and mixed salad. 
Fatal error: Uncaught Exception: 12: REST API is deprecated for versions v2.1 and higher (12) thrown in /storage/content/90/144790/matikvadrat.se/public_html/wp-content/plugins/seo-facebook-comments/facebook/base_facebook.php on line 1273