God morgon och gott nytt år! Mår du dåligt? Hade du en fantastisk kväll igår? Här är frukosten som kommer hjälpa dig genom resten av dagen.
Jag har glömt att dela med mig av detta underbara recept. Hade tänkt att skriva om det som förra veckans present istället för en blomma men missade det. Bättre sent än aldrig, eller hur? Om du inte kan göra detta till frukost eller brunch idag så spara det till helgen och du kommer vara allas bästa vän. MIn familj älskade mig för att lagade detta till dem på juldagsmorgonen.
Det bästa är att man kan förbereda den och förvara i kylen, redo att gräddas när man vaknar på morgonen.
Det är helt ljuvligt i sin vanligaste form, och en av mina absoluta favoriter till frukost. På detta nya sätt att servera det är det som att höra en änglakör sjunga när man äter det. Fattiga riddare! Sockriga, smöriga och söta stekta bröd. Nu som en gratäng. Tack, vem du än är, som kom på denna bra idé.
Receptet följer nedan. Jag gjorde inte gratängen dagen innan, så det är inget måste. Men jag förstår ju att det blir ännu bättre när brödet får sitta i kylen, suga till sig smeten och gotta till sig över natten.
Till 12 personer behöver du:
1 limpa surdegsbröd eller annat lämpligt bröd (det du har)
8 ägg
500 ml röd mjölk
125 ml vispgrädde
1,5-2 dl socker
(2 msk vaniljextrakt)
Topping
125 ml mjöl
125 ml farinsocker eller muscovadosocker
1 tsk kanel
salt
100 gram smör
Gör så här:
Smöra en ugnssäker form. Skär brödet i skivor eller bitar och fördela i formen.
Blanda ägg, mjölk, grädde, socker och vaniljextrakt. Häll smeten över brödet, om du har skurit skivor så se till att smeten kommer mellan skivorna också.
Täck formen och förvara i kylen ett par timmar eller över natten (detta kan man skippa om man har bråttom, eller kommer på att man vill äta det här samma morgon).
I en skål, blanda mjöl, farinsocker, kanel och salt. Skär smöret i bitar och blanda/mixa till det påminner om smuldeg. Förvara i en plastpåse i kylen om du gör detta dagen innan servering.
Värm ugnen till 175 garder C. Strö smulblandningen över brödet och grädda sen i ca 45 minuter (täck med folie i början). Om man inte vill ha torrare bröd låt gratängen stå i ca en timme istället.
Ringla lönnsirap över och servera som det är eller med färsk frukt.
NJUT!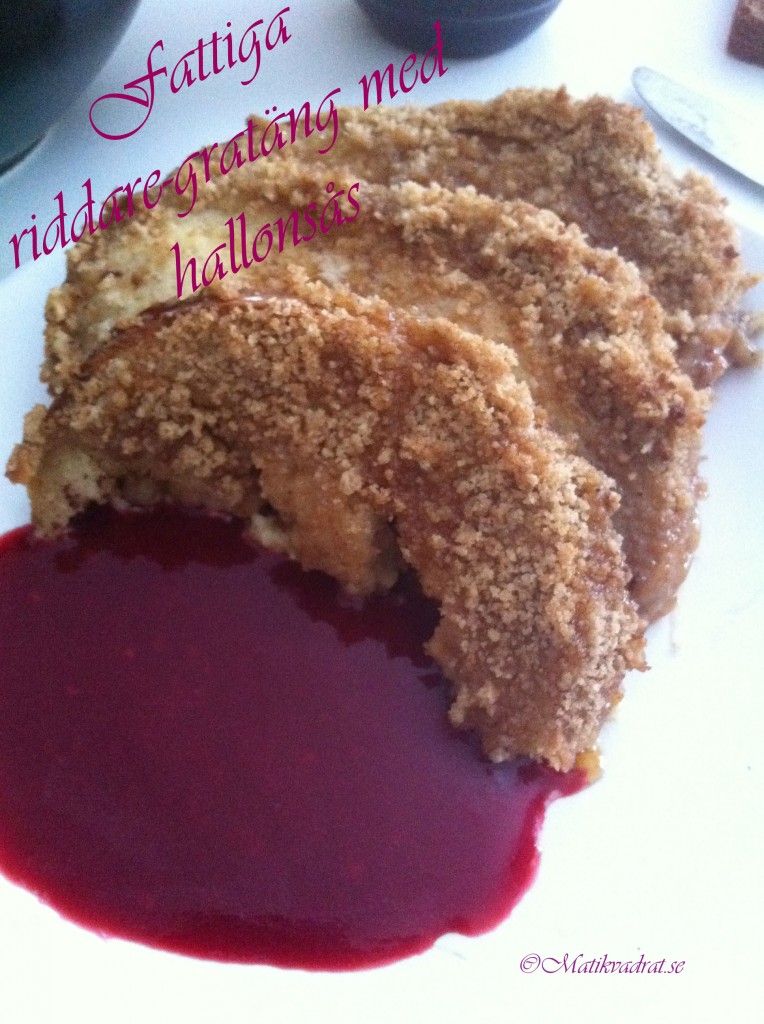 Good morning and happy new year! Are you hung over? Did you have a great time last night? Here's the breakfast to help you get through the rest of the day.
I have forgotten to share this amazing recipe with you. I had planned to post it as a my hostess gift of the week. Better late than never and if you can't make it for brunch today, on the hangover day of the year, save it 'til the weekend and you will be everyones best friend. My family certainly loved me for making this for Christmas Day breakfast. 
The good thing is it can be made ahead and kept in the fridge, ready to be baked when you wake up in the morning. 
It's delicious in its normal form, and a favourite of mine for breakfast. In this new way of serving it's like angels singing. French toast! Sugary sweet buttery fried bread. Now as a casserole. Thank you, whoever you are, for coming up with this great idea. 
The recipe is here; I didn't make it the night before, but it worked just as well anyway. But I am sure over night would do the bread good, to sit there in the fridge and soak upp all the goodness of the batter.
Ingredients for 12 portions:
1 loaf Crusty Sourdough Or French Bread
8 whole Eggs
2 cups Whole Milk
1/2 cup Whipping (heavy) Cream
3/4 cups Sugar
2 Tablespoons Vanilla Extract
Topping
1/2 cup All-purpose Flour
1/2 cup Firmly Packed Brown Sugar
1 teaspoon Cinnamon
1/4 teaspoon Salt
1 stick Cold Butter, Cut Into Pieces
Instructions:
Grease 9 x 13-inch baking pan with butter. Tear bread into chunks (or cut into cubes) and evenly distribute in the pan. ( I simply sliced the bread)
Mix together eggs, milk, cream, sugar, and vanilla. Pour evenly over bread. Cover tightly and store in the fridge several hours or overnight.
In a separate bowl, mix flour, brown sugar, cinnamon, and salt. Add nutmeg if desired. Add butter pieces and but into the dry mixture until mixture resembles fine pebbles. Store in a Ziploc in the fridge.
When you're ready to bake the casserole, preheat oven to 350 degrees. Remove casserole from oven and sprinkle crumb mixture over the top. (If you're using fruit, sprinkle on before the crumb mixture.) Bake for 45 minutes for a softer, more bread pudding texture. Bake 1 hour or more for a firmer, less liquid texture.
Scoop out individual portions. Top with butter and drizzle with maple syrup.
Fatal error: Uncaught Exception: 12: REST API is deprecated for versions v2.1 and higher (12) thrown in /storage/content/90/144790/matikvadrat.se/public_html/wp-content/plugins/seo-facebook-comments/facebook/base_facebook.php on line 1273