Pink = English
Hej,
Vintermat ska vara värmande och rejäl. En gryta funkar alltid. Igår gjorde jag en jättegod viltskavsgryta. Jag serverade den med ris, men potatismos till vore inte dumt. Denna kommer vi göra fler gånger.
Hi,
Winter food should be rich and warming. Comfort food in other words. A stew of some sort always does the trick. Yesterday I made a stew of shavings of venison.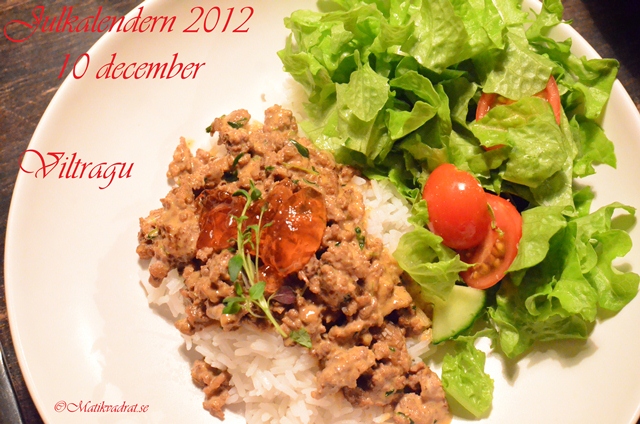 Till 4 portioner behöver du:
2 pkt viltskav (2 x 240 g)
2 dl crème fraiche med kantareller och konjak
1-2 dl grädde
2 tsk soja
ett litet knippe färsk timjan
1 msk viltfond
3 msk rönnbärsgelé
Gör så här:
Bryn köttet i smör i en traktörpanna. Rör i crème fraiche, grädde soja, timjan fond och gelé.
Låt koka ihop i ca 5 minuter.
Servera med pressad potatis, ris eller potatismos och en sallad.
For 4 portions you need:
500 g venison in thin pieces
2 dl crème fraiche with chantarelles and cognac (mig together after your own taste if you can't find a ready made one)
1-2 dl cream
2 tsp soy sauce
a small bunch of fresh thyme
1 tbsp reduced bouillon
3 tbsp rowanberry jelly
Instructions:
Fry the meat in some butter. Pour in all the other ingredients and let simmer together for about 5 minutes.
Serve with rice or mashed potatoes and a salad.
ENJOY!
Fatal error: Uncaught Exception: 12: REST API is deprecated for versions v2.1 and higher (12) thrown in /storage/content/90/144790/matikvadrat.se/public_html/wp-content/plugins/seo-facebook-comments/facebook/base_facebook.php on line 1273