*Scroll down for English
Hej,
Har ni haft en bra dag idag?
Min dag blev inte riktigt som jag hade tänkt mig, av olika skäl, men lite adventspyntat blev det i alla fall. Dock insåg vi att en del lampor behöver bytas ut. Så det får bli färdigpyntat imorgon.
Det blev ingen glöggryta för vår del idag. Sambon bjöd ut oss på middag på La Pampa och det var inte heller dumt. Mini-me åt och åt, först stekt korv och potatismos och sen en stoor glasscoupe med jordgubbssås.
Jag och sambon delade på en oxfilé Provencale-liknande rätt med kött, råstekt potatis, massor av grönsaker och vitlökssmör. Det var riktigt gott och trots att jag var rätt mätt efter varmrätten så tog jag också glass till efterrätt, en fruktsymfoni. Glass och fruktsallad. Väldigt gott det med!
Om det är någon som vill testa glöggrytan så hittar ni recept på den HÄR. Jag hade tänkt byta köttet mot kyckling men det gör man ju som man själv vill.
 Var det någon som kollade på adventskalendern imorse? Mini-me var inte hemma så jag och sambon sov oss igenom det. Men vi kanske får kolla på det imorgon istället.
Jag har i alla fall gjort en adventskalender till er!
Varje dag, här på bloggen, fram till jul, kommer jag med ett tips eller ett recept med speciellt julig anknytning.
Jag hoppas att ni kommer vara med hela tiden och ser fram emot det lika mycket som jag.
Mini-me har också fått en julkalender. Tidigare år har hon fått adventspresenter, en varje söndag, men i år tänkte jag att det skulle vara något varje dag. Dock är jag inte jättesugen på en massa småprylar utan tänkte att det skulle vara lite roliga aktiviteter istället.
Så här ser den ut: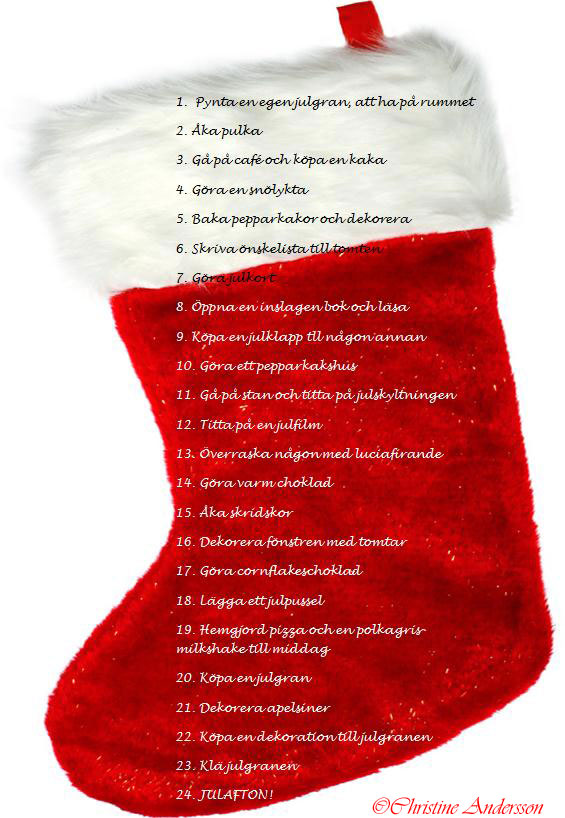 Första aktiviteten på listan har hon väntat länge på, ända sen vi inhandlade sakerna på IKEA, för nästan en månad sen. Köpte en liten plastgran, små julkulor i olika former, batteridriven ljusslinga och silverpärlband istället för glitter. Hon fick klä granen själv och var oerhört nöjd med resultatet. Nu står den på en piedestal inne i hennes rum.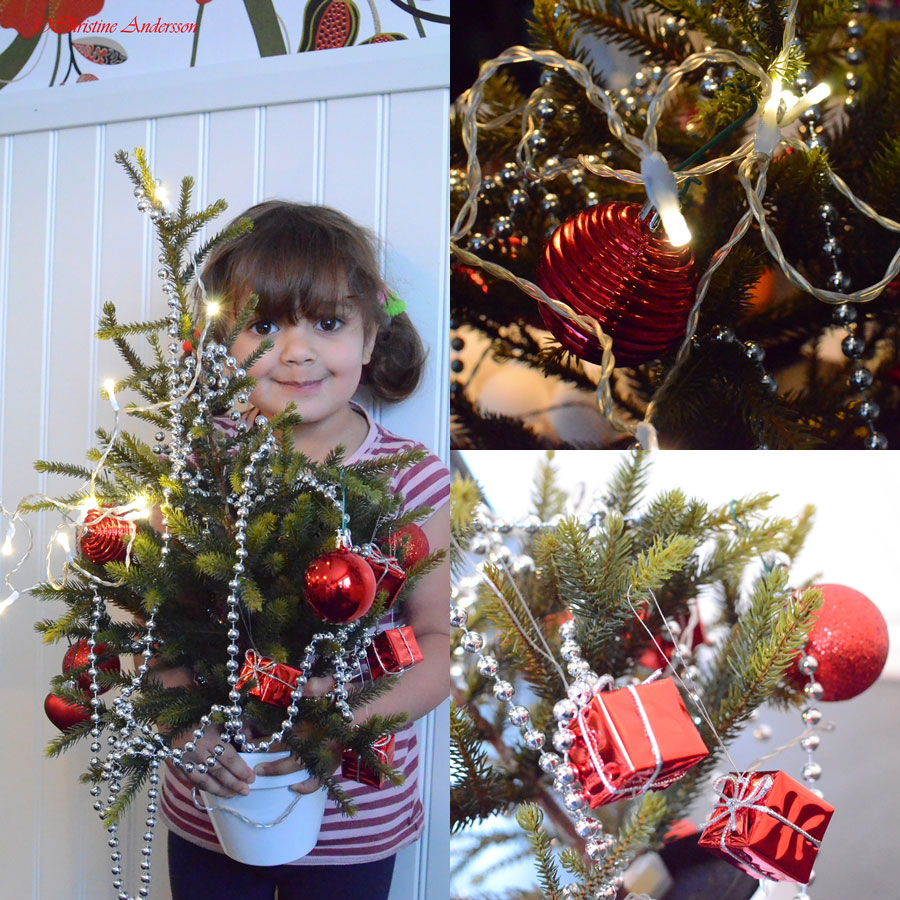 English
Hej,
Have you had a nice day?
Mine didn't exactly turn out the way I had planned for different reasons, but nevertheless some of the advent decorations are now up and the rest will be done tomorrow when we have fixed some new light bulbs.
Instead of dinner at home as planned the hubby took us for dinner at a local steak house. Mini-me ate more than she normally does, first sausage and mash and then a large ice cream coupe with strawberries.
The hubby and I shared a big platter of beef tenderloin with thinly sliced fried potatoes, vegetables and garlic butter. It was delicious and although I was full I enjoyed an ice cream coupe with fruit salad for dessert.
As a surprise for you I have made a christmas calendar for all of you guys visiting me here on the blog.
Every day until Christmas I will give you an idea or a recipe for something to make that has a real Christmas feel to it.
I hope you will enjoy it and look forward to it as much as I am 🙂
My little girl has also got a christmas calendar, hers is a list of activites to do. One each day.
Last year she got an advent calendar, with a present each Sunday before Christmas. This year I wanted her to do and experience things, which she can remember later on, rather than have little bits and pieces of toys.
The things on the list are no extraordinary activities but still nice things that one should appreciate.
The list goes like this: 
1. Decorate your own little christmas tree, and put in your room
2. Go sledging
3. Visit a café and buy a biscuit/cookie
4. Make a snow lantern
5. Bake and decorate gingerbread
6. Write a letter to Santa
7. Make christmas cards
8. Unwrap a new book and read as bedtime story
9. Buy a christmas present for someone else
10. Make a gingerbread house
11. Go into town and watch the christmas lights and window displays
12. Watch a christmas themed film
13. Suprise someone with a Lucia-celebration
14. Make hot chocolate
15. Go ice skating
16. Put up christmas themed window decorations
17. Make cornflake chocolate
18. Lay a christmas themed puzzle
19. Have homemade pizza and candy cane milkshake for dinner
20. Buy a christmas tree
21. Decorate oranges
22. Buy one new ornament for the christmas tree
23. Decorate the christmas tree
24. Christmas Eve! Enjoy!
The first activity on the list has been eargerly awaited, ever since we went to IKEA and bought the little tree, the red ornaments, the battery driven fairy lights and the silver beads on a string.
She decorated the tree all by her self and vas very proud of it. It now stands on a pedestal in her room.
Tomorrow is the 1st of Advent!
See you then!
Love Christine
Fatal error: Uncaught Exception: 12: REST API is deprecated for versions v2.1 and higher (12) thrown in /storage/content/90/144790/matikvadrat.se/public_html/wp-content/plugins/seo-facebook-comments/facebook/base_facebook.php on line 1273