Pink= English
Hej,
Snön faller igen och i helgen ska det tydligen bli riktigt snöoväder. Så länge det inte blir plusgrader och allt det vackra försvinner är jag nöjd. Ni som ska ut på vägarna i helgen, ta det lugnt!
Jag och en jobbarkompis håller i årets julfest på jobbet. Vi ska baka, laga mat, pynta och fixa. Festen är nästa onsdag och vi har t.o.m. anordnat ett lotteri med fina priser. Jag älskar ju att anordna den här typen av stora fester och min jobbarkompis är likadan, så vi tycker det här här jätteroligt. 65 personer är anmälda till festen och nästan lika många lotter är sålda. Idag var vi och handlade maten till festen. Vi ska göra en buffé med plockmat, med juliga smaker men inte ett regelrätt julbord. Som tur är har vi ett stort och bra kök på jobbet, där vi kan hållas.
Eftersom vi åkte och handlade efter jobbet blev klockan rätt mycket innan jag var hemma, så det blev minsann ingen mat lagad ikväll. Det har varit dåligt med det över huvud taget den här veckan. Hämtmat och smörgåsar har det blivit istället. Men ibland är det så skönt, för då kan man fokusera på annat.
Det är så skönt att få pusta ut här hemma nu, utan något speciellt att göra utom att ta det lugnt. Det jag helst av allt skulle vilja ha nu är veckan drink och dagens överraskning i julkalendern.
Hi,
The snow is falling again, and I've heard it's going to be a snowstorm here tomorrow. I don't mind it as long as the minus degrees doesn't turn to plus and the beautiful snow starts melting away. I just hope people will drive carefully. 
A co-worker and I are arranging this year's Christmas party at work. We are going to bake, cook and make decorations. The party will be held on Wednesday and we have even arranged a lottery with some really nice prices. I love to arrange big parties and my co-worker is the same, so we think this is so much fun. 65 persons have said they're coming to the party and we have sold almost as many lottery tickets. Today we went food shopping for this. We have planned to make a buffet of finger food and snacks with christmas flavours. Luckily, we have a big kitchen at work, where we can prepare all of this. 
Since we went food shopping after work it got rather later before I was home, so there was no home cooked dinner tonight either. There haven't been many of them this week. Take aways and sandwiches are what we have mostly lived off this week. But sometimes it's quite nice, as it gives you more time to focus on other things. 
It's so nice to finally be at home, realise it's Friday evening and I can relax at home without anything special to do. What I would like most of all is this week's drink, which is also the surprise of the day for the Christmas calendar. 
Gingerbread martini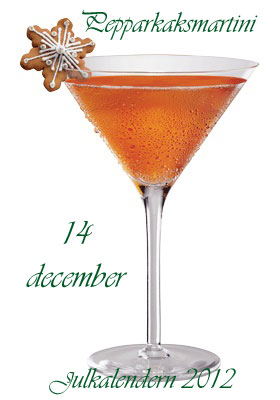 Visst ser den god ut? Bilden har jag inte tagit själv, utan lånat från Pinterest.

It looks delicious, doesn't it? I haven't taken the photo, it's borrowed from Pinterest and if you want the link, please klick the word Pinterest in blue above. 
För att göra den läckra drink behöver du:
3 cl vaniljvodka
3 cl Frangelico (Hasselnötslikör)
1 msk butterscotch schnapps (karamellsnaps av ngt slag)
Ginger ale
Gör så här:
Skaka alla ingredienserna utom ginger ale med is i en shaker. Häll upp i ett martiniglas och toppa med ginger ale.
Cheers!
To make this delicious drink you need: 
3 cl vanilla vodka
3 cl Frangelico
1 tbsp butter scotch schnapps
Ginger ale
Instructions: 
Put all the ingredients except the ginger ale in a shaker, with ice. Shake well and pour into a martini glass. Top up with ginger ale.
Cheers!