Warning: count(): Parameter must be an array or an object that implements Countable in /storage/content/90/144790/matikvadrat.se/public_html/wp-content/plugins/really-simple-facebook-twitter-share-buttons/really-simple-facebook-twitter-share-buttons.php on line 619

Vi hade vänner över på middag igår, vänner som inte bor i stan. Jätteroligt att träffa dem, äta tillsammans och prata med varandra. Det var längesen.

Jag gjorde en enkel men oerhört god maträtt som finns i en rad olika varianter. En av mina favoriter faktiskt. Vi var så hungriga att jag glömde ta kort på härligheten så jag lånar bilden från www.recept.nu istället.

Spagetti och köttbullar i tomatsås!

Tack USA för den goda rätten, som tros vara italiensk men som uppfanns i Queens eller Brooklyn. Säkert av italienare dock.

 Receptet är  Markus Aujalays och finns med i hans kokbok Mina favoriter från Barcelona

Perfekt recept för mina vänner som äter LCHF. Inget ströbröd i köttbullarna och sallad som alternativ till spagettin.

We had friends over for dinner. Friends who live out of town. So nice to see them, be able to have dinner together and spend time talking to them. It's been a while.

I made a simple but oh so yummy dish for dinner, one of my favourites actually. There are many varieties of this dish. We were so hungry I forgot to take any photos, so I am using a photo from the website where I found the recipe www.recept.nu

The dish? Spaghetti and meatballs!

Thanks USA for this, which can be thought of as Italian but derives from Queens or Brooklyn. Probably by Italians though. 

Perfect for our friends who eat according to LCHF. No breadcrumbs in the meatballs and with a salad as alternative to the spaghetti.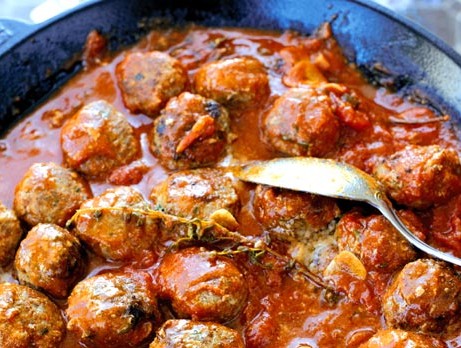 Foto: Norstedts
Till 4 port behöver du:
500 g blandfärs (jag använde nötfärs)
1 st ägg
2 st vitlöksklyftor
0.5 msk paprikapulver
1 dl vatten
1 kruka persilja (jag använde fryst persilja
Salt, efter smak
Peppar, efter smak
olivolja, till stekning
tomatsås :
2 st vitlöksklyftor, tunt skivade
4 msk olivolja
2 dl vitt vin (jag använde rött vin)
1 burk tomater, hela och hackade
4 st pimiento, torkade hela (kan skippas helt eller ersättas av torkade chiliflakes)
Timjan, några kvistar
Salt, efter smak
Svartpeppar, efter smak
en nypa strösocker
Gör så här:
 Köttbullar
Blanda färsens samtliga ingredienser i en bunke.
 Krydda ordentligt med salt och peppar.
 Rulla smeten till köttbullar. Gärna stora.
 Stek i olivolja i en stekpanna tills de fått fin färg.
 Tomatsås
Fräs tomatsåsens vitlök i olivolja i en gryta utan att det tar färg.
 Tillsätt vin, tomater, chili och timjan.
 Låt sjuda 10 minuter.
 Smaka av med salt, peppar och lite strösocker.
 Lägg köttbullarna i tomatsåsen och låt koka 10 minuter.
 Lyft timjankvistarna ur grytan.
 Smaka av tomatsåsen med salt och peppar ytterligare en gång innan servering.
Servera med spagetti och en blandad sallad
For 4 portions you need:
500 g minced meat
1 egg
2 cloves of garlic
1/2 tbsp of paprika
1 dl water
a bunch of parsley, chopped
Salt, pepper
olive oil for frying in. 
Tomato sauce:
2 cloves of garlic, slivered
4 tbsp olive oil
2 dl white or red wine
1 can of tomato
1 tsp of chili flakes
A few sprigs of thyme
salt and pepper
A pinch of sugar
Instructions:
Meatballs
Mix all the ingredients for the meatballs in a bowl. 
Season well with salt and pepper. Make rather large meatballs. 
Fry in olive oil until nicely browned.
Tomato sauce:
Fry the garlic for the tomato sauce in the olive oil.
Add wine, tomatoes, chili flakes and thyme.
Let it simmer for 10 minutes.
Season with salt, pepper and a pinch of sugar.
Put the meatballs in the sauce and let simmer for another 10 minutes.
Serve with spaghetti and a mixed salad. 

Fatal error: Uncaught Exception: 12: REST API is deprecated for versions v2.1 and higher (12) thrown in /storage/content/90/144790/matikvadrat.se/public_html/wp-content/plugins/seo-facebook-comments/facebook/base_facebook.php on line 1273