Pink = English
Idag har jag gått på sparlåga här hemma. Den fruktansvärt irriterande hostan håller mig vaken på nätterna, vilket gör att jag på dagarna går omkring som i ett töcken. Jag ska i alla fall sätta en deg idag, så att vi får färska nygräddade frallor till frukost imorgon.
Ni kanske kommer ihåg att jag var lite smått besatt av julmust för ett par veckor sen, och hade det i lite av varje? Jag gjorde då bl.a. dessa julfrallor, med julmust i, och de blev riktigt goda, så jag tänkte baka en ny sats till frukost de här sista dagarna av ledighet.
A few weeks ago I baked these simple rolls for breakfast, and now I am making another batch. They are easy to make and have a special ingredient, making them a little darker and fluffier. Julmust. For those of you not living in Sweden, where julmust is widely available during this time of year, I think IKEA abroad might be selling it. 
I f you can't get hold of a couple of bottles of julmust, substitute it with mineral water and some bread spices instead.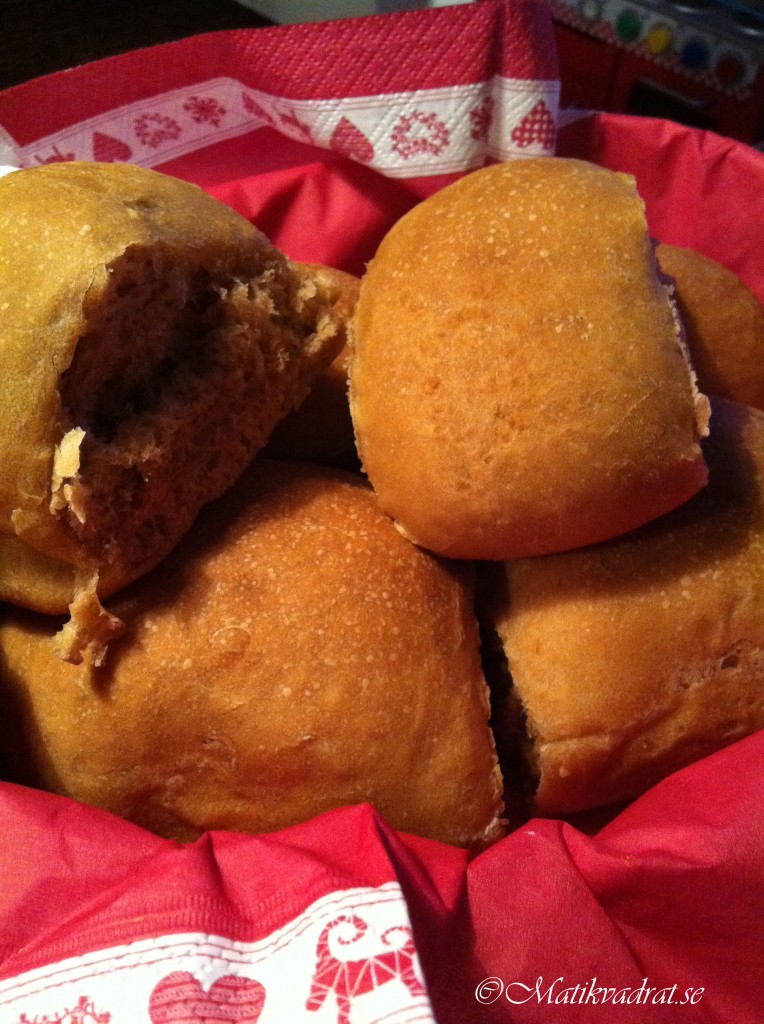 Du behöver:
50 g (1 pkt) jäst
2 flaskor (á 33 cl) julmust
1 dl matolja
2 tsk salt
250 g (5 dl) rågsikt
650 g (ca 11 dl) vetemjöl
ev 2 dl russin (BIG no-no för egen del 🙂 )
Gör så här:
Värm julmusten i en kastrull till fingervarmt (37°C). Smula ner jästen i degskålen och häll julmusten över, rör runt så att jästen löser sig.
Tillsätt matolja, salt, rågsikt, nästan allt vetemjöl och eventuellt russin.
Arbeta degen för hand ca 10 minuter eller med maskin ca 5 minuter tills degen släpper bunkens kanter.
Låt degen jäsa övertäckt med bakduk ca 40 minuter. Ta upp och knåda degen smidig på mjölat bakbord. Dela degen i 25 bitar.
Forma bitarna till släta runda bullar. Lägg dem på bakplåtspappersklädd plåt eller i en form. Värm ugnen till 225°C. Låt bullarna jäsa övertäckta ca 20 minuter. (Man kan även låta bröden jäsa i kylen över natten och grädda på morgonen, ta då fram plåten ur kylen och låt den stå framme medan ugnen värms upp)
Grädda bullarna mitt i ugnen ca 10
minuter. Låt kallna på galler under bakduk.
Ingredients:
50 g fresh yeast
2 bottles(á 33 cl) julmust/ mineral water
1 dl cooking oil
2 tsp salt
250 g (5 dl) rye-flour
650 g (ca 11 dl) wheat flour
ev 2 dl raisins (BIG no-no for me who dislike raisins in bread 🙂 )
Instructions:
Heat the julmust or mineral water i a pot, until luke warm (37°C). Crumble the yeast in to a bowl and add the warm liquid to it. Stir until the yeast has dissolved.
Add cooking oil, rye-flour, almost all of the wheat flour, and the raisins if you are into that. 
Work the dough by hand for 10 minutes or in a machine for about 5 minutes (gotta' love my Kitchen Aid at these moments). The dough should let go from the sides of the bowl. 
Cover the dough and let it rise for about 40 minutes. I usually put the bowl in the bathroom, taking advantage of the under-floor heating.
After the dough has risen, knead it on a floured surface and divide into 25 pieces. 
Shape the pieces to round rolls and put them on a baking sheet with parchment paper. Hea the oven to 225 degrees C. Cover and let the rolls rise for another 20 minutes (you could also let the breads rise over night in the fridge, to be baked in the morning).
Bake off the bread in the middle of the oven for 10 minutes. Let them cool on a wire rack, covered with a tea towel.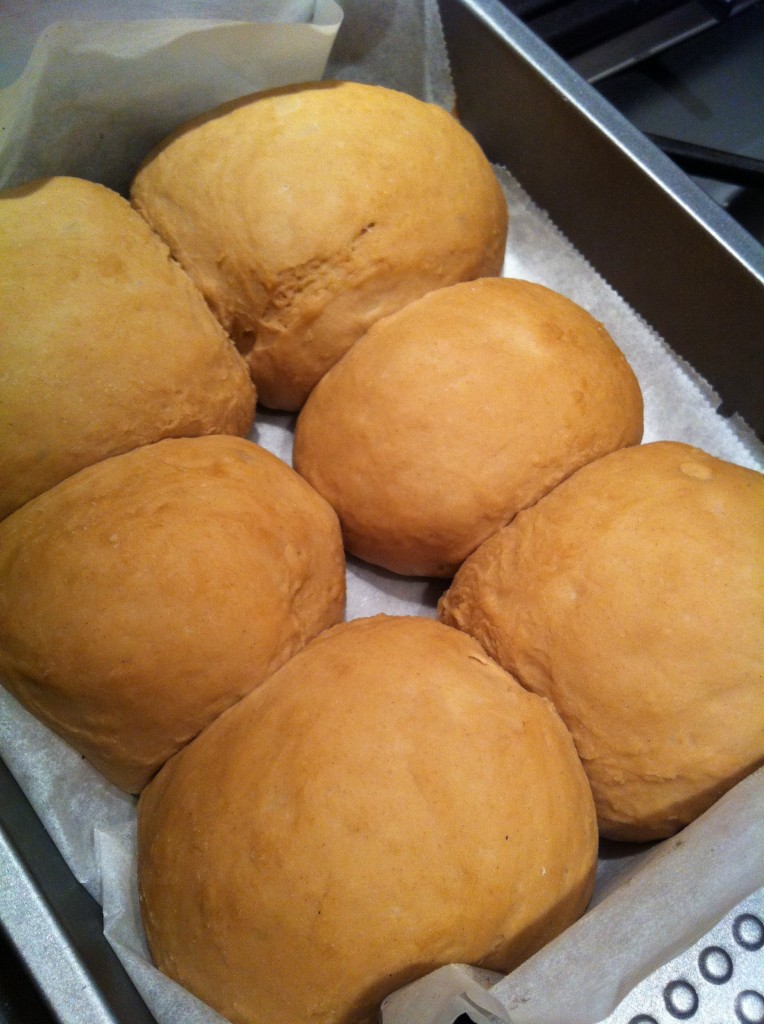 Fatal error: Uncaught Exception: 12: REST API is deprecated for versions v2.1 and higher (12) thrown in /storage/content/90/144790/matikvadrat.se/public_html/wp-content/plugins/seo-facebook-comments/facebook/base_facebook.php on line 1273