Pink = English
Har du redan skickat dina julkort? Skickar du till alla du känner, familj som vänner eller väljer du ett fåtal? Gör du dina julkort själv, köper du dem i affären eller gör du fotokort?
Eller är du kanske en av dem som tycker julkort är onödigt, dyrt och omiljövänligt?
Oavsett vilket, kolla här! Jag har den perfekta lösningen. Ett snabbt och enkelt sätt att skicka fina julkort till hur många som helst, utan att behöva betala för vare sig kort eller frimärke, och dessutom på ett miljövänligt sätt. Skicka dina julhälsningar via e-mail. Nej fy vad trist och opersonligt tänker du kanske nu? Men vänta ska du få se!
Låt mig presentera Punchbowl.  En toppensida för att skicka fina kort, oavsett tid på året. För att säga hej, eller bjuda in vännerna på fest. Jag hittade sidan för ett par år sen och använder den lite då och då. Nu senast skickade jag ut inbjudan till jobbets julfest till alla på jobbet på detta sätt. Väldigt uppskattat! Korten ser ut som riktiga kort, och det finns en uppsjö olika motiv att välja mellan. Man kan t.om. ladda upp sina egna foton, att användas i en del kort. Man får välja design, färg, storlek och typsnitt på texten och kan ändra texten som man själv vill. När man är nöjd med sitt kort är det dags att gå vidare, och bestämma hur kuvertet och frimärket ska se ut. Kuverten stämplas också på utsidan med en passande stämpel, som man får välja själv.
Kortet skickas som en länk i ett e-mail och när klickar på länken får man hela upplevelsen av att få ett kuvert i brevlådan, som man öppnar och däri finns ett fint kort med en hälsning. .
Alla du skickar ett sånt här kort till kommer älska det!
Klicka på länken nedan för att se julkortet jag har gjort till er läsare!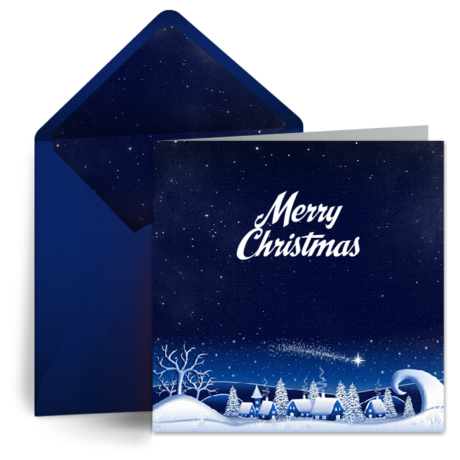 Have you already sent out your christmas cards? Do you send only a few greetings to the closest of friends and family, or does everyone in your phonebook get one?
Do you make them yourself, or do you buy packets, or do you make photo cards?
Or perhaps you feel it is unnecessary, expensive and non eco-friendly?
Well, look no further than here. I have the solution for you. A quick and easy way of sending christmas cards to as many people you'd like, without having to pay anything and you will be environmentally friendly too. Send your greetings by e-mail. Now you may think this is boring and not as personal as a real card. But wait!
Let me introduce you to Punchbowl.  A brilliant site for sending nice cards at any time of year, to just say hello or to invite friends to a party. I found it a few years ago and have used it every now and then. The cards look very much like a real card, and there is a number of different looks to choose from. You can even upload your own photo to some of the designs. You get to choose the design, colour and type of font, you can change the texts and once you are done editing your card you get to choose the envelope liner, stamp and rubber stamping on the outside of the envelope.
The card is sent as a link in a e-mail and once you click on it you get the whole experience of opening a real envelope with a card inside. Soo nice!
Everyone you send it to will love it. 
Klick on the link below to see the Christmas card I made for you!
Fatal error: Uncaught Exception: 12: REST API is deprecated for versions v2.1 and higher (12) thrown in /storage/content/90/144790/matikvadrat.se/public_html/wp-content/plugins/seo-facebook-comments/facebook/base_facebook.php on line 1273