Hej,
Både jag och sambon tycker om att resa, ibland reser vi tillsammans och ibland var för sig. Roligt är det i alla fall. Långt borta och nära. Semester är semester, eller hur?
För två år sen var jag och en kompis i Wien, en stad jag verkligen kan rekommendera. Tror den är lika undebar året om, men vi var där i början på augusti och hade riktig tur med vädret. Det var soligt och varmt, riktig sommar. Wien är en gå-vänlig stad. Blir man trött finns det både kafeer och barer att parkera sig på.
Kalla öl, mäktiga tårtor, ståtliga byggnader, vacker konst, stora schnitzlar och härliga grönområden. Vi var där i fyra dagar men jag hade kunnat vara där en hel vecka. Det fanns mycket vi inte hann med. Står till viss del i direkt proportion till hur länge man är ute på kvällarna och hur länge man sover på morgnarna 🙂
Här kommer bilder från vår semester, som kanske kan inspirera er att boka er egen weekend-resa 🙂 Möta våren i Europa är inte så dumt.
Both the hubby and I like to travel. Sometimes we travel together, sometimes with on our own with friends. No matter, it's so much fun!
Far away or close, doesn't matter. Holiday is holiday right?
Two years ago a friend of mine and I went on a weekend trip to Vienna. A city I can really recommend. I think it's just as wonderful no matter what time of year you go, but we went there at the beginning of August, which was great. It's was summer weather and very nice. 
Vienna is a walking-friendly city, and if you get tired you can park your butt in one of the many cafees and bars around town. 
Cold beers, heavy cakes, magnificent buildings, beautiful art, big schnitzels and lovely green areas. We spent four days there but I could have been there for at least a week. We did a lot of sight-seeing but didn't see it all anyway. 
Could have something to do with how long one stays out at night and how long one sleeps in in the morning 🙂
Well, here are some photos from our trip.
Enjoy, be inspired and perhaps book a trip 🙂
Stefansdom har ett fint mönstrat tak och ligger mitt inne i stan. Vid Karlskirche finns det en fontän, där stannade vi ofta för att vila, på vägen hem till hotellet. Utsikten över stan och Stefansdom från tornet i Karlskirche.
The Stefansdom has a nice patterned roof and lies in the middle of the city. At Karlskirche there is a fountain, where we would stop and rest, on the way back to the hotel. The view over the city and the Stefansdom is from the view point in Karlskirche. 
Hissen upp i tornet i Karlskirche och vackra takmålningar i kyrkan. Gatuunderhållare av många olika slag fanns det gott om. En dag blev det så klart lunch på en pub med eget bryggeri och stora goda schnitzlar med alla tillbehören. Mmm, så gott!
The lift up to the view-point in Karlskirche and beautiful ceiling paintings from inside the church. 
Street entertainers were everywhere.
One day we had lunch in pub with its own brewery, where we of course had a big plate of schnitzel and potato salad for lunch. 
Mmmm, sooo good!
Vackra Schönbrunn får man inte missa när man är i Wien. Fördelen med att åka dit på sommaren är så klart den vackra trädgården. Där sålde de även stora pretzels.
Beautiful Schönbrunn, the imperial palace musn't be missed and is just a few stops away from the city centre by tube. 
The advantage of going there in the summer is of course that the gardens are in bloom. 
If you get hungry you could snack on huge pretzels.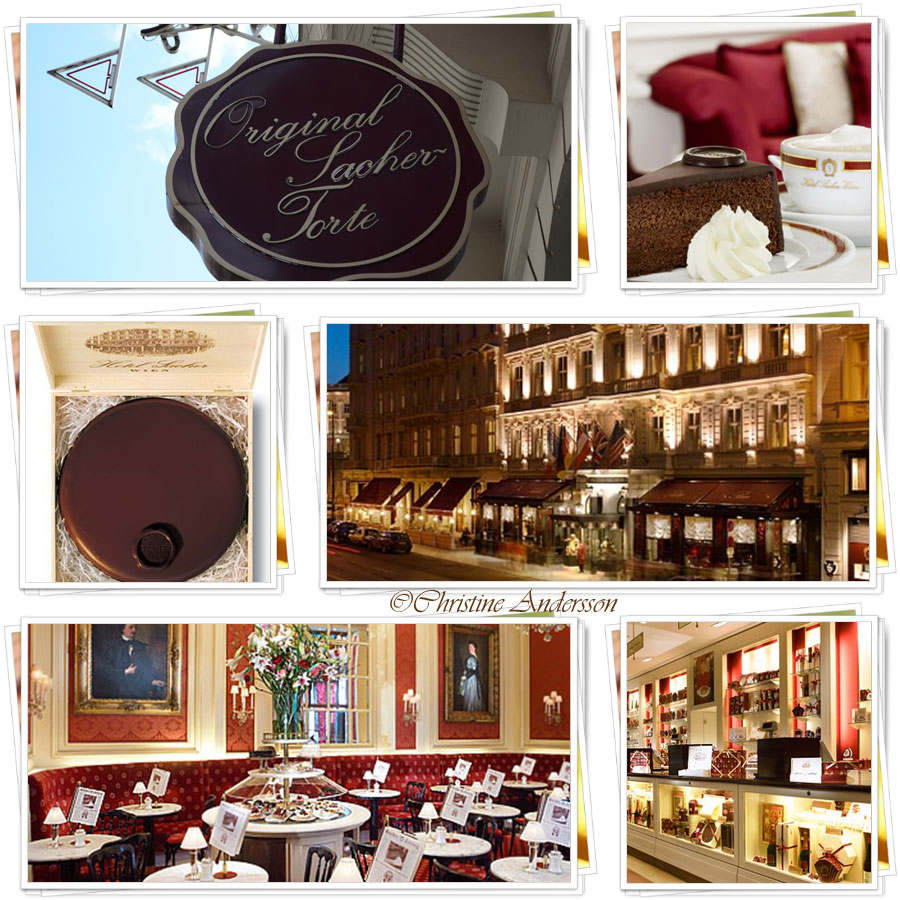 En annan sak man inte får missa när man är i Wien är Sacher torte! Den klassiska chokladtårtan, mäktigare än något annat bakverk, det är choklad, choklad och choklad och så liiite marmelad. Födelseplatsen är Hotel Sacher i Wien, därav namnet. Den här tårtan var och är min lillebrors favorittårta och han ville alltid ha den till sin födelsedag. Med påföljd att han fick äta den själv, ingen annan mäktade med. En win-win situation för honom 🙂
Hotellet är dyrt och flott, där bodde vi inte, men cafeet kunde vi besöka. Kön ringlade dock lååång och vi hade inte bokat bord. Det ordnade sig dock så vi slapp köpa från Sacher-butiken runt hörnet. Där köpte jag dock souvenirer sen, bl.a. en liten tårta i träask, som jag tog med hem till lillebror.
Last but not least, do not miss the Sacher torte, at the birth place for this rich and indulgent chocolate cake; The Sacher Hotel. 
This is my little brother's favourite cake, and he wanted it every birthday, but got it more or less all to him self as no one else could manage to eat more than a thin sliver of the cake. 
The hotel is expensive and fancy and sad to say we didn't stay there, although our hotel was not bad at all. We did visit the café though, but we hadn't booked a table and there was a looooong queue. In the end we got a table and so didn't have to buy our afternoon treat from the Sacher shop around the corner. I did buy a souvenir there, a present for my brother, a small sacher cake in a wood box.