I december gjorde jag en julgrupp till matbordet, den gick i vitt och grönt och var riktigt fin.
In December I made a flower arrangement for the dining table. In white and green. Really pretty!
Till nyår fick jag byta julstjärnan mot en vit cyklamen och nu såg den ut så här:
For New Year's I swapped the pointsettia for a cyclamen and now it looked like this: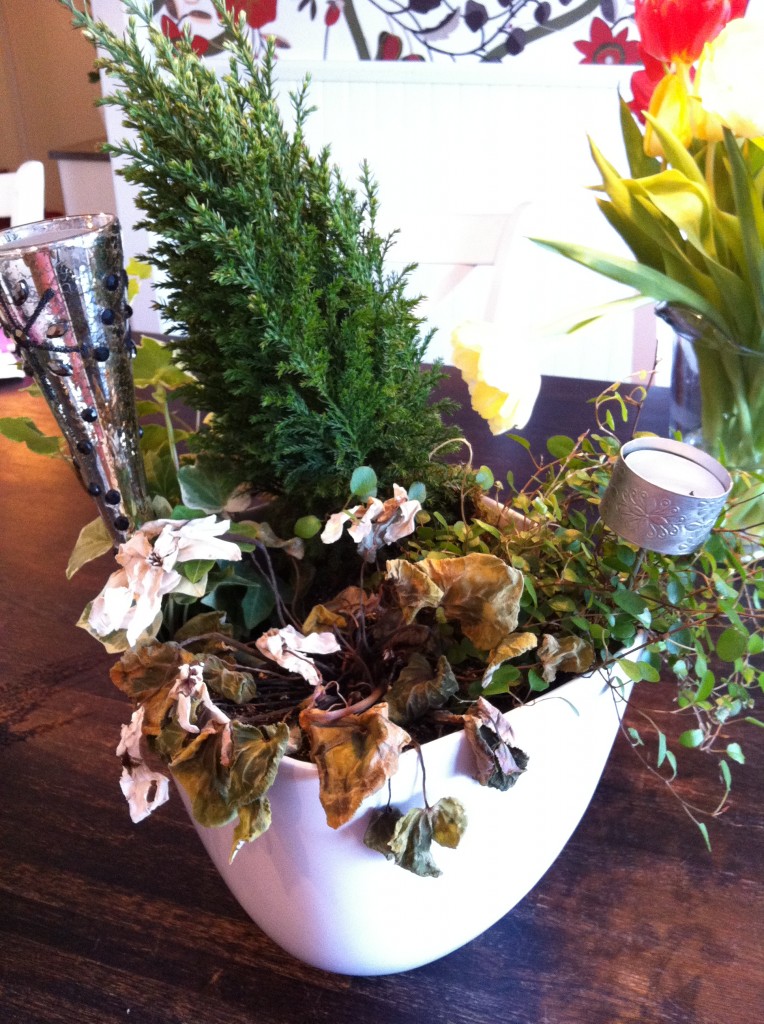 Inte så snyggt, men resten av växterna är jättefina, så jag köpte en ny blomma och bytte ut cyklamen med och så var blomstergruppen fin igen. Nästa gång blir det något med mer färg!
Not so nice, but the rest of the plants are healthy so I bought a new flowring plant and tossed out the dead cycklamen, and voilà, the arrangement looked fresh again. 
Next time I will opt for something more colourful though!
En sån här blomstergrupp är jätteenkel att göra.
Köp en gansk stor kruka, och ett par olika krukväxter, gärna i olika höjd också. Fyll krukan med lecakulor och sätt sen ner krukväxterna i ytterkrukan. Snabbt, snyggt och enkelt. Bara att byta ut blommor allt efter årstid, humör eller dukning.
OBS! Se till att ytterkrukan har små fötter eller någon slags upphöjning. Annars kommer du få fula fuktmärken på bordet. 
An arrangements like this is so easy to make. 
Buy a rather large flower pot, and a couple of different plants. Different heights are nice. Fill the flower pot halfway up with leca marbles and then put your plants in. Quick, nice and simple!
Then you can change the plants after season, mood, or table setting. 
N.B. Make sure the flower pot has a raised bottom, as it will otherwise leave ugly stains on the table.