Pink = English
Hej,
Det blev inte riktigt som jag hade tänkt mig idag. Efter jobb och dagis hade jag tänkt att jag och Mini-me skulle ha en mysig stund på stan tillsammans. Vi skulle köpa en pepparkaksklänning till henne, till Lucia-firandet på torsdag och sen hem och  göra julgodis.
Det blev varken det ena eller det andra.
Pepparkaksklänningen i hennes storlek var slut, så det fick bli ett lucialinne, rött band och glitter istället. Inget drama kring det.  Det blev dock mycket senare än jag hade räknat med för hon ville gå och titta på alla leksaker. Så jag tänkte att jag kunde smita in snabbt på en mataffär inne i stan istället för att stanna på stormarknaden på vägen hem. Men när Mini-me inte fick som hon ville och dessutom hela tiden säger att säger att hon inte vill ha mig som mamma så tröttnade jag och tog ifrån henne Hello Kitty-tidningen hon hade fått välja och sa att då lämnar vi tillbaka den och så går vi. Nu kom drama queen-fasonerna in i bilden (inte för inte som jag kallar henne Mini-me, även om vi reagerar på olika sätt). Hon slängde sig på golvet och grät och skrek medan jag gick därifrån.
Vi ordnade upp det hela mellan oss en stund senare, hon fick sin tidning och vi sa förlåt till varandra.
Things didn't quite turn out as I had planned today. After work and daycare I had planned to take Mini-me with me into town and buy her a gingerbread girl's outfit for Lucia on Thursday, and then we would go home and make a batch of sweets.
Weeeeell, it was neither this nor that. It was just a bad idea to bring her somewhere after day care. God, what was I thinking?
The gingerbread dress in her size was sold out, so we opted for a lucia gown, a red ribbon and glitter for the hair instead. No drama at all about that. However, it turned late rather quickly since she wanted to go check out all of the toys and try them all. So, I thought I'd pop in quickly to a small super market in town, rather than the big one on the way home. But when Mini-me didn't get everything she wanted (apparently I always say NO to everything, and she never gets to do anything and she can never buy candy) This poor poor kid had to start saying that she didn't want me as her mum. The behaviour and the phrase pissed me off and took away the Hello Kitty-magazine she had been allowed to buy and said I was putting it back and that we were leaving.
This time there was drama ( there's a reason for me calling her Mini-me, although we choose different ways of reacting). She threw herself on the floor, cried and screamed while I just walked away. 
We managed to mend fences before leaving the store, she got her magazine and we said sorry to each other. 
Väl hemma orkade jag inte laga en vegetarisk böngryta utan sambon dukade upp en himla fin buffé av te, bröd, ost, kokta ägg och skinka. Är det Nobeldagen så är det, och då ska man slå på stort!
Tiden rann iväg och plötsligt var klockan jättemycket. Jag som skulle göra julgodis. Rice krispie treats med Mars.
4 Mars-bars
90 g smör
50 g rice krispies.
Smält smör och chokladen som du skurit i bitar. Blanda med rice krispies och klicka ut lagom stora bitar på plåt.
Låt stelna.
Once home I just didn't feel like cooking a veggie bean stew so the hubby made dinner instead. A buffet of tea, bread, cheese, boiled eggs and ham. Well, when it is the Nobel Day with a gala dinner and price ceremony in Stockholm we should celebrate too, right?
Time ran away AGAIN and all of a sudden it was late evening. And I han't made the sweets yet. Rice krispie treats with Mars chocolate. It's a doodle to make. 
4 Mars bars
90 g butter
50 g rice krispies.
Melt the butter and the chocolate, cut in chunks. Mix with the rice krispies and put dollops of the mixture on a baking tray. Let it chill and then it's ready to eat.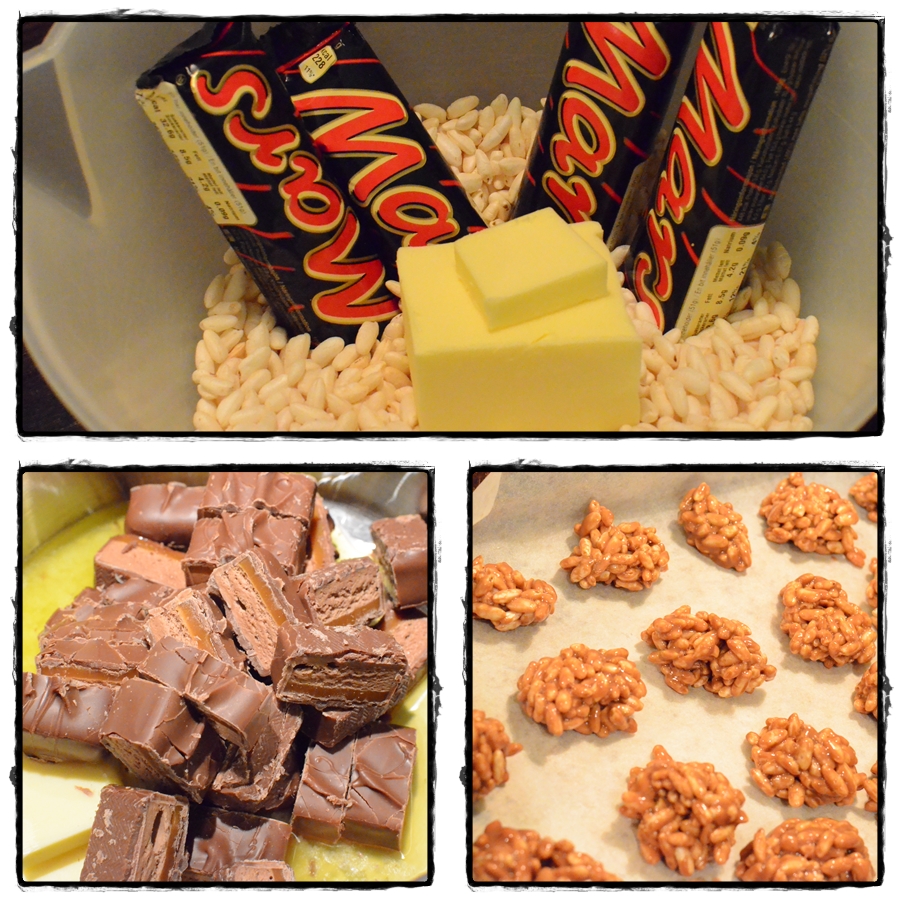 Jag gjorde det och tänkte inte förrän jag klickade ut smeten på plåten att det inte riktigt stämde.
Hm, ser ni misstaget?
Yep, jag tog puffat ris istället för rice krispies. Kan säga att det var inte alls lika gott. Får se om Mini-me tycker om det. Vilken miss!
Som tur är fick jag lite att trösta mig med. Nytt bling bling kom hem i brevlådan idag, julklappar från mig till mig 🙂
Kommer bli snygga till julens fester, nu måste jag bara hitta någon snygg klänning också.
I did the whole thing and didn't really think about it until I was putting the mixture on the baking tray. It looked so weird and couldn't understand why. 
Can you see the mistake?
Yees, I used puffed rice instead of rice krispies. Won't lie to ya, it just wasn't the same and not that good. Let's see if Mini-me will like it. After all, it does contain chocolate. What a mistake!
Luckily I had a parcel waiting for me in the pos today, cheering me up. Christmas presents from me to me.
Will look great to the holiday parties, all I need is a killer dress. 
På tal om fest och klänningar måste jag bara visa de svenska prinsessornas Nobelklänningar. Supersnygga som vanligt, men prinsessan Victorias gröna klänning står  verkligen ut!
Speaking of party and dresses I just have to show you a picture of the Swedish Princesses's dresses. Gorgeous as usual but Crown Princess Victoria's green dress really stands out!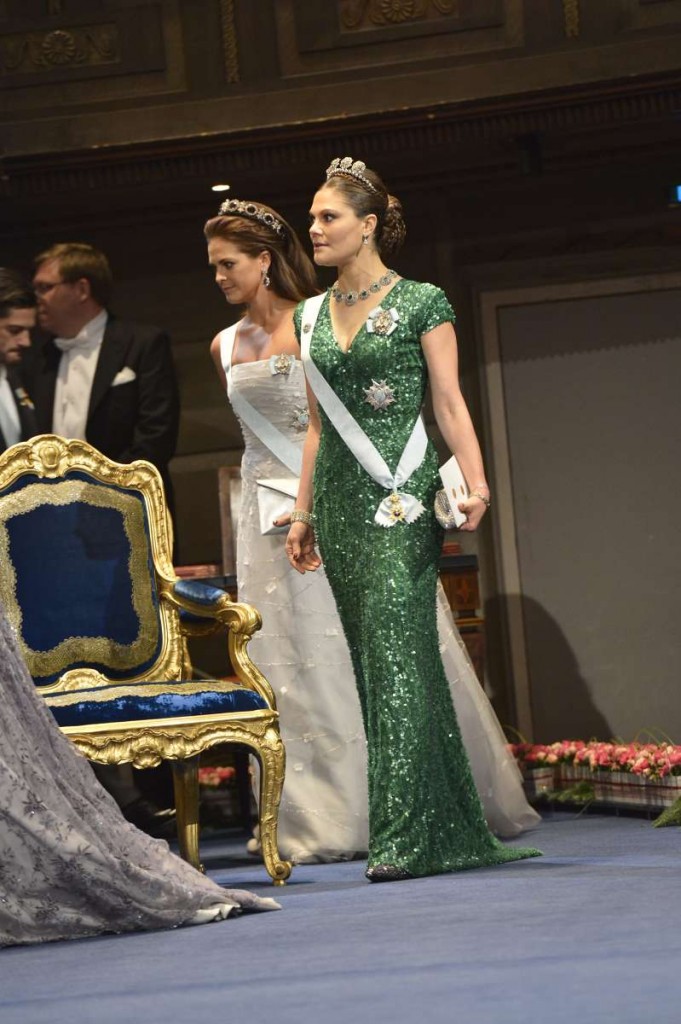 Foto från www.aftonbladet.se
See you tomorrow, adios my friends!