* Scroll down for English
Hej,
Idag blev det sent. Det kom så mycket annat i vägen. Tjejfika, allvarliga samtal och tapetletande. Vips så är det vääldigt sent på kvällen, endast jag är vaken. Jag sitter här i min källare, som nu är det varmaste stället att vara på, konstigt nog. Bredvid skrivbordet finns ett element, som skickar ut ljuvlig värme. Perfekt!
Jag har precis gjort veckans meny, och det var svårt att hitta inspiration till den. Men jag fick ihop rätt bra blandning på maten ändå. Vi får se om ni hittar någon inspiration…
Idag blev det fika på stan så jag nödprovianterade mat till morgondagens matlåda; färsk fylld pasta och pastasås på burk. Ibland orkar inte heller jag att laga mat från grunden.
Imorgon blir det sambons favoriträtt, på onsdag är han borta över dagen så då vill jag ha något snabbt och lätt, för då ska jag börja baka tårtorna jag har blivit ombedd att göra.
På torsdag blir det lax, till sambons förskräckelse. Han är flugfiskare och värnar om de svenska vattnen och fiskebestånden. Förra veckans Uppdrag Granskning berörde hans hjärtefråga; det vilda laxbeståndet och han ser mig som en riktig bov för att jag äter lax. Jag äter och skäms, jag vet att odlad lax inte är bra. Men snart nog är ju ingen mat bra att äta. Det är så vårt att göra bra val i matbutiken,det ska vara ekologiskt, kravmärkt, närodlat, obesprutat, certifierat på det ena och det andra sättet, vara inpackat i biologiskt nedbrytbar plast och så vidare.
Jag tycker ändå jag är rätt duktig på allt det här. Vi återvinner allt som går att återvinna, komposterar och jag spenderar timmar med att läsa innehållsförteckningar och jämföra produkter. Jag försöker tänka på att handla mat efter säsong, vi äter inte jättemycket kött, köper svenskt när det gäller kött, kyckling etc. Köper korv med så hög kötthalt som möjligt och köper morötterna från Stora Mellösa, det är ju närodlat.
Jeesus, det är inte lätt att hålla reda på allt. Men om alla försöker så kan det bli bättre och vi kanske kan få bort en del av de sämre produkterna på marknaden. En del tycker det här är matsnobberi men det här är ju vad vi ger våra barn. Både näringsmässigt och värderingsmässigt. Tål att tänkas på…
Sen ska jag ju erkänna att jag ibland faller för jordgubbar som inte är svenska, slänger överbliven mat (även om just det är något jag försöker undvika) och äter god men oerhört onyttig choklad som varken har speciellt hög kakaohalt eller är rättvisemärkt.
Efter det lilla sidospåret kommer här veckans meny:
Ha en bra vecka!
Kram Christine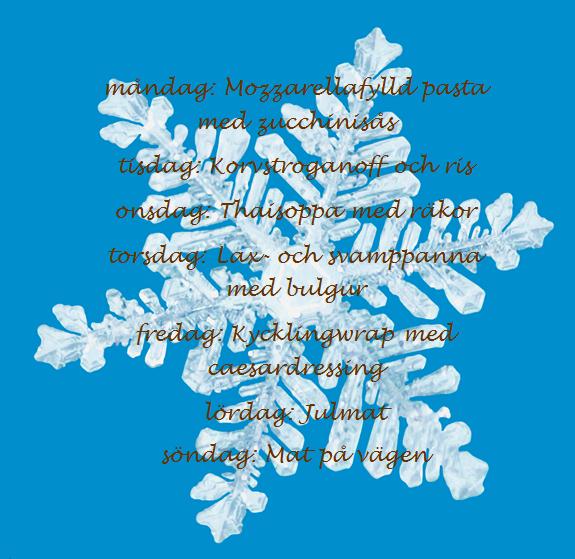 This blog post is later than I had planned. So many other things got in the way. Life you know…
A coffee with friends, a very serious talk and then some beowsing on the Internet for the perfect wallpaper for our bedroom.
I am sitting in my basement, funnily enough the warmest place in the house right now. Next to my desk there's a radiator and it's working just fine. Wonderful heat is warming me while I am sitting here writing.
I have just compiled this week's menu, and I must say I had some problem finding the inspiration. But I think I managed to get a good mix of dishes in the end. Let's see if you can find some inspiration…
Since I had a chai latte and a sandwich in town, after work today, I had to dash to the supermarket and buy emergency food for tomorrow's lunch box. Fresh filled pasta and bottled pasta sauce. See, sometimes I can't be bothered either with making food from scratch.
Tomorrow I will make the hubby's favourite dish, and on Wednesday he will be out of town and come home late, so I need something quick and easy, as I am to start baking the cakes I have been asked to make.
On Thursday there's going to be salmon for dinner, the hubby will be horrified. He's fly fisher and very protective of the Swedish waters and the wild salmon population. Last week there was a TV-show where they brought up this matter which is very close to his heart. He thinks I am a villain for eating salmon. I eat and am ashamed, I know that farmed salmon is bad. But soon enough nothing can be eaten without a helping of guilty conscience.
It's difficult to make all the right decisions when at the supermarket. The food one buys should be ecological, fair trade, of local source, certfied this way and that way, be packed in bio degradable plastic and so on.
I feel I am rather good at all of this though. We try to recycle as much as possible, we have a compost and I spend hours reading the labels for food content. I try to buy food in season, we don't eat A LOT of meat, we buy Swedish produced as much as possible and try to  buy the best products (high in meat content or low in E-numbers).
Jeesus, it aint easy to keep track of it all! But if everyone tries things might improve and perhaps our actions will ensure some of the worst food products will disappear from the supermarket shelves. Some might consider this to be food snobbism, but this is what we feed our children. Both when it comes to nutrition and values.
Something worth thinking about…
Having said all of this I confess; I sometimes buy strawberries that are not Swedish, throw left overs (although that one is something I do try to avoid) and eat delicious but oh so unhealthy chocolate that is neither high in cocoa or fair trade.
It's difficult to always be and do good!
After that little piece of food philosophy I give you this week's menu:
Monday: Mozzarella filled fresh pasta with zucchini sauce
Tuesday: Sausage casserole and rice
Wednesday: Thai soup with prawns
Thursday: Salmon casserole with mushrooms and bulgur
Friday: Chicken wrap with caesar dressing
Saturday: Christmas food at my sister-in-law's
Sunday: Food on the road
Have a nice week!
Love Christine
Fatal error: Uncaught Exception: 12: REST API is deprecated for versions v2.1 and higher (12) thrown in /storage/content/90/144790/matikvadrat.se/public_html/wp-content/plugins/seo-facebook-comments/facebook/base_facebook.php on line 1273