Pink = English
Hej,
Veckans meny är blandning, som vanligt. Den tar avstamp i Grekland och hyllar dessutom Meat free Monday. Julmust, den bästa av drycker så här års får ge smak och en snabb kycklingrätt. På onsdag kommer det serveras ett, för mig, nytt tillbehör till en svensk klassiker. Snö ute och solsken i sinne får man med en snabblagad curry. Paj är bra fredagsmat och var längesen vi åt. Korv och potatis i engelsk tappning får bli lättlagad middag på lördagen, medan vi förbereder för söndagens Adventsmingel med vännerna. På söndag blir det en favorit i repris från början av året och den italienska aftonen vi bjöd vänner på.
Denna vecka bjuder på Lucia och tredje advent. Julen närmar sig med stormsteg!
Hi,
This week's menu is a mix of everything as usual. Starting off in Greece and honouring the Meat free Monday it continues onwards to celebrate one of the best things one can drink at this time of year, julmust. I will use it to give a special flavour to a quick chicken dish. On Wednesday I will serve a, for me at least, new side dish to a classic. When there's snow and minus degrees outside we will have to keep sunshine in mind, all made easier by eating a curry. A pie is a convenient supper for a Friday evening, after  a week's work and we haven't eaten it in long. Sausage and potatoes á la Britain will be the culinary treat on Saturday, when we will prepare the Sunday dinner. On Sunday we have invited some friends over for a get together. A chance to see each other and let the kids play before the Christmas holidays. We will serve a really nice dish which we first tried out earlier this year, when we had friends over for an Italian-themed dinner. 
This week sees both Lucia, this very special Swedish tradition and the third of Advent. Christmas is getting closer and closer!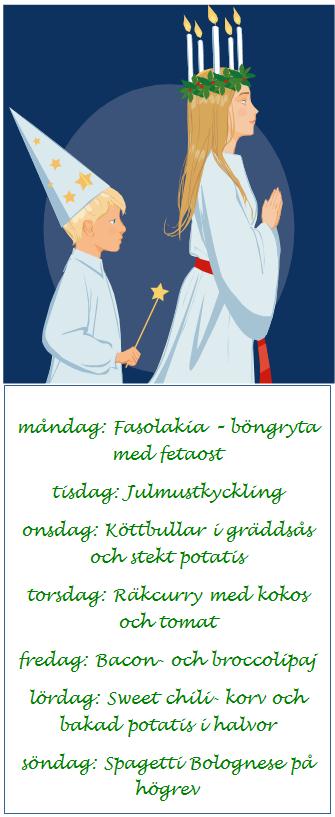 This week's menu:
Monday: Fasolakia – green bean stew with feta cheese
Tuesday: Chicken in julmust
Wednesday: Meatballs in gravy, with fried potatoes
Thursday: Prawn curry with coconut and tomato
Friday: Bacon and broccoli pie
Saturday: Sweet chili bangers and jacket potatoes
Sunday: Spaghetti Bolognese, made from chuck (what a weird word for this cut of meat)
Have a nice day!
Love Christine