* Scroll down for English
Hej,
Denna vecka innebär slutet på november och början på december; hej då mörker och den tristaste månaden på året, och hej hej julmånaden med adventsfint i fönstren och pyssel!
Jag älskar december och allt pyssel, hemgjort godis, advent, väldoftande hyacinter och maffiga amaryllis, glögg, pepparkakor och god mat. Julmust och julbord, snö (man kan ju alltid hoppas) och varm choklad.
Matveckan börjar med rester från söndagens Thanksgiving-middag, soppa från burk och en smak av Thailand för att sen ta en avstickare till Guldsmedshyttan för mat med vänner. Den avslutas med en julig gryta och sen en italiensk klassiker.
Vad äter ni denna vecka? Har ni välkomnat advent än eller håller ni, som jag, hårt på reglerna; inget innan 1:a dec?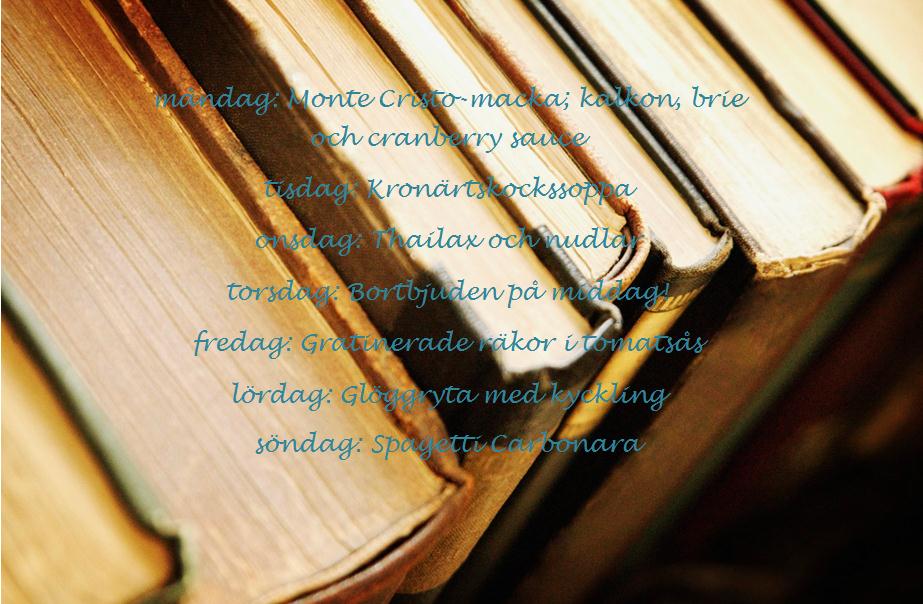 En kompis sa att han inte längre såg mina blogginlägg vilket ju är jättetråkigt. Börjar nu fundera på om fler har det problemet och om det kanske kan vara orsak till det lägre besökarantalet den senaste tiden. Har inte ändrat några inställningar och jag finns fortfarande här, så jag hoppas att ni hittar tillbaka. Ska försöka kolla upp ev. problem från min sida.
Tack för att du kikar in!
Kram Christine
English
Hello there,
Time for the weekly menu, as usual it is a mix of different types of food. I always try to vary the menu and have one of everything: chicken, meat, veggie and fish. Sometimes I have themes for the menu, such as a country. But most of the time I pick and mix, mainly because I am a BIG fan of variation. No matter if it's food or something else.
So this week I start off with a Monte Cristo- sandwich (leftover turkey, thick slices of Brie cheese and a helping of cranberry sauce, all put together in the sandwich grill)
The veggie meal this week will be an artichoke soup. Thai-tasting salmon is to follow and by the time it's Thursday I am going to see my friends in the Book club (we read a lot but hardly ever discuss books at these gatherings, but do talk a lot, about everything else, family, love, work, money, current events and silly things that makes us laugh).
Friday will be celebrated in the presence of prawns in a tomato sauce. Much looking forward to that and a glass of white wine.
Saturday is when it all starts!
1st of December, oh how I have been waiting!
I love December and all the preparations for advent and Christmas. Advent is a big thing here in Sweden and it's such a beautiful sight when the windows in everyones house are lit up by stars and electrical candle sticks. I will show you a picture next week. For us who live in darkness for months on end this is a welcome relief. Now we are just waiting for snow too 🙂
On Sunday we celebrate the 1st of Advent and we are going to spend the day with friends, making candy and baking. We booked this play date months and months ago and now it's time!
Should be very nice!
What are your plans for this week? Dinner-wise and otherwise?
I am so grateful for all of you readers and I have heard some of you are having problems seeing my posts, don't know why that is but I sure hope that little problem goes away.
Check out the blog on Facebook, Pinterest (just getting started there) and Instagram.
Search for Mat i kvadrat OR matikvadrat
Lots of love!
Christine
Fatal error: Uncaught Exception: 12: REST API is deprecated for versions v2.1 and higher (12) thrown in /storage/content/90/144790/matikvadrat.se/public_html/wp-content/plugins/seo-facebook-comments/facebook/base_facebook.php on line 1273