Hej,
Vilken dag jag hade igår! Fullspäckat schema, väldigt roligt och så fick jag lära känna några nya människor. Jag var med på en väns möhippa igår.
Vi kidnappade henne ute på IKEA, snacka om att hon blev överraskad. För vem blir kidnappad på IKEA? 🙂
På schemat stod sen ett tufft aerobicspass med tillhörande styrka. Koordination är INTE min grej och har aldrig varit. Jag går aldrig på den typen av träning (löpning och simning är mer min stil). Jag är den personen som på ett sådant pass gör tvärtemot alla andra, när andra går till höger så går jag till vänster, med medföljande krockar och kaos. Det brukar sluta med att jag står vid sidan om och skrattar åt mig själv. Så även denna gång. Känner mig oerhört obekväm i den typen av situationer.
Efter det blev det fika, vilket är mer min grej. Vi hade så mycket gott på fikabordet, en riktig buffé. Cake pops, chokladpaj, mina blåbärspajsrutor, ost och vindruvor och baguetter. Te och kaffe i massor till det.
Jag var lite orolig för blåbärjspajsrutorna när jag bakade dem igår morse, tyckte inte de såg bra ut men jag hade inte behövt oroa mig. De blev väldigt goda. Receptet kommer dyka upp här på bloggen, var så säkra.
Efter fikat var det dags för ännu en trevlig aktivitet; spa. Vi hade bokat www.relax-massage-spa.se/. Kan verkligen rekommendera det om ni inte har varit där tidigare. För 200 kr/ person fick vi stället för oss själva och fick låna badrock, handduk och tofflor. Det finns en bubbelpool, fyra duschar, en ångbastu och en torrbastu. Flera sköna sittplatser och man får ta med sig egen dryck och snacks. Vill man ha en behandling eller massage kan man köpa till det.
Vi slutade dagen med middag hemma hos mig. Vi lagade en favorit i repris. Jag har bjudit på det här förut och alla som äter det här tycker det är supergott. Inte är det speciellt svårt att laga heller. Perfekt mat att göra när man är många. Receptet nedan är redan fördubblat från det ursprungliga receptet och går att dubbla igen om man vill det.
Receptet kommer från den här boken, jag har den på engelska och har översatt receptet själv, så om ni har en svensk variant av boken kanske det inte står exakt likadant.
Till 6-8 portioner behöver du:
2 krukor färsk koriander
4 röda chili
1 vitlöksklyfta ( lite klent tyckte jag, men det är ju en smaksak)
6 stora matskedar jordnötssmör med bitar
4 cm färsk ingefära
6 limefrukter
1-1,5 kg kycklingfilé
500 g äggnudlar
200 g osaltade cashewnötter
1 rödlök
4 msk soja + mer till sataysåsen
2 tsk sesamolja
5 tsk fisksås
2 tsk flytande honung
hjärtsallad, som tillbehör
olivolja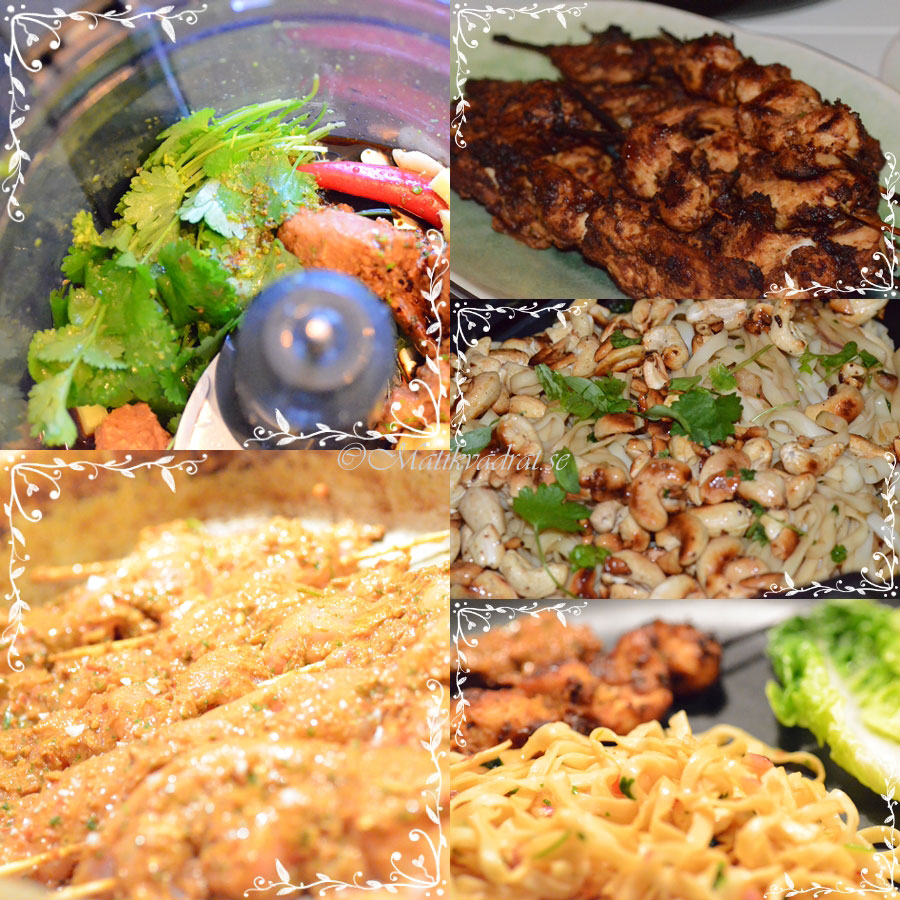 Gör så här:
Sätt ugnen på 250 grader grill. Blötlägg så många träspett som du har tänkt använda.
Blanda följande i en matberedare: 1 kruka koriander (blad och stjälkar), 2 chilifrukter (ta bort stjälken), den skalade vitlöken, jordnötssmöret, en skvätt soja, ingefäran (skalad och grovt hackad), rivet skal av 4 limefrukter, pressad juice från 2 limefrukter och en skvätt vatten.
Mixa till en skedbar pasta, tillsätt lite mer vatten om den är för tjock.
Smaka av med salt och peppar.
Häll hälften i en skål att servera ur och ringla lite olivolja över.
Skär kycklingfiléerna i bitar och trä upp dem på spetten. Lägg spetten i en ugnssäker form och häll på jordnötssmörssåsen. Gnid in såsen och se till att spetten blir ordentligt täckta. Ringla olivolja över kycklingspetten och ställ in högt upp i ugnen, i ca 8 minuter på varje sida. Ringla lite flytande honung på spetten innan du vänder på dem.
Lägg nudlarna i en stor skål, häll på kokande vatten och täck med en tallrik. Låt stå i 5-6 minuter.
Sätt en stekpanna på svag värme, och rosta cashewnötterna.
Skölj ur matberedaren och lägg sen i den skalade rödlöken, 1/2 kruka koriander och 2 chili. Mixa till det blir finhackat. Häll lökhacket i en stor serveringsskål och blanda med 4 msk soja och en skvätt olivolja.
Pressa i juicen av 2 limefrukter och blanda ner sesamolja och fisksås. Smaka av och tillsätt mer av något om du vill.
Häll av nudlarna och blanda med lökhacket i serveringsskålen.
Höj värmen på cashewnötterna och blanda i 2 tsk honung. Se till att nötterna blir ordentligt täckta av honungen. Blanda ner nötterna i nudelsalladen och strö över den andra halvan av korianderkrukan.
Servera kycklingspetten med nudelsalladen, hjärtsalladsbladen och resten av sataysåsen. 
Had a really nice and fun-filled day yesterday. We had a bachelerotte party for one of my friends who is getting married in February. We surprised her when she was at IKEA with her family, blindfolded her and then her day started. First we had an aerobics class, dear me, it's just not my thing. My coordination skills ( or perhaps lack thereof) means I should not and normally do not attend such activities. I am the person who goes the wrong way, right when everyone else is moving left, hence bumping into people and causing slight chaos. I end up laughing at myself and feeling stupid. 
I much better liked the rest of the day. Coffee break with lots of goodies including chocolate pie, cake pops, brie cheese, bread and fruit and my blueberry pie bars, which I didn't think turned out well, but were in fact super yummy. Recipe will of course be shared with you. 
After that we headed to a spa, which we had booked all to our selves. Very nice and relaxing. We could bring our own drinks and snacks and got to the usual bathrobe, slippers and towel to use. 
The day ended with dinner at my house. We had one of my favourites; satay chicken skewers and fiery noodle salad. It's soooo good and everyone who eats it loves it. I have cooked this for friends before and they really liked it too. 
Ingredients
Satay
1/2 a small bunch of fresh coriander
1 fresh red chilli
1/2 a clove of garlic
3 heaped tablespoons good-quality crunchy peanut butter
soy sauce
a 2cm piece of fresh ginger
2 limes
Chicken
4 180 gram skinless chicken breasts
runny honey, for drizzling
Noodle Salad
250 grams dried medium egg noodles (1 nest per person)
100 grams unsalted cashews
1/2 a medium-sized red onion
1 fresh red chilli
a small bunch of fresh coriander
1–2 tablespoons soy sauce
1 lime
1 teaspoon sesame oil
1 teaspoon fish sauce
1 teaspoon runny honey
Garnish
2 little gem lettuces
1/2 a small bunch of fresh coriander
optional: 1 fresh red chilli
soy sauce
1 lime
Seasoning
olive oil
extra virgin olive oil
sea salt & black pepper
Instructions:
Get all your ingredients and equipment ready. Turn the grill on to full whack. Lay 4 wooden skewers in a tray of cold water to soak (if they float, use a plate to weight them down). Put the standard blade attachment into the food processor.
Put the coriander (stalks and all) into the food processor with the chilli (stalk removed), peeled garlic, 3 heaped tablespoons of peanut butter and a lug of soy sauce. Peel and roughly chop the ginger and add. Finely grate in the zest of both limes, then squeeze in the juice from 1 of them. Add a couple of splashes of water and whiz to a spoonable paste. Season to taste. Spoon half into a nice bowl and drizzle with extra virgin olive oil, put the rest aside.
Thread the chicken onto the skewers. To make the chicken crispier you can score it lightly on both sides. Scoop the rest of the satay mix from the processor into a roasting tray, add the chicken skewers and toss with your hands to coat, rubbing the flavour into the meat. Clear away the board and wash the knife and your hands. Drizzle the chicken with olive oil and season with salt. Put on the top shelf of the oven, under the grill, for about 8 to 10 minutes on each side, or until golden and cooked through.
Trim the bases off the little gemlettuces and get rid of any tatty outer leaves. Click the rest of the leaves off, halving the cores. Rinse in a colander, spin dry, then take straight to the table.
Fill and boil the kettle.
Put the nests of noodles in a large bowl, cover with boiling water and a plate, then leave to soak for 6 minutes.
Put a medium frying pan on a low heat. Bash the cashew nuts with a rolling pin or against a work surface in a clean tea towel. Add to the warm pan and leave to toast, tossing occasionally and keeping an eye on them as you do other jobs.
Peel the red onion half and put in the processor with the chilli (stalk removed) and the stalks from the bunch of coriander. Pulse until finely chopped, then put into a large serving bowl with 1 or 2 tablespoons of soy sauce and a few lugs of extra virgin olive oil. Squeeze in the juice of 1 lime, and stir in 1 teaspoon each of sesame oil and fish sauce. Mix well, then taste and correct the seasoning. Drain the noodles in a colander, refresh quickly under cold water, drain again, then add to the bowl.
Toss your cashews and turn the heat under them up to high. Add 1 teaspoon of honey, mixing and tossing the nuts in the pan. Once dark golden, tip them into the serving bowl and add the coriander leaves. Toss everything together and take to the table with the bowl of satay sauce.
Turn the skewers over, drizzle with a little runny honey and put back under the grill for 8 to 10 minutes.
Serve the chicken and the noodle salad with gem lettuce and satay sauce.