Förra fredagen åt vi en variant av tacos. Det finns ju så oändligt mycket mer än den klassiska svenska tacon, med hårda skal, köttfärs och alla klassiska tillbehör. Den klassiska svenska tacon är inte dum alls och egentligen inget jag tröttnar på MEN jag är ju lite allergisk mot att äta samma slags maträtt alltför ofta. Därför försöker jag, till sambons förtvivlan, att variera fredagstacosen.
I fredags som sagt så åt vi en annan variant. Kyckling, vilket vi visserligen har rätt ofta, sambon igen där som tycker det är godare än köttfärs.
Så, som den goda sambo jag är letade jag upp ett recept med tacokänsla OCH kyckling. Det blev något som kallas Texas-tortilla. Väldigt gott kan jag konstatera.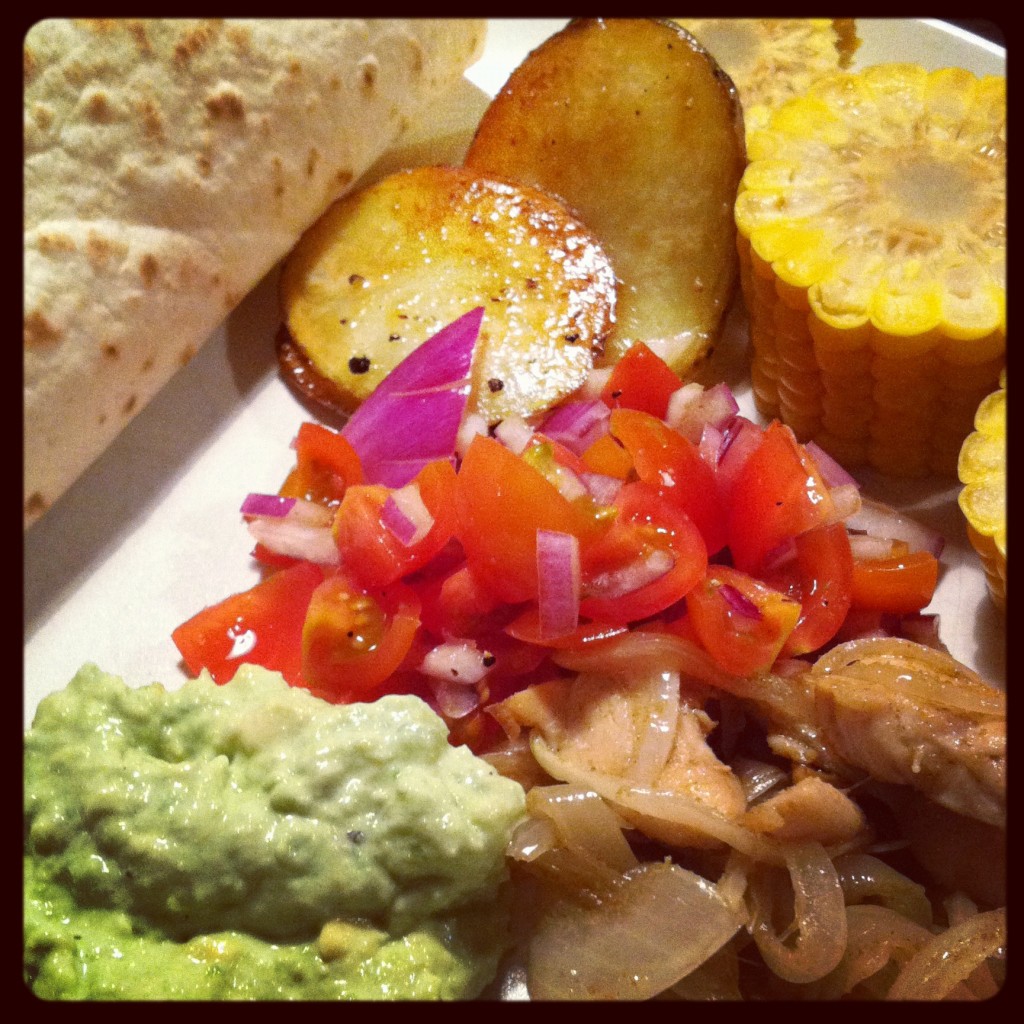 Kycklingen fick lite dåligt med färg, men annars kan jag inte klaga. Speciellt som jag inte lagade maten utan satt och tittade på 🙂
Du behöver:
500 g fast potatis
3 msk olivolja
1/2 tsk salt
2 krm peppar
600 g kycklingfilé (vi använde innerfilé)
2 gula lökar
1 tsk spiskummin
2 frysta majskolvar (köpte färdigkokta i grönsaksdisken på ica)
2 avokado
1 vitlöksklyfta
1/2 dl matyoghurt (10 %)
ca 336 g vetetortillas
1/2 romansalladshuvud

Salsa
1/2 spansk peppar
1/2 rödlök
1 lime
2 tomater
Gör så här:
Sätt ugnen på 225°C.
Skölj och skiva potatisen. Blanda dem med 1/3 av olivoljan, salt och peppar.
Rosta i mitten av ugnen ca 30 min.
Strimla kycklingen. Skala och strimla löken.
Stek kycklingen i 2/3 av olivoljan tillsammans med spiskummin. Tillsätt löken när kycklingen nästan är genomstekt och stek ytterligare 3 min tills löken är mjuk.
Salsa:
Dela, kärna ur och strimla den spanska pepparn. Skala och hacka rödlöken. Riv skalet och pressa saften ur halva limen. Skär tomaterna i tärningar. Blanda alla ingredienserna till en salsa.
Koka majskolvarna enligt anvisningen på förpackningen. Dela dem i mindre bitar.
Dela, kärna och gröp ur avokadon. Mosa ihop avokadon med skalad riven vitlök och matyoghurt. Smaka av med pressad limesaft och salt.
Värm bröden enligt tillagningsanvisningen på förpackningen och servera med kycklingfräset, den rostade potatisen, majsen, avokadoröran, salladen och tomatsalsan.
Friday night is taco night, for us and for a lot of people in Sweden. Tacos is in our hear and lives to stay, we won't give it ut. I love it, with minced meat or chicken, hard taco shells or soft tortillas and then all the side dishes. It's perfect food for a relaxing Friday night dinner, with friends and family. 
The hubby loves it and as much as he is against change I am all for change. I need variety in my life, especially when it comes to the food I eat. 
This is why I try to give the Friday night taco a new spin every now and then.
Last Friday we made (the hubby cooked while I read the recipe) Texas tortilla as it was called.
Very nice and the hubby gave the thumbs up. 
Ingredients:
500 g potato
3 tbsp olive oil
1/2 tsp salt
2 pinches of peppar
600 g chicken filets 
2 onions
1 tsp ground cumin
2 pcs of corn on the cob
2 avocado
1 clove of garlic
1/2 dl plain yoghurt (10 %)
ca 336 g soft tortillas
1/2 hed of romaine lettuce

Salsa
1/2 spanish pepper
1/2 red onion
1 lime
2 tomatoes
Instructions:
Heat oven to 225°C.
Wash and slice the ppotatoes. Mix with olive oil, salt and pepper.Skölj och skiva potatisen. 
Roast in the middle of the oven for 30 minutes.
Cut the chicken in smaller pieces. Peel and slice the onion.
Fry the chicken in some of the olive oil, together with the cumin. Add the onion when the chicken is almost cooked through. Fry for another 3 minutes.
Salsa:
Split, deseed and slice the pepper. Peel and chop the red onion. Zest the lime and squeeze the juice from half the lime. Cut the tomatoes into cubes. Mix all ingredients to a chunky salsa. 
Cook the corn on the cob and then cut them into smaller chunks. 
Split, take the stone away and take the avocado meat out. Mash together with grated garlic and the yoghurt. Season with lime juice and salt. 
Heat the tortilla breads and serve together with the fried chicken, the roast potato, the corn on the cob, the guacamole and the salsa and lettuce.
Fatal error: Uncaught Exception: 12: REST API is deprecated for versions v2.1 and higher (12) thrown in /storage/content/90/144790/matikvadrat.se/public_html/wp-content/plugins/seo-facebook-comments/facebook/base_facebook.php on line 1273