*Scroll down for English
Hej,
Det är ju klimatsmart och ekonomiskt att använda upp resterna av en middag istället för att slänga dem.
Så igår kväll fick det bli varma mackor till middag, har verkligen hittat tillbaka till smörgåsgrillen, det är ju en riktigt bra köksapparat.
Kalkon, brieost och cranberry sauce i grekiskt lantbröd, det låter väl rätt schysst?
Mmm, det var väldigt gott och alldeles lagom kvällsmat.
Det bästa är när osten smälter ordentligt. Mackorna blir gyllene och fina om man brer smör på ovansidan. Något jag har snappat upp av Victoria på Matplatsen.
Har man inte kalkon rester kan man ju alltid använda tunna skivor av smörgåskalkon. Funkar alldeles utmärkt!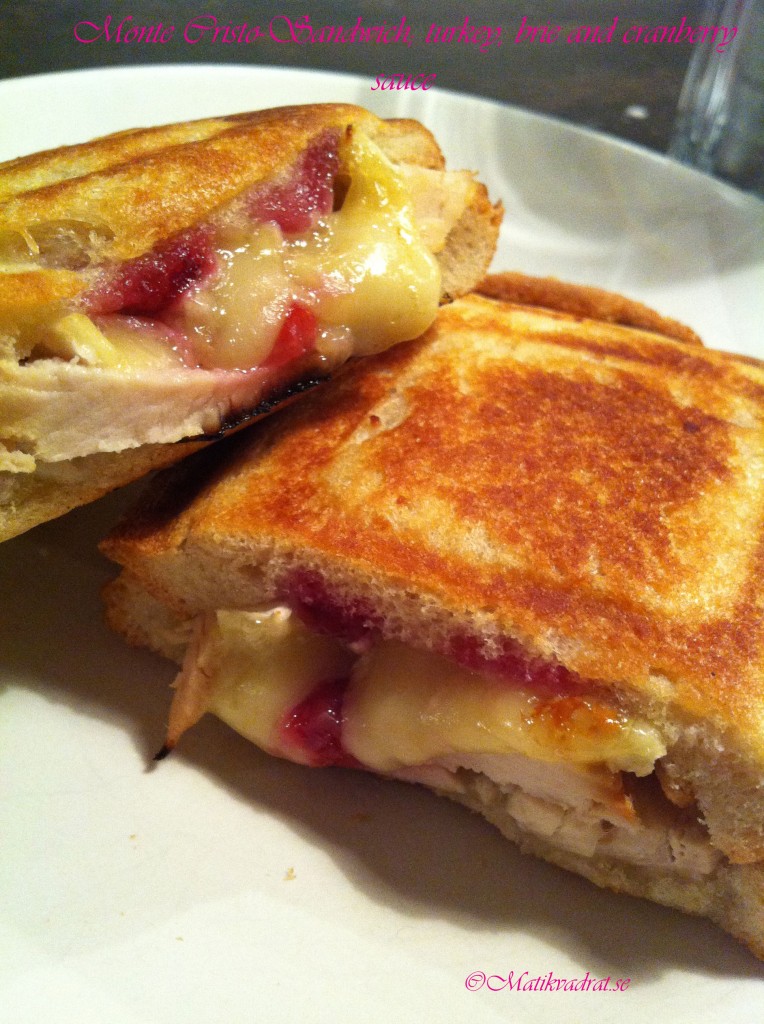 Vet inte varför dessa mackor kallas Monte Cristo, de smakar ju varken svek eller hämnd men det spelar ju ingen roll. De är ju goda och visst är det roligare med mat som har fantasifulla namn?
Har faktiskt aldrig läst hela romanen av Alexandre Dumas, inte den klassiska versionen i alla fall. Känner dock till historien så jag har säkert läst en enklare barnversion. Läste det mesta när jag var liten. Tror jag ska leta rätt på den i bokhyllan, originalversionen alltså. Tror vi har en gammal inbunden version som vi ärvde från sambons farmor.
Annars finns ju alltid filmen, någon som har sett den?
English
To use up leftovers is both economical and environmentally friendly. So for dinner last night I made grilled sandwiches (have just realised (again) what a great kitchen appliance the sandwich grill is).
How about  turkey, brie cheese and cranberry sauce? Delicious! Now this sort of sandwich is probably well-known for your Americans but I have never come across it before. Mind you, brie cheese in a grilled sandwich works teams up perfectly with most things.
A tip I picked up from another fellow Swedish blogger (from the same town even) is to butter the bread on the top side too, to give the sandwich that nice look (and flavour of course).
But why it's called a Monte Cristo sandwich I don't understand, can anyone explain please?
Just realised I have never read the "real" version, but only some children's version of the story. I should really read the proper version.
And then there is the film as well.
Anyone seen it? Good, bad or ugly?
Oh by the way, the little bug I had on the blog making sure no posts showed up on Facebook is now fixed. I realised the RSS feed was not working as it should, in fact it was invalid. Don't know how that could have happened but for the whole of November the posts have been invisible on Fcebook ,which explains the lower number of visitors.
So it wasn't a personal thing after all, which I almost got a bit worried it was. Was it something  I had said? Had I been dumped?
Luckily I have fixed it now and all is back to normal, which is good because I have so many things planned for December.
Thanks for stopping by!
XO Christine